The form horses
Rob Lee hails wins for Alex Noren and Steve Stricker - and is betting on Sergio Garcia at the US Open.
Last Updated: 13/06/11 1:46pm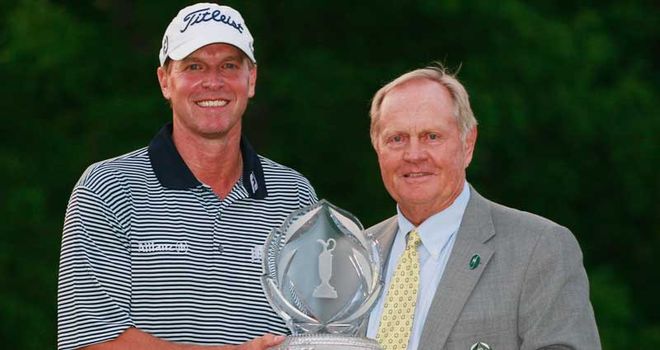 What a week it's been in the world of Alexander Noren.
Early last week his qualification for the US Open was confirmed and then he went and won the Saab Wales Open at the weekend. The very next day he went to Sunningdale and topped it off by qualifying for The Open as well!
It's nice to see because he gets himself in the frame quite often, but doesn't get as many wins as he should when you consider the talent he's got.
On the Saturday at Celtic Manor, he was playing with the defending champion Graeme McDowell and watched him have an awful day, but Noren was able to get himself into the clubhouse with a lead going into the final day. I was impressed with how he managed to do that with so much else happening on the golf course.
He then played wonderfully well on the Sunday. His tee-to green play was really impressive and he can go into his first US Open full of confidence.
However, very few people go there for the first time and win and I think you need to go and experience the pressures of that tournament a few times before you can get yourself in contention. It's very different to most other tournaments because it's so penal and par is so prizeworthy.
But what an adventure it will be for him.
Holding his nerve
Last week's PGA Tour winner Steve Stricker also showed he was made of stern stuff because his victory at The Memorial was far from plain sailing.
He had to cope with weather delays and the fact a once-comfortable lead was increasingly being chipped away in the final round, but he held his nerve to win by a shot.
He enjoyed a great save at the 17th and made a nine-footer to give himself a two-shot lead up the last. Ultimately he needed that to secure the victory.
He also had a hole-in-one earlier on, as well as a second shot to a par-four, so it really was his week. He didn't have a very good record at Memorial before that, but maybe there was an element of unfinished business for him there.
All Americans want to be playing well at this time of the season and posting a victory two weeks before the US Open can only be positive. He's steady, he's straight and I would think he'll like it at Congressional. You have to keep it in play there and his game is built on hitting lots of fairways and greens. His neat-and tidy style should suit that course.
Jack Nicklaus said he's surprised Stricker hasn't won a major yet - although he's said that about one or two others as well! There's plenty of really good players that haven't won majors - and there's quite a few so-so ones that have.
Qualified
One great player who has never won one is Sergio Garcia - and I'm delighted he has qualified to play at the US Open.
I keep banging the Sergio drum every week in this column and I must admit I've had a bet on him to win at Congressional. I like to look for reasons and after Seve's passing it would be an unbelievable story for him to win a major.
His scoring average in rounds one and two is the best on the PGA Tour, but he struggles to find a good Saturday. We saw that at the Byron Nelson Championship when he opened with a pair of 66's and then posted 74 and 77 at the weekend. He's got himself into a run of failing to put four rounds together, but his game is there.
Sergio was hoping to qualify via the rankings, but fell short so fair play to him for going to Columbus and earning his spot. You want to see these guys prove how much they want it.
In contrast, Vijay Singh didn't turn up and I don't know what his excuse was. Maybe he was injured, maybe he thought he'd withdrawn some time ago but it seems strange because he's usually such a workhorse.
He will now miss a major for the first time since 1994, but at the age of 48 he's not a serious contender any more. I would have thought he'd want to try to qualify, but I'm sure he'll come out and give his reasons.
Tricky spot
This week's live PGA Tour action comes from the St Jude Classic, which is one of those tournaments scheduled in the week before a major. That's always a tricky spot in the calendar.
You get guys like Lee Westwood and Padraig Harrington turning up to tune up for the major, but then you get even more players deciding to take the week off to give themselves rest time before the attrition of the US Open.
Many players want to avoid travelling just before a major, but for guys like Westwood this is not just an excuse to play four rounds, it's a chance to adjust your body to the American time and climate.
Westwood is the outstanding name in the field and I get the feeling that we might see a European winner this week.
ROB'S SKY BET TIPS
Lee Westwood is the defending champion at the St Jude Classic and you can't really look too far past him. It's a tee-to-green course, very demanding in regulation play and it suits steady players. He obviously likes it there and we saw him do well last year. He's 13/2 to retain his title.
Sergio Garcia has been trying to find a win and while I've put some money on him to do it at the US Open, maybe he'll do it a week early. He's had some good performances without putting four rounds together and I'm going to keep backing him. He's 25/1 to win in Memphis.