Doha to Dubai
Chris Wood has had a busy time in the Middle East and cannot wait to start one of his favourite events.
By Chris Wood
Last Updated: 08/02/12 2:17pm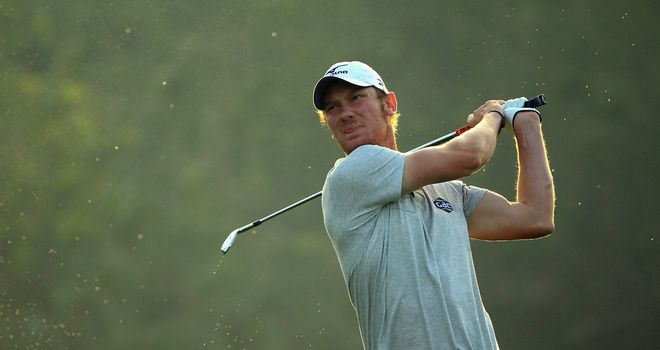 Hello everyone - guess what? I've got some good news at long last!
It seems such a long time since I could talk about a decent result or not repeat myself about an injury but, finally, last week things started to turn round.
You probably saw that conditions in Doha were a bit odd - let's just say I have never played in a sandstorm before!
You cannot believe where the sand gets - just about everywhere basically. I've still got the stuff falling out of my hair this week. Lots of lads were going for face masks and sunnies but I only really like the sunnies if it's bright - and I got stuck in 40mph wind and it was very dull (even if there was lots of sand)!
Given those conditions (I got the wrong end of the draw so spent the first two days playing in the worst of the wind) I was really pleased to make the cut and then took advantage on the final day, shooting a 67 to make the top 20.
I've been working hard on the right things for a while so it was nice to feel like they were coming together.
Since I last wrote I have had a couple of weeks in the Middle East and the first was spent in Dubai with my coach Paul - it was quite an entertaining time!
We stayed in an apartment and the cooking was left to me. A few months ago that would have been disastrous but during my recuperation time stuck at home at the end of last year I spent a lot of time in the kitchen so I was happy with that task for the week.
Woody specials include Nandos chicken, cottage pie and steak, but the best of the lot would be my chocolate fudge brownies!
When I wasn't getting ready for Masterchef I was practising at the Emirates Club or Jumeirah Golf Estates.
I've got to say that I didn't realise how good it was at the Jumeirah range - their facilities are the best I've used and I'll be spending as much time there as I'm allowed!
We also had a bit of fun that week. One afternoon we went to the Atlantis Water Park - me, coach Paul, my caddie Brendon and Chris Lloyd. It was a great laugh until Paul smashed his foot on one of the rides and it ballooned up to the size of a melon!
Boat trip
He's a bit of a liability, Paul, because we also broke the week up with a boat trip, organised by my sponsor Bill Hill at GAC. It had a jet ski on the back which we raced about with - until Paul took a corner too quickly and flew straight off. Idiot!
I've got to say that a day on a yacht with Paul, my agent Chubby Chandler, new player Peter Uihlein and a few others is a great way to spend some time - one day I'd love a boat to play around with.
After the Dubai fun it was down to work in Abu Dhabi. I didn't play too well, but it was great to watch Rocky win. Playing with Tiger in the final round is my idea of a dream situation and to take him down was the icing on the cake.
I can't see how that wouldn't be a massive confidence boost so I wouldn't be surprised to see Rocky push on from here now and go on to even better things.
Extra buzz
For the Tour and all the players, any event that includes Tiger in the field creates an extra buzz - I remember seeing a tweet from Gary Boyd saying something like, "Only one player can make a whole range stop when he walks on - Tiger!" It's true.
Looking at how solidly he played in the first three rounds I reckon his game is pretty solid, but he struggled a little in the final round, only hitting a couple of fairways.
I love seeing him play his best so hope it's another step in the right direction for him.
This week is a return to Dubai for the Desert Classic and it is one of my favourites tournaments of the year. Everyone loves the golf course, it's always in fantastic condition and Dubai itself is such a great place. The weather is always good, there are loads of good restaurants and the greens might be the best all year - not a bad package.
That said, after this week I have a month off which is not great after all that time off in 2011. I might return to Dubai for some practice ahead of the Andalucian event in Spain. Other than that I'll be out on my bike and cooking!