Back on the bike
Chris Wood had his 2011 season curtailed because of injury but says he's ready and raring to go in 2012.
By Chris Wood
Last Updated: 11/01/12 11:14am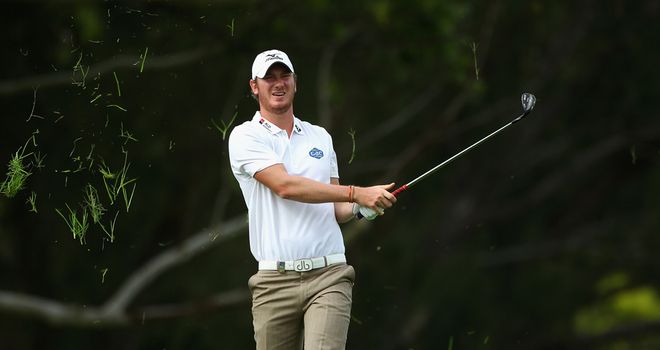 Hi everyone - it seems like a very long time since I last wrote but unfortunately that's because it has been a long time since I was last playing competitively, the result of the back injury which ruined the last few months of my 2011 season.
But the good news is that after a lot of rest and hard work I was able to fly south to start the year in the Africa Open at East London GC.
Being back on tour is a great feeling and yet it also took a little bit of getting used to after spending so long at home. I'll be away from home for six weeks so there was plenty of packing to do and then it takes some time to re-acclimatise to the way it works on tour - eating out all the time and living in a hotel room.
I'm back playing though and that's far more important. Being injured is very frustrating in any sport but especially in golf as the tournaments never stop and all of them are on Sky television every week!
The problem is that I am not just a golfer, I'm also a golf fan so I like to watch it, but when you know you should be out there it's horrible!
The flip side of that is that it provided motivation throughout the recuperation and I've got to say a big thank you to Andy Wadsworth and Rich Bricknell back home in Bristol who helped me in the gym and with physiotherapy. I worked with both of them during my amateur career (and also in my early pro life) and I never had any injuries, so having a good team in Bristol just five minutes from my place is exactly what I need right now!
All in all I missed the final three months of last season, but even before then the back problems had impacted on my results, ever since the BMW PGA Championship at Wentworth really.
It was a tough experience, so what have I learned form it? Well, it's taught me to slow down with everything I have been doing and I mean everything - playing, practice, gym, travelling, and all other things too.
I've come to really appreciate the value of resting, taking time away from golf and making sure I am giving my body enough time to recover from weeks on the road! It might have been a painful lesson, but I want it to be one I don't have to repeat!
Good vibes
Returning to the tour at East London gave me some good vibes because last year I shot through the field on the final day to make a three-man play-off for the title. My ISM colleague Louis Oosthuizen won that week but it was a good place to return to, with those fond memories.
I didn't have huge expectations of the week (although I said the same thing 12 months ago!) and I think my assessment of the week is that I played okay considering I had played so little golf - it was just good to get a scorecard in my hands again.
My stats look great for the week (I hit 85.2% of the green in regulation to rank second in the field) and it was true that I hit a lot of them, but the truth was that I was not hitting the ball close enough.
My distance control was not quite up to scratch and I was drawing the ball a little too much for my liking, but it has given me something to work on for the next few weeks and I do get the feeling that my game isn't that far away!
This week I play in the Joburg Open and then I head to Dubai for one week off from tournament play. My coach is flying out and we can get some seriously good work done on the game. After two weeks playing it will be a good opportunity to see where my game is heading into the desert swing!
One bad thing this week, the one aspect of tour life I didn't want to be re-introduced to ... my golf bag went missing on the flight to Johannesburg!
I reckon something goes missing about three or four times a year and it always gives you a bit of a scare, especially if (as has been the case sometimes) you are out in the sticks and wonder if you'll ever see the lost luggage ever again. It doesn't help that I'm so tall - pro shops don't really cater for me with spare sets!
But fortunately my clubs re-appeared mid morning Monday so I was relieved to know that I was playing this week after all!
Looking ahead to this year, I just can't wait to being in contention again - there really is nothing like it and I hope it happens sooner rather than later.
Oh and I'm going to treat myself to a new bike when I feel I deserve it and I've already got my eye on one after I trialled it last summer. It's a top bike so now I just need to earn it!