Roll on Lytham
Chris Wood talks about the pain of watching an Open from his sofa and life in amongst the ISM stable.
Last Updated: 26/07/11 2:24pm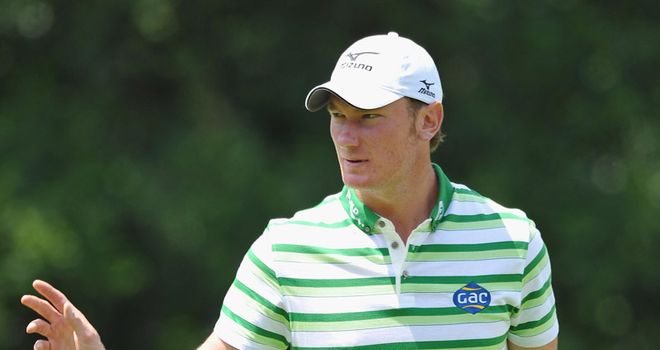 It's been a fortnight of hard work for me at home in Bristol because, after not making the Open Championship (more of that later), I decided it was time to sort my game out.
Initially the plan was to concentrate on my short game which I thought needed fine-tuning, but - after I took a long hard look at the stats - they told a different story: my ball-striking needed attention.
Ever since the back injury I picked up just prior to the BMW PGA Championship at Wentworth I have slipped into a bad habit - basically I'm hitting a bit of a cut. As a result of that I have been missing too many fairways and then leaving myself too far from the pin with my approaches which is not a great recipe for success! I've worked hard with my coach Paul Mitchell and we've seen some great improvements - I'm up and down the line again and back on plane.
When I saw the scores from the Nordea Masters in Sweden on Sunday afternoon I have to admit I thought the decision to work on the swing was an even smarter one. We all know that the Bro Hoff Slot course is long but in the wind it looked like a complete monster with 9s, 10s, 11s and 12s being recorded. It was almost funny - not that I'd have thought that if I was playing there, of course.
Brilliant news
I was less happy watching on TV one week earlier when the Open Championship was being played at Royal St Georges. It was a great result for Clarkey and brilliant news for Chubby Chandler and my ISM stable, but I felt I was in the wrong place sat at home on my sofa watching it.
Most of you will know that I've had two top five finishes in the Open so it's got a real place in my heart and watching the shots that Darren used to manufacture his win made me realise how much I love links golf - and how much I wanted to be there playing those shots myself!
I still think the Open is the best tournament in the world because the crowds are superb and the courses magnificent. It's a simple story for me - I don't want to miss out again next year when the tournament head to Lytham!
To watch another ISM player claim a major - we are now three-quarters of the way to the 2011 Chubby-Slam - was a bonus though. I feel very lucky to be part of such a strong environment that Chubby has created from scratch.
He is always sending me texts which keep me in the loop and which make me aware that he's looking out for me. He's also always encouraging me to chat with Lee Westwood or Clarkey to get their opinion or expertise. He'll suggest I go to dinner with them or play a round with them. It sounds easy, but things like that can sometimes be tricky and yet I honestly feel like I could turn to them and ask for that advice without fear.
It is a genuinely close knit group - even down to the fact that everyone knows everyone else at the office - and I feel really at home amongst them.
Beautiful
Next up for me is a trip to Killarney this week for the Irish Open. I can't wait to get there because last year I finished third behind Ross Fisher and I loved the course. It's a really decent layout, a beautiful spot next to the lake and I want to get back contending again.
It will also be a hell of week for the Irish. To be honest any week spent playing golf in Ireland is a good one because the courses are great and the welcome superb, but with four Irish major champions in the field it might be a little bit more special than usual!
One slight concern is that yesterday (Sunday) I woke up with a stiff neck. A similar thing happened last year and it only lasted three days once the physios had worked their magic on it. I'm confident it will be much the same again this time and I'll be fully fit on the first tee on Thursday!