All of a twitter
After a week of tough travelling in China and Korea Chris Wood has got home and started tweeting.
By Chris Wood
Last Updated: 03/05/11 1:50pm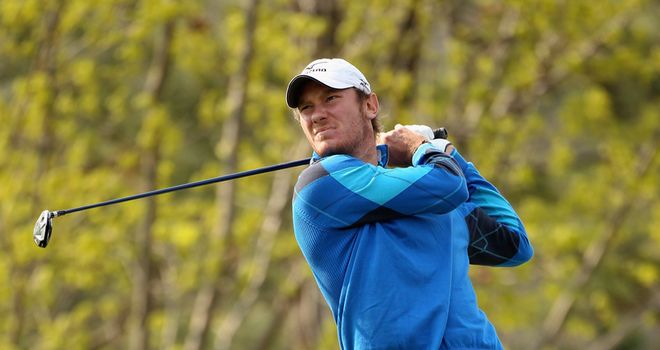 Big news this week ... I'm on Twitter! Yes, I resisted for so long but eventually my manager Chubby Chandler wore me down. He loves it and so do a few of the players like Lee Westwood, Rory McIlroy and Dave Horsey, but I always said that I didn't have the time to do it. Now I have made the leap, though, I've got to admit that it is quite addictive! If you want to follow me my Twitter name is @chris3wood.
Since I last wrote I've had quite an eventful time of it in the Far-East. It all started with a week at the Luxehills CC in Chengdu, China. I played quite nicely from tee to green, but the key to that week was what you achieved on the greens. The course wasn't set up to punish loose shots and consequently it was something of a putting test. I got it to ten-under-par but that was only good enough for a tie for 43rd.
I can't complain about my long game because I gave myself loads of birdie opportunities but I just didn't take enough. When you give yourself lots of chances, you feel a little down if you don't take them, but it does prove that you're doing something right. It was a frustrating week but not all bad.
Leaving Chengdu was ... interesting. I was travelling with the Dutch golfer Joost Luiten and we needed a flight from Chengdu to Beijing before flying on to Seoul. Everything seemed fine as the plane taxied out to the runway and then nothing happened.
It turned out that the Chinese air force had closed Chinese air space for ninety minutes so we just sat there waiting for something to happen, getting frustrated because we knew that we were now going to miss our connection. When we got to Beijing we managed to book ourselves on a new flight (with a new airline) but now found ourselves needing to find our luggage - cue a two hour dash around the airport wondering if we'd ever see it again!
As it was, the bags made it and, unlike previous editions of the Ballantine's Championship, the new venue is just a two hour drive from Seoul airport (rather than needing another flight to Jeju Island). The travel drama wasn't over however. That night I got a phone-call from my caddie Dave McNeilly - he'd lost his passport and was stuck in China. Honestly, that sort of thing could only happen to Dave!
After that complicated start to the week, things never really improved (even though Dave eventually made it) and I think it contributed to my missed cut. The course was a tricky one too, at the Blackstone GC. I liked it from tee to green but the putting surfaces themselves were extraordinary. Some of them had six to eight feet of elevation changes and there were lots of plateaus. You'd have a small area to hit, you could hit it, and only narrowly fail to hold the area, then watch your ball find a slope and be swept 50 feet away!
Espana
This week we're off to Spain for a fortnight: first up is the Open de Espana near Barcelona then we go to the Iberdrola Open in Mallorca. The rumour is that the greens will be quicker than Asia and with that in mind I've turned to a flat-stick with a softer milled face, one of the Scotty Cameron putters I picked up in California earlier this year.
I'm really looking forward to the Tour being back in Europe. It's so nice starting my week at Bristol airport instead of heading to Heathrow for a long haul. And we've got some great events just a few weeks away. I'll write again soon!