Solheim Cup blog
By Matt Cooper. Last Updated: 23/09/11 12:43am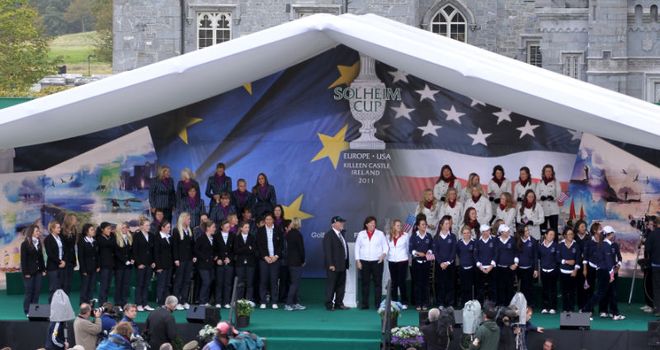 Maria Hjorth and Anna Nordqvist to lead European challenge
Click here for Wednesday's blog
The opening foursomes
After all the hullabaloo, the talking, the rejection of the favourite tag, the photos and the gala dinners, the two captains announced their opening foursomes.
Traditionally Europe starts well in this series - indeed in 2009 the US captain Beth Daniel opened with fourballs because Europe had won four of the previous five first day morning sessions.
The plan backfired and Europe still led. Will they this time? Let's have a look at the match-ups.
Match 1 - Maria Hjorth & Anna Nordqvist vs. Michelle Wie & Cristie Kerr
This is a match with history - the Americans won the previous encounter in the Saturday foursomes two years ago. The Swedes also played the Friday foursomes in 2009 when they defeated Kristy McPherson and Brittany Lincicome. That 2009 win is Kerr's only victory in six attempts at foursomes. The visitors traditionally tee off first.
Match 2 - Karen Stupples & Melissa Reid vs. Paula Creamer & Brittany Lincicome
Creamer's fine partnership with Juli Inkster (3.5 points from 5) has been broken up. Lincicome has played one foursomes match and lost it, Stupples and Reid (the rookie) have never played alternate shot in this event. Creamer and Lincicome have never played together in foursomes before but did halve a fourball in the 2007 Solheim Cup. Stupples and Reid have played together before, in the 2010 European Nations Cup, when they finished twelfth.
Match 3 - Catriona Matthew & Azahara Munoz vs. Stacy Lewis & Angela Stanford
Two very similar pairings: a dependable veteran and a reliable rookie. Catriona Matthew is highly valued by her team and in theory a superb foursomes partner, yet her record is oddly average compared to her fine event form (three wins, four losses, two halves). Again, in theory, Munoz's solid long game should link well with the Scot. Stanford has played three foursomes (won one, lost one, halved one) and there is no reason to think Lewis won't do what she's done all year - play very, very well.
Match 4 - Suzann Pettersen & Sophie Gustafson vs. Brittany Lang & Juli Inkster
The Swedish combo is a very popular one. It is the sixth time they have been put together and the results have been getting worse. They won their first foursomes outing, halved the next three matches they played and have lost their last two. That said, they have played four foursomes matches and lost just the once. Lang was undefeated on debut in 2009 but has never played a foursomes match, Inkster has a superb record in the format (six wins, four losses, three halves) but she has been split from her favoured partner Creamer (see above).
Reaction
Asked for their response to the opposition picks, European captain Alison Nicholas played a dead bat before Rosie Jones stumbled into a rather extraordinary admission.
"It's kind of first strike to Europe," she muttered. "I was kind of expecting Pettersen in the first match, as Alison normally does..."
I asked Jones why she had split up the formidable Inkster-Creamer partnership. The answer was that the course is deemed to be playing long. Not much more detail was revealed but given that both have been partnered with long hitters, we can take the hint that two shorter hitters together is deemed problematic - it may also explain why Morgan Pressel doesn't play at all.
The course
Reiterating Jones' point, Karen Stupples told me: "The course is playing longer than it did for the Irish Open Mainly because the fairways are softer. The ball is picking up a bit of water and mud."
Add in the colder air and you've got added length.
There is one other reason it is playing longer... because it is quite literally longer.
The course played 6,304 yards at the 2010 Irish Open, 6,418 yards at the 2011 Irish Open and is 6,587 yards this week.
Given that it is playing different it may be pointless to look at the course stats, but what the heck - we've nothing else to go on.
The par-fives tend to play quite easily here. All four of them have ranked in the top four easiest holes at one of the two Irish Opens. The seventh and 15th holes have always been the two easiest holes on the course.
The par-threes are a tougher ask - the sixth and 16th have ranked toughest and third toughest holes.
Finally, the players will have a tough start. Not only will the first hole be a pressure cooker of tension but it plays brutal anyway - it has ranked third and second toughest (and may be playing into the wind).
Quote of the pre-events pressers
On her Irish caddie's Cork accent: "It took me about eight months to understand his yardage." - Sandra Gal
The "end of day one" stats
In the previous eleven Solheim Cups there is a perfect split of end-of-day-one scores. Europe has led five times, USA five times and once it was a draw. However, bear this in mind: Europe has won three times and on each occasion it led after day one.