Solheim Cup blog
Last Updated: September 22, 2011 6:17pm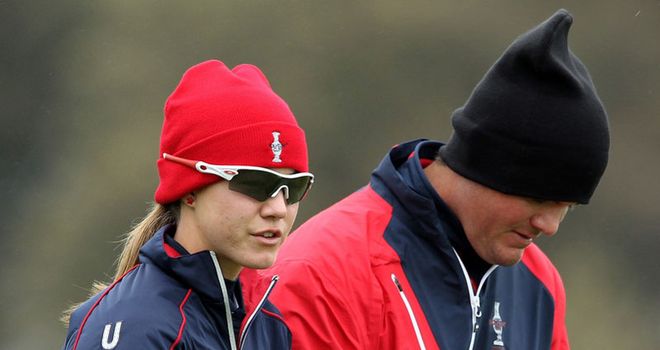 Team USA's Vicky Hurst looks set for skiing not golf at a cold Killeen Castle
Matt Cooper is our man at Killeen Castle this week. Check out his Solheim Cup blog from Wednesday's practice day:
Who's the underdog?
The Americans have been at pains this week to make themselves underdogs. You've got to ask yourself why.
Make no mistake, I believe this European team is a good one and that they have a superb opportunity to reclaim the Solheim Cup (see my preview elsewhere on the site), but the Americans have to be favourites.
World rankings? They have seven players in the top 20 to Europe's one. History? They've won eight, Europe three. Stroke averages? Head to heads? USA win the lot.
Surely the prospect of a bit of wind and rain can't be that intimidating?
Juli Inkster, the American's playing vice captain, was quite insistent on the subject but her exact words might have been telling. "We're going out there to be underdogs," she said.
That hints at vulnerability; a desire to be the chasers rather than the chased.
Laura Davies had it nearer to the truth. Asked to compare the two sides to football teams she first laughed, "We'd be Barcelona and they'd be Grimsby Town." And then corrected it to: "It's like the Champions League final. They'd be Barcelona and we'd be Man United." She's hoping for a different result though.
The Adopted Irishwoman and her bagman
Think there is no Irish participation this week? Think again.
Whilst it's true that no Irishwoman will hit a shot in this year's Solheim Cup there will be a very proud Irishman carrying the bag of Germany's Sandra Gal.
25-year-old Roy Clarke from Douglas, Cork has been working with Gal for the last 14 months after breaking into caddying via a spell working at Bighorn GC in Palm Desert, where he fell into work for LPGA veteran Sherri Steinhauer.
A decent player himself, who played off +1 and competed at a high level in Irish amateur golf, he's an instantly likeable and charming character, something that worked in his favour when he learnt the caddying trade in Waterville during the summers of his youth, "Yeah," he laughs, "telling stories and singing songs to the American tourists!"
In the time he has been on Gal's bag she has emerged from almost nowhere to become a captain's pick, thanks largely to an impressive win in the Kia Classic in March, when she successfully went head-to-head with former world number one Jiyai Shin.
Before and after that win Gal's form was impressive and, although she struggled in mid-season, a return to form in late-summer guaranteed her place at Killeen Castle - and Clarke's opportunity to return home.
"Yeah, I'm ecstatic being a part of the Solheim Cup and all the more so because it's in Ireland," he smiles. "It's been quite a popular subject during the past year on tour. The girls, and more so fans, having being getting excited about visiting Ireland.
"I hope as many Europeans turn up to outnumber the Americans and more importantly get behind Europe vocally."
One group will be guaranteed to provide loud appreciation of Team Europe and one player in particular.
"Yeah," Clarke says, "they will be quite a lot of my family there, and friends, and neighbours, and members of the golf club too - they're going to be out in droves.
"In fact fourteen of my friends are planning to dress in lederhosen for Sandra's singles match!"
Gal herself is excited about their plans. "Can't wait for these outfits," she wrote on Twitter. "What a laugh we will have form inside the ropes! #ILikeBeingAnAdoptedIrish."
It promises to be a huge week and Clarke has been talking to his fellow bagmen to find out what to expect.
"The other caddies have guaranteed it will be the most exciting, tiring and longest week of my life. By the weekend your body is supposedly fuelled on adrenaline alone."
And what is the feeling among the Europeans?
"We're all close," says Clarke, "and confident of beating the Americans this time."
The European rookies' stories
The Solheim Cup is a special week for any player but for rookies it is perhaps a little more out of the ordinary and this year no less than five players will face the drama of a debut. Here's a little background on their story.
Mel Reid - Both teams have suggested that this will be the week that sees Reid announced to American fans. The LET already knows all about her: in her fourth year on tour she has three wins (including one last week) and has finished top ten in exactly half her starts. Her caddie Lee Griffiths will be at home on the first tee too - the proud Welshman was singing his heart out on the first tee at the Ryder Cup this time last year.
Christel Boeljon - The first Dutch representative in either the Ryder or Solheim Cup, she looks like a teenager, but is much more mature than that. I grabbed a quick word this afternoon. "Excited?" I asked. She grinned. "Yeah." There is a quiet confidence about her. As we talked I was reminded of something she said last month: "I'm not intimidated in strokeplay, so why should I be by the Solheim Cup and matchplay?"
Caroline Hedwall - I first saw her play at the 2010 Ricoh Women's British Open and was struck by one thing - she was aggressive and determined but in good ways because those characteristic never got in the way of her scoring well. Suzann Pettersen sees something of herself in the 22-year-old Swede.
Azahara Munoz - The 23-year-old Spaniard had one aim this year: to play this week. So the countdown to the announcement of the captain's pick was tense for her. How, then, did she discover she had made the team? She laughs. "I was in Canada, and I was going to the airport at 4 in the morning. So I got up at 3:30, and I had an email from Alison. It said 'Call me before 9:00 Eastern time in New York', so I was freaking out, and I just called her. She' was like, 'What are you doing calling me at 3:30?' Then she kept talking and talking, but she didn't tell me, 'You're on the team.' Then finally she did, so that was pretty exciting."
Sandra Gal - Winning the Kia Classic, as explained above, was pretty dramatic. But the manner was all the more so. Caddie Roy Clarke takes up the story. "So she was playing with and against former world number one Jiyai Shin in the final group. They were level coming down the last when Jiyai put it to five feet with her third shot. Sandra was so focused, she said, "I'm going to hole this shot" and she nearly did from 83 yards on the fly. Jiyai lipped out, Sandra tapped in for the win."
Taking five rookies into a Solheim Cup might be seen as a risk. Perhaps inevitably the Europeans are talking them all up, but there is a genuine sense that these are a better-than-average crop of rookies. The team's top-ranked player, Suzann Pettersen, was both very chipper today and also very clear: "This is the best European team I have been part of, rookies or not."
Deja vu
All in all, Wednesday has been a fun day at Killeen Castle. With one proviso ... the rain and the wind. It's all horribly reminiscent of the Ryder Cup last year. We're praying for sun.