The Qualifying Storymakers
Matt Cooper casts an eye back over some of fascinating stories to have come out of the US Open's international qualfying event at Walton Heath over the years
By Matt Cooper. Last Updated: 06/06/13 1:38pm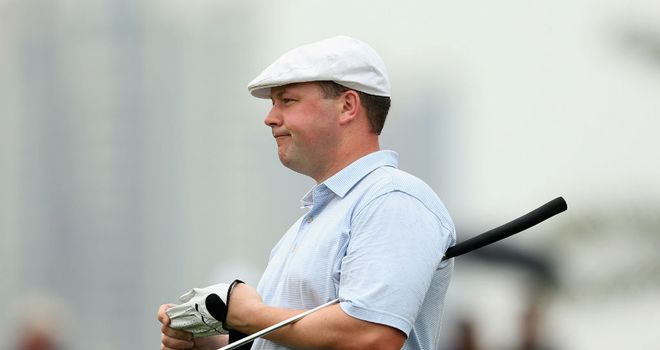 Chris Doak: Could the Scot prove the story of this year's US Open at Merion?
When the USGA introduced international qualifying at Walton Heath in 2005 it was a ground-breaking idea which belied a reputation of inward-looking, protectionist American sport and embraced world golf.
The USGA knew that.
What they didn't foresee was just how the qualifying event itself, or the players who emerged from it, would so frequently make the headlines.
In just nine years the Walton Heath qualifier has become a popular day out and a guaranteed story-maker.
Here are a few of the highlights:
2005 - It all started with a bang. "I wasn't actually going to enter the event," said New Zealander Michael Campbell. "But my management group and my caddy convinced me to play the qualifying. I just scraped through - I really just scraped through!"
A few weeks later, at Pinehurst, Tiger Woods defeated the field by three shots, but Campbell had bettered him by two. "Here I am," he laughed, reflecting on his long journey from Walton Heath. "The champion. Wow."
2006 - Even after qualifying in Surrey Englishman Kenneth Ferrie was a 500-1 outsider, but he defied the odds, held the 54-hole lead and played the final round at Winged Foot alongside Phil Mickelson.
A round 76 saw him slip out of contention, but he had the best seat in the house on the 72nd hole when Mickelson imploded, handing victory to Geoff Ogilvy.
2007 - Brutal evidence of how a career can change in just six years. In 2007 England's Nick Dougherty topped the field at Walton Heath and then led the championship itself after a first round two-under-par 68. He finished the week in a tie for seventh.
This year he is yet to break 76 on either the European or Challenge Tour.
2008 - No great feats, just a curious story. Short-hitting veteran amateur Gary Wolstenholme claimed first alternate status and travelled to Torrey Pines with his fingers crossed.
On the Wednesday afternoon he learned he had a place in the field and BBC radio commentator Andrew Cotter became a last minute caddie, giving him the chance to witness Wolstenholme's out-dated long-game first-hand. On the 514-yard par-four sixth hole playing partner Hunter Mahan reached the green with a driver and an 8-iron. Wolstenholme, meanwhile, came up short of the green with two drivers.
2009 - Drama at qualifying itself when Swede Peter Hanson not only clinched the final qualifying spot in a play-off, but completed the job with a spectacular hole-in-one.
2010 - The year Graeme McDowell won .... and Gregory Havret came second. Remember that? Not many do.
Playing alongside Tiger Woods in the final round Havret was composed and confident all day. Had his short birdie putt dropped on the last green he would have forced an 18-hole play-off. Instead he became the forgotten man.
2011 - More drama at Walton Heath. Scot Richie Ramsay was at Heathrow, ready to catch a flight to the wedding of fellow player Gareth Maybin, when he learned that he, Johan Edfors and Andreas Harto were tied with one spot up for grabs.
Ramsay raced back to Walton Heath but was destined for a double blow: he not only missed the wedding, but he only arrived back in time to see Edfors win the first extra hole. "An awful, awful day," said a distraught Ramsay. "I actually feel physically sick. I can't believe they played when it was pitch dark."
2012 - The most bizarre story of them all. After Colin Montgomerie closed the BMW PGA Championship with a Sunday round of 81 he decided he needed some time alone. So he drove home to Scotland and then all the way back to Surrey for an early tee-time next morning.
"Who in their right mind would do that?" he asked. "But yes, I did it." The 900-mile round trip allowed him to collect a new putter, but it didn't work. He failed to qualify.
So who is destined to hit the headlines this year? There was little drama in Surrey so perhaps it is time for another contender - or story-maker - to emerge.
Perhaps it will be veteran Jose-Maria Olazabal, who could be inspired by the shorter Merion layout.
Or one of the two Englishmen, Simon Khan and Eddie Pepperell, who thrived at Wentworth and then maintained their form next day at Walton Heath? The traditional style layout at Merion might suit them.
The romantic story would be Scotland's Chris Doak. He was the unlucky man of three in extra holes at Open Qualifying last July, but was rewarded for persistence by progressing from the play-off at Walton Heath.
In his flat cap the Scot cuts a dashing and old-fashioned figure that is sure to go down well with the American media and galleries.
And if his golf thrives there is a fine tale waiting to be told.
His coach Bob Torrance was inspired to teach the game by witnessing Ben Hogan's Open Championship win at Carnoustie in 1953. He also visited Hogan in Texas and Merion is where Hogan first triumphed after his career-threatening car crash.
Someone seems bound to add to the Walton Heath qualifying legend - perhaps it will be the 35-year-old Glaswegian and his Hogan-linked coach.