Tiger quest still on course
Woods looking to secure first major for four years at Olympic Club
Last Updated: 21/05/13 4:31pm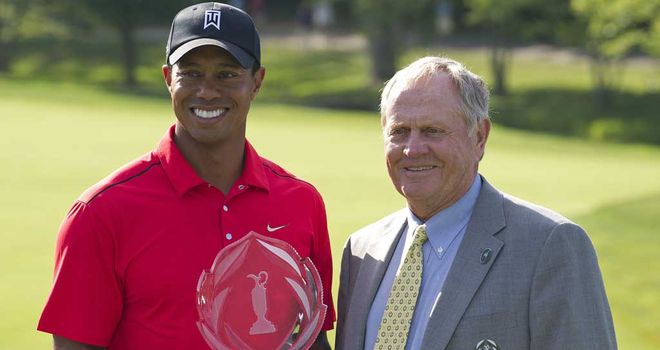 Tiger Woods needs a further four majors to equal Jack Nicklaus' record total of 18
The good news for Tiger Woods is that if he wins just one of the next five majors he will still be ahead of the pace set by Jack Nicklaus.
Woods has now played 61 majors as a professional. Nicklaus was playing his 67th when his 15th win came in the 1978 Open at St Andrews.
The bad news for Woods is that he has not won any of the last 19 - yes, when he tees off in the US Open at Merion in Pennsylvania on June 13 it will be four years since his 14th and last major victory.
It was at the same event in 2008 that he defied injury to continue what looked at the time to be an unstoppable march to reach and then surpass Nicklaus' record of 18 major titles.
"Probably the greatest tournament I've ever had," he said after beating Rocco Mediate in a play-off at Torrey Pines.
Few could argue with that assessment after it was revealed days later that he was going into hospital for reconstructive knee surgery - and had also played with a double stress fracture in his left leg.
"He's not normal," said Mediate, left completely in awe of what he had just witnessed.
Given that he had won 10 of his previous 13 events and had been runner-up in two of the others, Woods went off for surgery arguably even more dominant than he had been when he held all four major trophies at the same time seven years earlier.
The difference between himself and Phil Mickelson at the top of the world rankings was greater than that between Mickelson and the 1,200th-ranked player.
So big a gap, in fact, that even though he then took eight months off to recover he was still number one on his return.
But what the long lay-off did show was that things were starting to change - and they were to change even more, of course, later in 2009 as problems in his personal life came to the fore.
Woods took more time out to try to deal with that, but as well as costing him his marriage to Swede Elin Nordegren - mother of his two children - he lost sponsorship deals and some of his aura as well.
Even after his first PGA Tour victory for 30 months at the Arnold Palmer Invitational last March, a mere two weeks before the Masters, just 23 of 66 golf writers polled at Augusta by the local newspaper thought Woods would go on to beat the Nicklaus record.
However, after three PGA Tour wins in 2012 and four already in 2013, Tiger is back to world number one again and showing the dominance of old.
But can he make it count in the events he treasures most?
Many believe the five-year drought will end at Merion and he'll nudge one closer to Jack's magic number.