Smart Simpson
Ross runs the rule over the big stories from the US Open
Last Updated: 18/06/12 1:54pm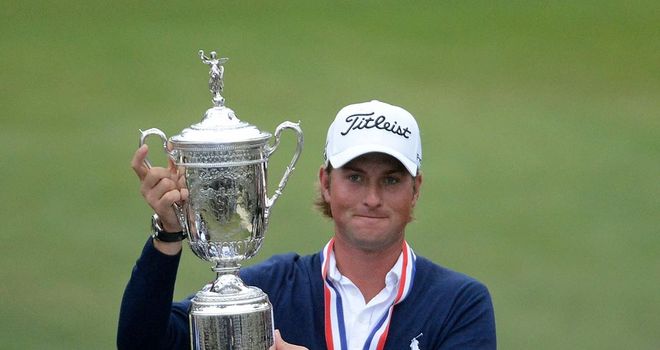 Simpson: won on a tough course
Sky Sports golf commentator Ross McFarlane believes Webb Simpson will be contending at major championships for years to come.
The American triumphed at the Olympic Club last weekend with rounds of 68 on both Saturday and Sunday to take 2012's second major by a shot from Graeme McDowell and Michael Thompson.
McFarlane hailed his performance on a fiendishly difficult course - and also gave his verdict on the performances of some of the other big names.
Read on to see what he had to say on Sky Sports News...
Webb Simpson (Winner, +1)
It was a very difficult golf course, which was set up brilliantly well by the USGA. Interestingly, Simpson was the only one of the last 18 players to break par on that final day, so that got him to come through and win that title. The course itself was fantastic, the greens were brilliant, he putted so well and on the last few holes, when the pressure was on, he had chances to make birdies all the way through. He was six shots behind at one stage and he had a run in the middle of his round where he birdied four of five holes. That was the catalyst to him winning.
Webb Simpson nearly won the Order of Merit in America last year, which shows just how talented this young fellow is. Not only that, he won in his fifth time playing in a major. You've got to start somewhere and he's started nice and early. Are we going to have him on our list of favourites for major championships year in year out? I think we are.
Graeme McDowell (T2, +2)
It was a very gutsy performance. It's difficult to go out in the final two-ball of the US Open with all the world's eyes on you and he wasn't hitting the ball that great. He only hit three of 14 fairways that last day and that is just not good enough on a US Open golf course. For him to go round in only three-over-par doing that showed how gutsy he was. He had a chance to tie and make it into a playoff, but he gave himself the opportunity and he'll be there again in more US Opens because he seems to really thrive on that sort of challenge.
Lee Westwood (T10, +5)
Fifty-seven majors down the line and he still hasn't got that major championship. He's been pipped by Tiger Woods and by others and that's the nature of the game of golf. If he never wins one will he be disappointed with his career as a golfer? No, he's had a brilliant career. But it isn't set in stone that even as a great golfer you're going to win a major championship. Some people win them very luckily.
Tiger Woods (T21 +7)
The big difference we're seeing with the Tiger of today is that his short game, particularly his putting, is not of the same standard. At times he used to hole putts from everywhere. He still does that and at times he has little spells where he putts really well, but all of a sudden his short game's just not good enough, He used to get up-and-down and when we used to say 'it's 12 foot for par' he used to hole it. Now they're missing the hole, that's the difference. Let's be honest, he shot eight-over-par for the last two days and he knows - and everyone else knows - you're not going to win major championships doing that.
Rory McIlroy (missed cut, +10)
He's still a young fellow. He's only 23 years-of-age and he's done so much at such a tender age in world golf. He still has another 15 years at the top, you could say, so don't worry about Rory McIlroy. He's just missing a few tournaments at the moment, his game's not as sharp and we haven't seen the best of him yet. That's to come. When we see that it's going to be the most awesome sight you'll ever see.