US Open 2014: Martin Kaymer outstanding at Pinehurst, says Colin Montgomerie
German now hot favourite the Open Championship at Hoylake
By Colin Montgomerie
Last Updated: 16/06/14 12:22pm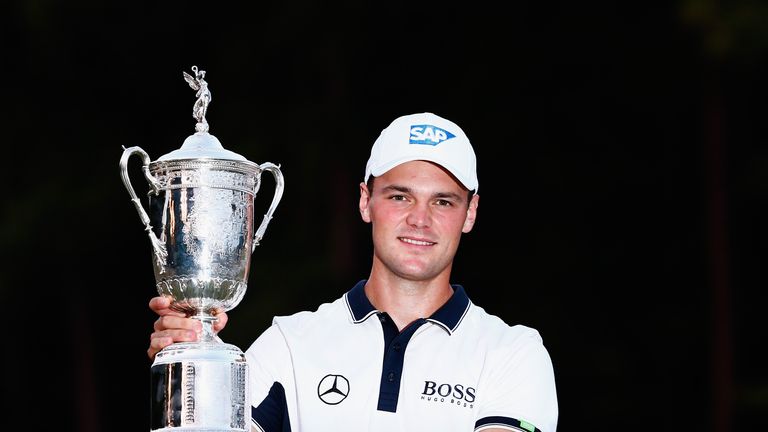 Colin Montgomerie says Martin Kaymer was 'head and shoulders above the rest' in the best US Open performance since Tiger Woods won by 15-strokes in 2000.
Kaymer cruised to an eight-shot victory over Rickie Fowler and Erik Compton at Pinehurst No 2, to add the US Open title to his US PGA Championship victory in 2010 and Players Championship victory last month.
The 29-year-old took a five-shot lead into the final round and was never fewer than four shots clear of his rivals across of week, on a course predicted to have a winning score of around par.
We're trying to make a case for the rest of them but really there was one guy head and shoulders above the rest.
Colin Montgomerie
Three-time US Open runner-up Colin Montgomerie told Sky Sports that Kaymer will go to next month's Open Championship at Hoylake as favourite, after becoming the fourth wire-to-wire US Open winner since 2000 and first German to win the Major.
Montgomerie said: "He didn't get the memo about being level par. There were just two other guys under par and they were just one-under.
"It was a one-horse race from day one. The race was really for second place; we're trying to make a case for the rest of them but really there was one guy head and shoulders above the rest.
"We know about this guy now, don't we?
"He goes to the Open Championship as hot favourite - with that putting stroke and that mind he's the one to beat - and as Players champion, US Open champion, what's next for him?
"I've run out of superlatives. It has been unbelievable golf and the best US Open golf we've seen since the year 2000 when Woods won by that terrific score at Pebble Beach.
"This has been a joy to watch."
Learning
Montgomerie - who captained Kaymer in his rookie Ryder Cup appearance at Celtic Manor in 2010 - says the German has learnt a lot from his drop down the rankings in 2011, following an attempt to change his swing for Augusta - and then missing the Masters cut four times.
"He's been learning there's, no question," said Montgomerie.
"He fell from No.1 in the world – eight weeks at No.1 in the world in 2011 to 63rd – but he's going to be almost back in to the top 10 and he can only go further now.
"I think he learnt physically and mentally about the game of golf and learnt a lot about his golf swing. Now he's found it and he's swinging the club the way he used to and he's back as a Major champion."
Kaymer will now almost certainly be included in Paul McGinley's European Ryder Cup team, something the Dusseldorf-born player has targeted during his rankings climb.
"He's a great asset to any Ryder Cup team," Montgomerie added. "We know what he did in 2010 and he was a great help to me then."
"He was fantastic help to Jose Maria [Olazábal] by holing that six- foot putt [in 2012] and I'm sure he'll be the same for McGinley this time around."
Butch Harmon, said: "He's right on his way. If he doesn't make the European Ryder Cup team, we'll take him on our American one, that's for sure!"