Qualified success
Matt Cooper takes a look at how the Walton Heath International Qualifier keeps producing US Open stories
By Matt Cooper. Last Updated: June 11, 2012 1:26pm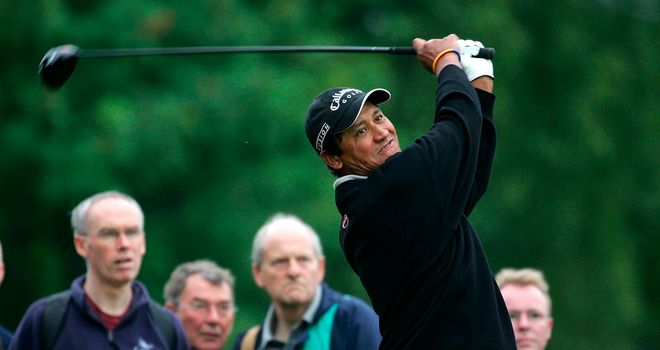 Michael Campbell in action at the Walton Heath qualifier in 2005
Walton Heath generates stories.
Ever since the USGA introduced the International Qualifier at the Surrey club in 2005 someone always hits the headlines, whether it is while qualifying or in the championship itself.
The most amazing story came in the very first year when the ultimate champion, Michael Campbell, started his U.S. Open journey on the two heathland masterpieces the club boasts.
"I wasn't actually going to enter the event," the New Zealander explained after lifting the trophy at Pinehurst seven years ago. "But my management group and my caddy convinced me to play the qualifying at Walton Heath. I just scraped through - I really just scraped through! And here I am, the champion, wow."
Twelve months later Englishman Kenneth Ferrie began a fairytale of his own in Surrey and ended it playing the final round at Winged Foot alongside Phil Mickelson.
A 500-1 outsider at the start of the week Ferrie shot rounds of 71-70-71 to hold the 54-hole lead - the first European to do so at the U.S. Open since Severiano Ballesteros in 1983.
A final round 76 saw him slip into a tie for sixth but he did have the best seat in the house on the 72nd hole when Mickelson imploded and handed victory to Geoff Ogilvy.
The 2007 qualifier also produced a English tournament leader, this time Nick Dougherty who topped the field at Walton Heath on eight-under-par and then led the championship itself after a first round two-under-par 68. He finished the week in a tie for seventh.
The 2008 edition produced a curious tale. The short-hitting veteran amateur Gary Wolstenholme could only claim first alternate status and travelled to Torrey Pines with his fingers crossed.
On the Wednesday afternoon he learned he had a place in the field ... but no caddie. So BBC radio commentator Andrew Cotter took the bag and witnessed Wolstenholme's out-dated long-game first-hand.
On the 514-yard par-four sixth hole playing partner Hunter Mahan reached the green with a driver and 8 iron. Wolstenholme, meanwhile, came up short with two drivers.
Hole in one
In 2009 Swede Peter Hanson was the star at Walton Heath when seven players headed off into the evening to fight for he remaining four spots in the main field.
On the second extra hole, a 206-yard par-three, Hanson made a hole in one. "I was pumped up," he said. "And it was a perfect shot."
One year on Frenchman Gregory Havret also needed a play-off to book his ticket west and it proved worth the stress because his week at the main event very nearly equalled Michael Campbell's.
A third round 69 at Pebble Beach left him fourth, in contention for the title with Tiger Woods, Phil Mickelson and eventual champion Graeme McDowell.
The Northern Irishman's stunning win means that Havret's composed final round of 72, played alongside Woods, has largely been forgotten, even though he came just one shot short from a play-off (and he missed a very makeable birdie putt on the final green).
There is a wonderful short video available here which shows the progress of Havret in the last round, as seen through the eyes of his friend (and fellow qualifier) Jean-Francois Lucquin.
It's in French but you don't need to be bi-lingual to appreciate Lucquin's emotions - it's also entertaining to see how relaxed Havret remains in contrast!
Last year's qualifier saw excitement late into the night (9.15 pm to be precise). Scotland's Richie Ramsay completed a 36-hole score of four-under-par, concluded it was not good enough and drove to Heathrow to catch a flight to the wedding of fellow player Gareth Maybin.
Then he got a phone-call: he, Johan Edfors and Andreas Harto were tied with one spot up for grabs.
Ramsay raced back to Walton Heath but was destined for a double blow: having missed the wedding he arrived in time to see Edfors win the first extra hole.
"It's just been an horrific day. An awful, awful day," said a distraught Ramsay. "I actually feel physically sick. I can't believe they played when it was pitch dark."
Ramsay very nearly got in after all when Robert Rock had visa problems. It was reported that he had to pay £15,000 to fast-track his application at the start of U.S. Open week and then another £1,000 for a four-hour cab ride from the airport to course when he finally got to the States!
Amazingly, despite having not played the course, he found himself in the fifth-from-last group on the Saturday (and one of the stories of the week).
So who is destined to hit the headlines this year? There was little drama in Surrey so perhaps it is time for a contender to emerge again.
The Swedes have done well in the past so maybe top qualifier Alex Noren will thrive at the Olympic Club. If another Frenchman excels perhaps it will be Gregory Bourdy or Raphael Jacquelin? And one hopes that short-hitting Italian teenager Matteo Manassero will not suffer as Wolstenholme did.
One thing is for sure - England's Lee Slattery is guaranteed a good time. Speaking at the ISPS Handa Wales Open he revealed he had already planned his trip.
"Oh yeah," he smiled. "I can't wait. I've got baseball tickets lined up and I've been on the net booking the boat across to Alcatraz!"
Let's hope he doesn't go down the (Robert) Rock route and find himself needing to escape to make his first round tee time.