Augusta adds female members
Condoleezza Rice and Darla Moore become first female members
Last Updated: 27/02/13 9:08pm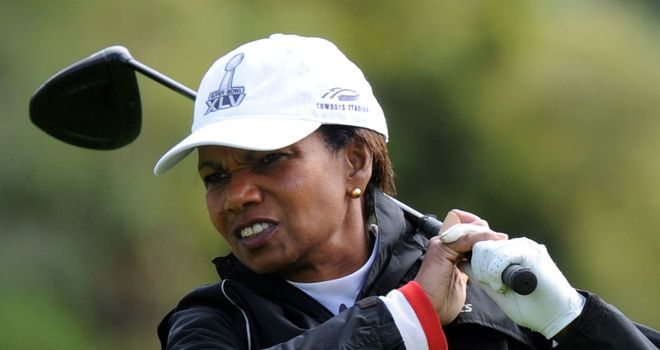 Condoleezza Rice: Has accepted membership at Augusta National
Augusta National, home of the Masters since 1934, has added the first two female members in its history - former Secretary of State Condoleezza Rice and business executive Darla Moore.
The club had come under increasing pressure in recent times because of its all-male membership, but has now broken with that tradition.
Rice and Moore will now become the first women in green jackets when the club opens for a new season in October.
Club chairman Billy Payne said in a statement: "This is a joyous occasion as we enthusiastically welcome Secretary Condoleezza Rice and Darla Moore as members of Augusta National Golf Club.
"We are fortunate to consider many qualified candidates for membership at Augusta National. Consideration with regard to any candidate is deliberate, held in strict confidence and always takes place over an extended period of time. The process for Condoleezza and Darla was no different.
"These accomplished women share our passion for the game of golf and both are well known and respected by our membership. It will be a proud moment when we present Condoleezza and Darla their Green Jackets when the Club opens this Fall.
"This is a significant and positive time in our club's history and, on behalf of our membership, I wanted to take this opportunity to welcome them and all of our new members into the Augusta National family."
Delighted
Rice, 57, was the national security adviser under former President George W Bush and then became secretary of state in his second term. She now is a professor of political economy at Stanford's Graduate School of Business.
"I am delighted and honoured to be a member of Augusta National Golf Club," she said.
"I have visited Augusta National on several occasions and look forward to playing golf, renewing friendships and forming new ones through this very special opportunity."
Moore, a year older, is vice president of private investment company Rainwater and founder and chair of the non-profit think-tank Palmetto Institute.
The announcement comes a decade after activist Martha Burk stepped up pressure on the club to admit women, to which then chairman Hootie Johnson responded that they would not be forced to change its policies "at the point of a bayonet".