The Open 2014: American media taking a delusional view of Tiger Woods, says Simon Veness
By Simon Veness
Last Updated: 16/07/14 10:02am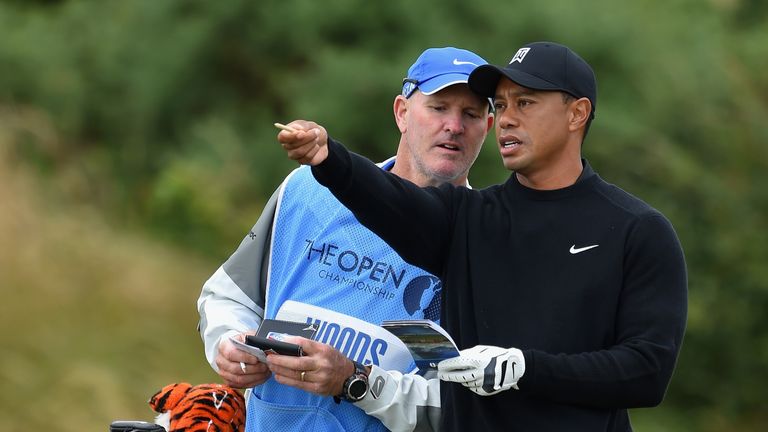 OK, enough is enough.
Having spoken at length last week to the eloquent and thoughtful Frank Nobilo about the prospects for this week's Open, it seems the US media has taken a hefty step back in time, if not quite to the Stone Age then at least 10 years or so.
True, some comments have bordered on the Neanderthal, but others who ought to know better have also been beating the same worn-out drum.
It's the Tiger Woods Show, and his to lose, and similar rash and dim-witted comments. The 'Tiger Tracker' will be going full force once again and most American scribes will have only one story in mind. It starts with a 'T' and ends with an 'S', and it does a massive disservice to the other 155 players vying for the title.
Competitor
Yes, of course Tiger thinks he's "pretty darn close" to 100 per cent again after his back surgery in March, his long, deliberate recovery process and his full two rounds since then. If he had half a leg hanging off and a wolverine gnawing at the other, he would still fancy his chances, he's that kind of competitor. If he can swing a club, he will believe he's in the frame.
Today's Top 30 or so are made of much sterner stuff than 10-14 years ago. Today's young tyros believe the Tiger legend is simply that, a legend or myth that has no relevance to how they tee it up in 2014.
Simon Veness
And yes, he did come through with flying colours the last time the Open paid a visit to Royal Liverpool, when Tiger not only tamed the Hoylake course but also gave it a royal hiding and sent it home with its tail between its legs.
And yes, he has emerged victorious in a Major on very little preparation before, taking the 2008 US Open in an epic play-off against Rocco Mediate following knee surgery that April and playing on a left knee that subsequently resembled dog-meat.
But this is not the Tiger Woods who carried pretty much all before him from 2000-2006 when he claimed 10 of his 14 Major prizes, including the epic 'Tiger Slam' in 2000/01.
It is not even the Tiger of six years ago, the last time he was victorious in one of the Big Four. This is a 38-year-old version who has more miles on the clock than most competitors of his age, absolutely no form dating back to August last year, and no weekend form at a Major competition in recent years.
Myth
In fact, he hasn't broken 70 on a Saturday or Sunday in any of the only real events he truly cares about since a final-round 67 in the 2011 Masters , when he was already largely out of contention.
This isn't the same golfing landscape as when the former world No.1 carried all before him, either. Back then, the mere hint of a murmur of his name on a Sunday afternoon was enough to send most other contenders into a tailspin.
Today's Top 30 or so are made of much sterner stuff than 10-14 years ago. Today's young tyros believe the Tiger legend is simply that, a legend or myth that has no relevance to how they tee it up in 2014.
Many of the current Top 20 have never so much as seen Tiger win a Major since they started playing in the elite tournaments, players like Rory McIlroy, Jason Day, Jordan Spieth, Keegan Bradley and Hideki Matsuyama.  
So, to insist – as many of the Talking Heads here are doing – that Woods is on the verge of Major No.15 simply by turning up is such arrant nonsense, it makes you want to scream.
The bookies, never usually ones to give anything away, rate him a 25-1 shot, which is good enough for fifth favourite, and even that is stretching things more than a tad, as it places him above recent winners and in-form men like Martin Kaymer, Graeme McDowell and Matsuyama.
Fed up
That isn't to say Woods won't be worth watching or that he can't put a decent round together with virtually no form to speak of. But it would require a comeback better than almost anything since Lazarus to imagine him in the winner's enclosure on Sunday night.
And I am truly, utterly fed up with the sports radio hosts who believe the golf world revolves around Woods and who barely acknowledge the other players in the field.
Even the usually well-grounded Sports Illustrated were guilty of it this week, making Tiger's comments about his 'readiness' for Hoylake their lead golf item, and leaving other names (like defending champ Phil Mickelson and this year's current Major winners, Bubba Watson and Kaymer) off their radar altogether.
Fortunately, ESPN's sagacious writer Gene Wojciechowski put some sanity back in matters on Tuesday when he opined: "To think Tiger's going to pop into Hoylake and leave here with his fourth Claret Jug is somewhere between wishful thinking and Lindsay Lohan doing Shakespeare in the park."
Certainly Lohan might just turn her hand to a spot of the Bard – Lord knows, she's tried just about everything else – but its likelihood is WAY more than 25-1.
So do let's keep things in perspective when the 9.04 tee time for Messrs Woods, Stenson and Cabrera rolls round on Thursday morning.
Challenging
This certainly isn't 2006 all over again. For one thing, the course will be playing much tougher since its last Woods-inspired spanking. Players will need to reach for their driver more often, and there are, conservatively, at least 50 players who can out-perform Tiger's least-favourite club.
The par-fives have traditionally been where you can attack Hoylake, but they will have more protection this time around, with a few lengthier holes and – according to the meteorologists – more testing breezes in the offing.
All in all, it promises to be a thorough examination of links golf credentials, and anyone who claims the Claret Jug on Sunday will certainly have earned it, as the weathermen predict the toughest day of the four, with the temperature barely reaching 19C and a stiff westerly wind around 10 knots.
That's certainly not on the level of St Andrews in 2010, when the R&A had to suspend play because the wind was threatening to deposit players in the Eden Estuary, but it will make for a decidedly challenging scenario.
And, while Woods could still surprise us and turn the clock back eight years with another Hoylake master-class, I'll be holding out for Lindsay Lohan reciting something by Queen Titania. As that really would be a Midsummer Night's Dream.