Simon Veness highlights what makes the US Open such compelling viewing
By Simon Veness
Last Updated: 09/06/14 1:31pm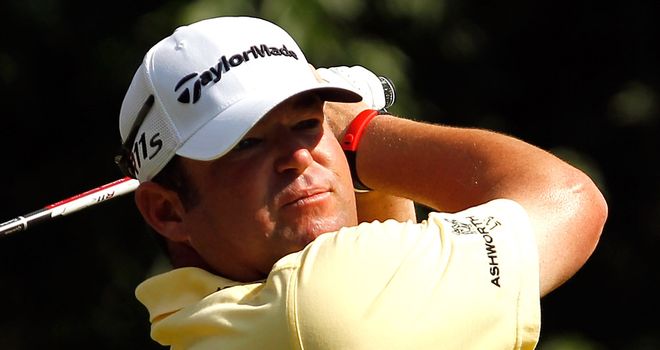 Typical words bandied around are "tough," and "cruel." You could also add in knuckle-bitingly frustrating, edge-of-the-seat thrilling and cringe-inducingly mesmerising.
In many ways, it's like watching a slow-motion train wreck, with a high-profile casualty list in the full glare of the TV spotlights. There is nowhere to hide but, for those who get it right, there is no more satisfying tournament to win.
Welcome to the annual golfing hair-shirt spectacle that is the US Open.
US Open Golf
All four days live on Sky Sports 4 from Thursday June 12
And it is the self-torture aspect of the event that makes it unlike any other outing on the calendar, with the good and great – and a bunch of amateurs and qualifying-tournament wannabes – willingly putting themselves through the kind of ordeal that would send the average club hacker screaming for the nearest asylum.
Unlike most events, there are no gimmes in a US Open, no holes where players can free-wheel and take things for granted. On most American courses, the world's best can play target golf at times, putting the ball where they want it – mostly with drives that threaten the stratosphere – and look to build minus numbers that would thrill a penguin in winter.
But that is rarely the case for the USGA's annual showpiece. In fact, of the last nine champions, only three finished under par and, if you take out the monstrous anomalies of Rory McIlroy's stonking 16-under-par romp in 2011 and the 12-under finish of Tiger Woods in 2000, there are no other double-digit winning performances in the history of an event that dates back to 1895.
This is golf as seen through the finely-tuned lens of a diamond cutter, a test of patience and strategy as much as the biffing ability to put a small round ball in a hole not much bigger than it is.
You hear the pundits talk about the unique challenge it presents on a daily basis over here, and even the hint of bad weather is enough to send shivers down the spine of seasoned observers.
The US Open on a good day? A test of the most fiendish kind. On a day when the wind blows or the rain falls? It's something straight out of Dante's most hellish imagination.
Respected sportswriter Gary Van Sickle summed it up most succinctly this week when he wrote that the US Open is "the meanest, toughest, roughest, cruelest, stingiest SOB in open golf."
And that might just be an understatement.
Put simply, you don't win the Open so much as survive it. In the event of a tie, the would-be 'winners' have to play another full 18 holes while the other more fortunate souls can put their feet up and watch someone else taking the punishment. Even those who end up holding the trophy on the final day look relieved as much as elated.
For obvious examples you don't need to look much further than big-hitting American Dustin Johnson in 2010 when, as the final-round leader having shot 71-70-66, he collapsed to a gruesome 82 at Pebble Beach and finished a distant eighth to our own Graeme McDowell, who claimed victory with a typically canny level par.
And the last time it was held at Pinehurst's formidable No.2 course (which was nine years ago)? South African Retief Goosen – who already had two US Open wins to his name – and California's Jason Gore teed off in the final pair and NEITHER broke 80.
The tortured Gore scythed his way to a miserable 84 and has hardly been seen since. It was golf by Dewhurst's, a vicious sporting butchery that would have made Sweeney Todd blanche.
But it is the kind of viewing that is totally and utterly compelling, not so much in delight at superstars being made to seem mortals but in presenting a facet of the sport we rarely see in such finely-etched detail, a test of brain-power as much as power play.
USGA executive director Mike Davis highlighted it in my 2-part column last week and it is as true as the Nike swoosh on McIlroy's bag. Anyone who takes a less than cerebral approach to Pinehurst is asking to join the witness protection programme as defined by poor old Gore.
Who will survive?
All of which preamble leads us to the question: who will 'survive' the fabled No.2 course next week?
It's easy to point to the usual suspects such as any past US Open winner, especially those with some current form under their belts such as McIlroy, Goosen and Justin Rose. Phil Mickelson is a perennial contender (with a record six runner-up spots, he's the next best thing to being there or there abouts) while McDowell and Lee Westwood should also find the challenge to their taste.
But eight of the past nine champions were first-time winners in US Open terms, so there is clearly room for someone new to burst into the winner's enclosure, which would also be in line with the amazing nine debut victors on this season's US PGA tour.
The wide, open expanses of Pinehurst are not conducive to raw talent, though, hence it would be something of a surprise to see the likes of young Japanese star Hideki Matsuyama or up-and-coming Americans Harris English, Jimmy Walker or Jordan Spieth make it to the final day among the leaders.
Good course managers like Adam Scott, Henrik Stenson and Jim Furyk can all sharpen their golfing wits in anticipation of a decent run, and long hitters such as Dustin Johnson and JB Holmes could also thrive.
Two-time Masters champ Bubba Watson is the one player who fits no particular niche right now. 'Bubba golf' has become a law unto itself and there is no predicting just how well our local mini-golf celebrity might take to the unique style of No.2.
But, like everything around these 18 holes of prime North Carolina real estate, you can be absolutely sure it will be riveting viewing.