US Open: Simon Veness meets USGA president Mike Davis to preview Pinehurst
By Simon Veness
Last Updated: 28/05/14 4:22pm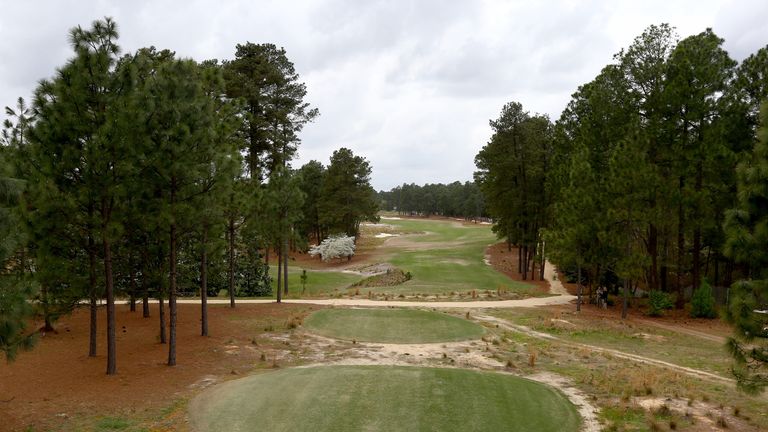 In a two-part special, our man in America, Simon Veness, talks to USGA executive director Mike Davis about a US Open to savour.
It is simply called Course No.2 but there is nothing simple about this year's venue for the US Open, which starts on June 12. The Pinehurst Resort calls itself 'The Cradle of Golf,' but, for once, there is no hyperbole involved on this side of the Atlantic.
We are used to NFL teams calling themselves 'world champions' when much of the rest of the world has no interest in watching, let alone playing it. We often hear sportsmen here insisting "We shocked the world!" when, in fact, they merely surprised an American audience while the rest of the globe remained blissfully ignorant of their earth-shattering feats.
But it is no exaggeration to think of an upmarket corner of North Carolina as a truly historic location for the sport of golf, with a lineage that can be traced back to St Andrews and Old Tom Morris himself.
If you want to wow visitors to the good ol' US of A, you take them to New York and show them the Empire State Building or the Rockefeller Tower. If you want to overwhelm them with the sheer natural beauty of the country, you visit the Grand Canyon, Yellowstone National Park or Yosemite.
But, if you want to instill them with a sense of America's love for tradition and all things historic, you take them to Augusta, Churchill Downs (home of the Kentucky Derby) or Indianapolis Motor Speedway. Or Pinehurst No.2.
Here, 107 years ago, Donald J Ross completed the construction of a course that has become a genuine legend in American golf, made extra-special by the sparing visits paid by the big tournaments over the years (the US PGA Championship in 1936, the Ryder Cup in 1951 and the US Open in 1999 and 2005).
Artist
Aficionados will immediately recognise the Ross name as one of THE great forces in 20th century course design, a man of immaculate golf upbringing and an attention to detail that rivalled Picasso and Dali. His courses weren't so much mere golfing locations as symphonies of nature, gently shaping the local resources to the sporting idiom rather than imposing wholescale changes on the landscape.
Put simply, a Ross course blended with its surroundings in total harmony rather than sticking out like an overblown thumb. And he achieved one of his crowning glories in Pinehurst, his first major commission after arriving in America from Scotland, where he had studied under the venerable Old Man of the Links himself, Tom Morris.
Now, for only the third time in 16 years, the No.2 course (of eight) will be the centre of golfing attention like never before.
Not only will the Pinehurst links host the 114th US Men's Open next month, it will be immediately followed in unprecedented style by the 69th US Women's Open.
And all this on a course that was painstakingly restored at a cost of $2.5million in 2011 by Ben Crenshaw and Bill Coore to bring it back in line with Ross's original design, that had been steadily eroded in the modern era by the mania for over-seeding and over-irrigation.
Then you have these terribly big greens that play much smaller than they look, where just being on the green may be the best tactic, irrespective of the hole placement. There is going to be a lot for the players to think about.
Mike Davis - USGA president
What we have now is a course with NO rough (there are the greens and then everything else, with fairways gradually bleeding out into areas of sand, wire grasses and pine straw), monstrously wide fairways (by US Open standards), greater length (with 13 new tees taking the course from 7,214 yards to 7,565) and radically reshaped bunkers, going back to the original rustic Ross style thanks to a series of 1940s aerial images.
It does, however, retain the kind of turtle-back greens that can bring the pros to their knees in frustration at the limited landing areas offered by their wickedly undulating profiles.
All in all, it is a makeover of epic proportions, and one that has many purists salivating at the thought of today's golfing warriors striding into an arena of immense strategic significance, where it will require players to out-think rather than out-hit the daily set-up. Every hole will offer unique challenges – like the massive 530-yard par-4 fourth and the par-four seventh, where the restored sandy profile will lurk down the entire right side of the vicious dog-leg-right profile – and woe betide any pro who thinks they can just turn up and let it rip.
No wonder the US Golf Association themselves are almost giddy at the prospect of bringing the world's best to this 19th century beacon of golfing purity, not once but twice in the space of little more than a week.
US Open on Sky
From 2pm, Thurs June 12 , Sky Sports 4 HD
Anticipation
And, with that sense of anticipatory delight in mind, I was able to speak to USGA executive director Mike Davis (just the seventh supremo in the 118-year history of the organisation) about what's in store.
He told me: "I always get excited about the Open but this year I am doubly excited, and not just because of the uniqueness of having the Women's Open in immediate succession but because there are any number of compelling storylines to follow.
"First off, we are going to this old iconic course with such a rich history that in some ways is 'new' again, but as Donald Ross originally intended. It is aesthetically very different to our last Open here but much better. It has more definition now.
"This Open is also going to be much wider in the way it plays than any we have seen in the last quarter century. We haven't seen anything remotely this wide so I think you are going to see the players having to be more creative off the tee. If you miss the fairway you are going to be in this mix of wire-grass, sand and pine-needles, and that will be a serious test of the strategic thinking of every player.
"Then you have these terribly big greens that play much smaller than they look, where just being on the green may be the best tactic, irrespective of the hole placement. There is going to be a lot for the players to think about."
The US Open has typically presented the toughest challenge for the world's players in terms of merely staying under par, with three of the past four winners being at level par or one over. Go back to 2006 and '07, and the trophy holders (Geoff Ogilvy and Angel Cabrera) were both a less-than-gaudy five over for the tournament.
But Davis believes it is a question of challenging the way today's pros think about the course and of presenting them with a strategy they don't see every week.
He explained: "When you listen to Jack Nicklaus, one thing that never changes here is course management because of the way these greens sit up in the air and, when a flag is tucked in on the short side of the green, it is a hard up-and-down. Jack told me you have to play to the middle of the green and just putt to the hole location, wherever it is.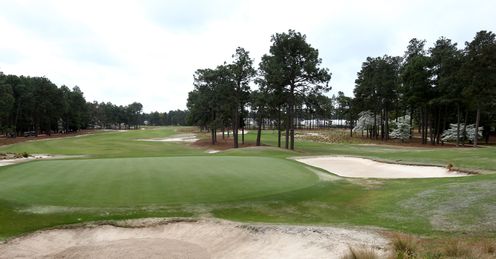 "For these great players today, that is hard to do, to consciously aim away from the flag. But it is going to be one of the challenges they face. And it is going to take a longer hitter, someone who can hit the ball really high but who really thinks well and has good course management, to do well here."
And Davis also had some sage advice for players who think they can wing it around the wide, sandy acres of Pinehurst.
He insisted: "When I first started at the USGA in 1990, I noticed players would play more practice rounds than they do now. A lot will only play nine holes of a practice round these days. Maybe they don't want to tire themselves out. But I have come to realise that the players who go out to learn the course the most are the ones who do the best.
"Two players who put in the most practice time last year were Justin Rose and Phil Mickelson. They spent countless hours learning that course at Merion and it was no surprise to me that they finished one and two.
Subtle
"We like our courses to have great architecture but there are these little subtleties like where you can't afford to miss the green on a particular hole, and you don't learn that just from a yardage book."
So, if you're already looking for a pre-tournament favourite, you might want to see who is spending most time in North Carolina during the next few weeks, sifting through the sand, wire-grass and pine needles of No.2 and truly studying the nuances of this unique course.
In US Open terms, the door is wide open for the usual stereotypes to be discarded. But, equally, anyone who discards proper preparation is unlikely to be playing on Saturday and Sunday, let alone looking to follow Rose as the next champion.
* Part two of my extensive chat with Mike Davis – including the implications of no Tiger Woods, how the USGA decided on back-to-back Opens and the current state of world golf – will follow this week.