Arnold Palmer Invitational: Simon Veness witnesses 'weird' final round
Golf is a funny old game, says Simon Veness, as the topsy-turvy closing holes at Bay Hill showed...
By Simon Veness
Last Updated: 25/03/14 11:23am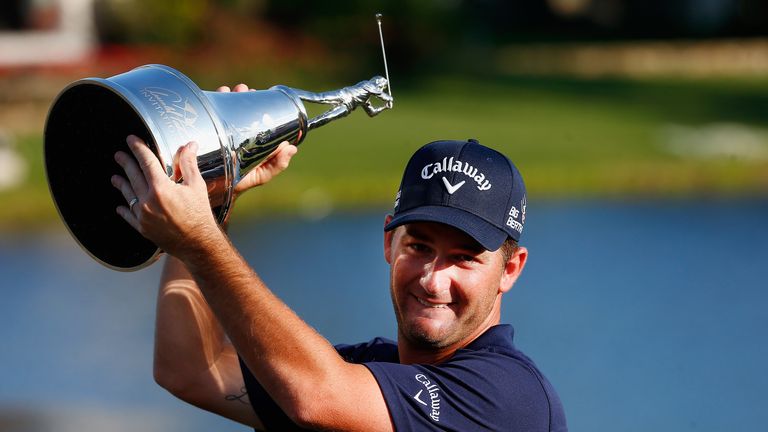 They were obviously talking about the football world, back in the 1980s and 90s, but the famous line came back to haunt the Arnold Palmer Invitational event on Sunday, after a truly topsy-turvy final round that saw a nailed-on winner unravel almost completely and other contenders get tossed aside like flimsy makeweights - the opposite of the wheat being sorted from the chaff.
In fact, it wasn't a question so much of 'funny' as downright 'weird.' As I will explain.
To recap, we arrived at the final round with Masters champ Adam Scott in a solid pole position; not quite as dominant as he had been at the half-way stage, with a seven-shot lead that hinged on his record-equalling opening round 62 (which you can read all about on this link), but still three strokes to the good at 15 under.
Sure, there were some decent players poised to make a run, but it wasn't exactly a 'Who's Who of golfing's Good and Great'. There was no Tiger, obviously, and no Phil Mickelson, Rory McIlroy or Sergio Garcia.
Justin Rose had inexplicably failed to make the cut, Bubba Watson had suffered a Day One meltdown and in-form American Patrick Reed (with three Tour wins already this season) was well off the pace.
Graeme McDowell had seen his chances fade with a second-round 77 and was 11 behind Scott; top European Henrik Stenson was a full 10 shots back; and fellow Ryder Cup hero Ian Poulter was going to have to make up seven strokes to get past the Aussie. Again, not impossible but highly improbable.
Of those within striking distance, playing partner Keegan Bradley had slumped to No.28 in the world, without a PGA Tour win since August 2012, Jason Kokrak's best finish was a second - also in 2012 - Francesco Molinari had never even got that close and Matt Every was still looking for his first victory in his 93rd PGA outing.
Scott had carded three successive under-par rounds to carve out his lead and, while going low wasn't out of the question on the course that Arnie (re)built, it was getting tougher each afternoon. But a low score was surely going to be needed to get past the broom-handled Queenslander.
Special
If you had then predicted the winning score would be a modest two-under-par 70 on the day (and one that didn't belong to Scott), you would have been quietly led away to somewhere dark for a nice lay down.
Which is where we were early in the afternoon as I followed Welsh ace Jamie Donaldson and American Brandt Snedeker, considering them the best of the early pairings and a possible side-story as possible Ryder Cup opponents at Gleneagles in September.
Donaldson has been THIS close to a big US breakthrough in recent weeks and is top of the European money list, while Snedeker is a perennial Mr Consistent, and always good to watch.
Jamie had been a respectable six-under after two rounds, but then took a step back with a third-round 74, but, as he almost eagled the par-five sixth and walked away with a birdie for five under, I suspected something special might just unfold. I was right, but for all the wrong reasons.
The right-hander from Pontypridd then proceeded to spray the ball all over the course; left and right; in the sand, in the rough; and missing putts of just about every type. A promising five-under became one over in the blink of an eye, and he needed an amazing chip-in finish at the 18th, from all of 87ft, to finish level par.
Snedeker, meanwhile, went the opposite way at a rate of knots, sinking four birdies in six holes, surprisingly dropping one after a magnificent drive on 15, then picking up two more following immaculate irons. He failed to save par at the 18th but was (briefly) the clubhouse leader at eight under.
Donaldson, meanwhile, was baffled. "Golf is weird at the moment. I've played it great for the first two days in the past two tournaments and terrible at the weekends, fresh from having a fantastic tournament at the World Golf Championship. Why? I don't know. I just don't get it."
Now fast forward to the key events of later in the afternoon, with the leaders going out - and Scott going backwards.
A first-hole bogey; another at the third, salvaged by a birdie at four; then another mystifying dropped shot at the seventh. At the turn he was 13 under - and so was Every, who was on a tear of four birdies in five holes.
Puzzled
Suddenly, the logical order of things had been inverted and the world No.2 could do nothing to get right-side-up again. A run of four pars was followed by another bogey, and now he was 12 under to Every's 15. But here, surely, was the turning point for a player of Scott's pedigree?
Ahead at the par-five 16th, the American had hit into the woods, then hit a small tree - "It was as thin as my leg. How can you hit something that small dead centre?" he puzzled afterwards - and was struggling for his par at a hole almost everyone else was abusing.
Sure enough, a dropped shot and the smell of blood in the water for the Aussie, following up the 16th fairway after a picture-perfect drive. A 20ft-putt for eagle and a chance to share the lead...no! It rolled just past. But a birdie for sure, and only one down with two to play; from just four feet...
Well, you just knew that weird was going to be the order of the day. The birdie putt missed and another bogey followed at 18 and, instead of 13 under, Scott was left with a fairly miserable 76 and 11 under, his worst round since last June.
Every's last-hole bogey dropped him to 13 under, one ahead of Bradley, who closed with a decidedly ordinary 72, and two ahead of Scott mainly courtesy of those two missed putts on 16 and 18.
But then a funny thing happened in the interview following the trophy presentation.
A visibly stunned Every - "I can't believe I won. I really can't" - looked across at the assembled media and added: "I never thought, 'Yeah, I'm going to chase Adam down.' There's no way I'm that good if he has his good stuff. So, things happen. It's a weird game."
And there you have it, in a nutshell. Not just from one of the many losers of the day, which would be predictable, but from the only winner (for, as Every reminded us, "You're used to losing. You lose every week, pretty much, because golf is totally different than any other sport. Each week, there can be only one winner").
Golf is officially a weird sporting phenomenon. You can't predict it, dissect it or make sense of it. Weird just 'happens.' And it really IS a funny old game. Just ask Jamie Donaldson and Matt Every.
Catch some more PGA Tour golf from 7pm on Thursday on Sky Sports 4, as the top players across the Atlantic tee off in the Valero Texas Open.