US PGA Championship: a 15th Major is within Tiger Woods' reach
The US pundits might just be right, says Simon Veness; a 15th Major is in Tiger Woods' reach.
Last Updated: 06/08/13 5:22pm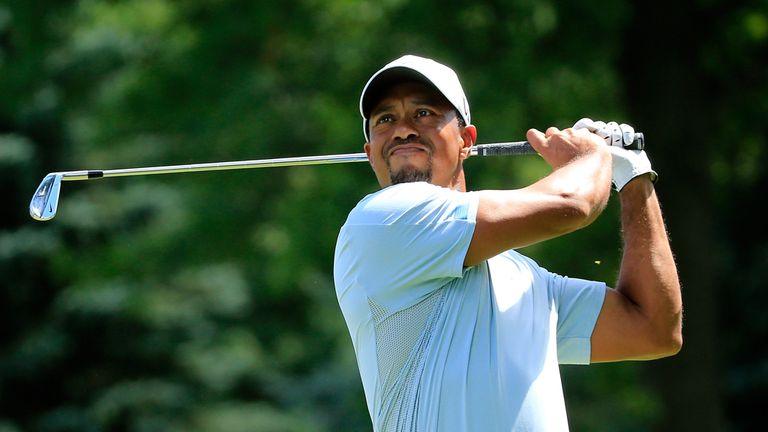 There is only one person playing in this week's US PGA Championship in Pittsford, New York, and the US media make absolutely no bones about it.
The tournament starts, continues and ends with one Eldrick Tont Woods, and there is just no point even talking about anyone else.
Tiger, as the rest of the world knows him, has only to turn up to claim the latest of his Major titles (and the first in more than five years). It is absolutely nailed on; guaranteed; a cert.
And the media over here simply has no use for anyone called Justin Rose, Adam Scott or Phil Mickelson (this year's Major winners to date) or even Rory McIlroy, who just happens to be the current holder of this particular piece of significant silverware.
No, the golfing cosmos turns purely on the Woods axis this week and we just have to get used to a steady diet of When He Claims Major No. 15.
Failed
If it sounds like you've heard it all before, it is because you have - right before the Masters last April, when Woods galloped into Augusta on the back of three early-season wins, including a dominating display in the Arnold Palmer Invitational event in Orlando.
There was no doubt about it. Tiger was on the hottest of streaks and there was no-one to stand in his way. After a five-year Major hiatus, he was about to hit the Jack Nicklaus trail once again and it was just a question of how many titles he was going to pass the Golden Bear by.
When that scenario didn't quite pan out, it was on to marvellous Merion, where he arrived with the Players Championship - the fifth 'Major' - securely in his pocket and was again poised to sweep all before him in the US Open.
Only it didn't happen there, either. And, when he failed to break par on the weekend of The Open Championship for the sixth year in a row and saw arch-rival Mickelson claim the all-important Claret Jug, you would have thought the clamour for The Great Woods Revival would die down, perhaps just a bit.
Not at all. In fact, the demand for a Tiger, Tiger Burning Bright has increased to near-crescendo level, with just about all and sundry over here absolutely convinced he will, finally, break that five-year hoodoo and rack up his 15th Big One.
So that's where we are as we turn our golfing attention to Oak Hill Country Club and a swanky suburb of Rochester in up-state New York, where the average household income is second only to Manhattan in the city of the same name.
In a way, it is fitting territory for Woods to be staging his latest bid for 'The Breakthrough', an historic setting dating back to 1901 that has hosted every single major event on this continent, with a Tudor-style clubhouse that could be transplanted from deepest Surrey and a litany of golfing greats, from Sam Snead to old Jack himself.
Déjà vu
It is tailor-made for a Tiger hunt, and the American pundits have backed him to the hilt following his runaway triumph at last weekend's WGC-Bridgestone Invitational, where he not only won but utterly destroyed a field at least as strong as he will see this week.
It's therefore a foregone conclusion he will tee off on Thursday and waltz his way to victory on Sunday evening (all live on Sky Sports). Isn't it?
I ask the question only because I wrote along very similar lines prior to the Masters, US Open and our Open Championship, so those of you with a severe feeling of déjà vu are absolutely spot on.
Having been taken to task by various readers for seemingly writing Tiger off before The Open, I can only reiterate what I said then - this is NOT the Woods of 2000-2008 when he pocketed 12 of his 14 Majors and was genuinely a sporting Force Majeure.
He was 32 when he claimed No 14, and he will be 38 before this year is out and, while some players have overcome that kind of Major drought - most notably Nicklaus himself, between 1980 and '86, and Ernie Els from 2002-12 - the sands of time are most assuredly not pouring in the right direction.
The Woods of 2000-02 certainly wouldn't have finished in the top six no less than NINE times in his last 17 outings in the Big Four events without visiting the winner's circle.
His inability to be competitive on the weekends of the tournaments he values most is truly startling and acts as a sobering counter-point to the strident battle-cries of the Tiger fan-boys in the US media.
Charisma
Of COURSE he is popular.
No-one has played golf like him in that eight-year golden period and few have had the sheer charisma to put thousands on the attendance list, whether it is the magnolia fields of Georgia or the back-woods of Ohio. He remains one of only three players in the field - alongside Mickelson and McIlroy - who can turn up and turn it on seemingly at will.
So, no, I wasn't writing Tiger off at The Open, and I'm not doing that now. But I am pointing out the difference between the Woods of yesteryear and the one we see today. He is no longer the Irresistible Force at the weekend or the Immovable Object once in front. He is now fallible when leading and almost impotent when trailing.
And, just because he blitzed the Bridgestone field and won at the Firestone course for the 180th time, does not mean he is a lock to do the same on Oak Hill's formidable East Course, where only TEN players have finished under par in its five strokeplay tournaments.
There will be no shooting 61 at Oak Hill, and it is possible Sunday's winner will not even finish under par (back in 2003, eventual champ Shaun Micheel triumphed at four under, with Woods a distant 39th, failing to break par on all four rounds).
But you know what? Like the boy who cried 'Wolf!' the US pundits might just be right for once. There was definitely a different look and feel to his Bridgestone romp, not quite the Woods of old - we will never see THAT Tiger again - but certainly one that is perfectly capable of finally putting together four Major rounds better than anyone else.
Fallibilities
Anyone who saw this Tiger walk off the final tee on Sunday evening and celebrate with his son Charlie knew instinctively this was not the player we are used to seeing, either during his Midas Era or the Futile Patch of the past five years.
It is Tiger Mark VI, if you like, a more humble and human version who seems finally to have come to terms with his age, responsibilities and, more importantly, his own fallibilities.
He doesn't expect to turn up and blow the opposition away, but, equally, he is not going to implode on Saturday and Sunday trying TOO hard to make things happen.
So, just for once, I am going to give the US commentators their due and admit I can stomach a script that has only one central character and just about overlooks all others.
After all, it worked for just about every Western starring John Wayne, and even he won an Oscar in the end.