Simon Veness says Woods and weather dominates Open build-up in USA
Simon Veness says a weaker psyche, not bad weather, will cost Tiger Woods at Muirfield this time.
Last Updated: 16/07/13 10:24am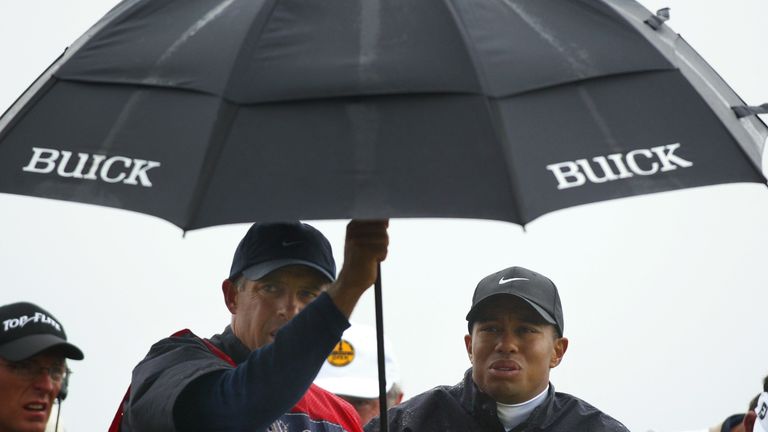 In short, we are obsessed with the weather, even though the typical British climate is about as average and dull as tapioca pudding. And even more indigestible.
But, for this week at least, our ongoing meteorological fixation is being shared on this side of the Atlantic as we head back to Muirfield and the site of one of the most extreme sporting weather phenomena in recent living memory.
Cast your mind back 11 years and you may well recall the Saturday of the 2002 Open Championship, when the rain was horizontal, the wind howled like a banshee and virtually everyone who teed off in the afternoon was all but blown into the North Sea.
Standing up was a major feat, let alone putting a tiny ball into a pesky hole, and we witnessed the likes of Tiger Woods shooting over 80 for the only time in his professional career (along with nine others who were equally gale-struck in that storm-wracked four hours).
And, while the Met Office has no predictions of similarly extreme conditions in store, many of the American views ahead of this week's event are still coloured by that train-wreck of an afternoon the last time the destiny of the Claret Jug was entrusted to the Honourable Company of Edinburgh Golfers.
True, it affected only half of one round, but the fact so many recollections from that Championship feature players almost being cut in half by rain that seemed like it had been shot from a Gatling Gun - and, more importantly, the memory of Woods' infamous 81 - means Muirfield will immediately be equated to all things weather-like.
Which is a shame, as the course is quite distinctive enough without having to throw in monsoon conditions and there is plenty of mileage if we focus purely on the rare challenge of links golf - and the unique nature of this corner of East Lothian, where the circular layout of the two nine-hole stretches means the wind direction is different on almost every tee.
Fateful
US golf still being largely Tiger-centric, though, we do first have to conduct a history-tinged autopsy on that 81 before we can get to 11 years later. ESPN's lead-in feature this week was all about that fateful afternoon which - possibly - denied the golf world of its first true Grand Slam since Bobby Jones in 1930.
As a quick aside, did you know the term 'Grand Slam' was actually borrowed from the card game bridge? When Jones completed his historic four-title sweep 83 years ago - a triumph that included the US Amateur and British Amateur Championships then, as the Masters and PGA Championship were not in existence - the media struggled to describe a feat previously thought impossible and an Atlanta-based journalist coined the term. Only Ben Hogan, in 1953, has claimed three of the four legs in the modern era.
But, back in 2002, Woods had already claimed the Masters and US Open crowns and was handily poised to land a second Open title when he teed off into the teeth of the Force Nine from Outer Mongolia. By Sunday evening, as he trailed in a distant sixth behind eventual play-off winner Ernie Els, he was grateful just to get to the finish line intact, let alone with the third leg of a possible Slam in his bag.
If that is the American perspective of the last time we put Muirfield in our TV sights, it also helps to explain the nearly-inexplicable of the bookies making Tiger this year's favourite in the face of almost overwhelming evidence.
Sure, he is still the current world No 1 despite not having played since disappearing into an elbow-injury-tinged sunset at marvellous Merion a month ago, when Justin Rose firmly announced himself among the front rank of golfing talents. But Rory McIlroy is still ranked second in the world and not many see him among the pace-setters this week.
Challenge
And sure, Woods has three Open triumphs to his name, more than any other current player, but it is now fully five years and 20 tournaments since he was in the winner's enclosure of the titles he holds most dear.
That is comfortably the longest dry Major spell of his career and the reality is he is going to have to completely re-think his approach to championship weekends if he is to challenge on Sunday afternoon.
Consider this. Tiger has not broken 70 on a Major weekend since the Saturday of the 2012 Masters, and his average weekend score in these events in the past year-and-a-half is 73.
The last time he shot under par in the Open on a Saturday or Sunday? In 2007. It suggests there is a LOT wrong with his psyche when it comes to the crunch these days, and not playing at all for a full month is hardly the ideal way to put that right.
When you add in the little factoid that the Open's recent history is all about first-time Major winners - in fact, seven of the last 10 have won their ONLY Major title here, namely Darren Clarke, Louis Oosthuizen, Stewart Cink, Todd Hamilton, Ben Curtis, David Duval and Paul Lawrie - it seems even more unlikely that a predictable name will triumph this year.
Upbeat
So, if not Woods, then who else might be in the Claret come Sunday night?
Well, seeing as this is the Land of the Free, they really like the chances of Phil Mickelson, despite the fact the world No 5 has only two top 10 Open finishes in 19 attempts.
His Scottish Open win last Sunday is primarily the reason for American bookies being so upbeat on Phil's chances, but when you consider it was his first European title of any kind since 1993, that doesn't inspire too much confidence.
Rose, fairly predictably, gets a decent amount of support, and not just from his US-based fans here in Orlando where he lives, while Graeme McDowell, our other 'local' boy, is equally highly rated to tough it out on the unforgiving Scottish links.
But the US media do also highlight a couple of other intriguing choices to be at least among the contenders, and it is worth noting that several sources are already calling it the Wide Open tournament, as picking a winner really does look like a hazardous proposition.
Contender
Dustin Johnson - a perennial Nearly Man of the Majors - and Matt Kuchar will both carry a fair number of transatlantic hopes with them, while new whizkid Jordan Spieth is the kind of where-did-he-come-from contender who could easily follow in the footsteps of Mssrs Hamilton, Curtis and Duval.
Australian Jason Day, Belgian Nicolas Colsaerts and Spain's Sergio Garcia also have their odds-making champions over here, although it is hard to see Garcia being able to hold his nerve on the final day of a Major when his recent history makes Tiger's weekend wobbles seem positively rock solid by comparison.
Ultimately, trying to pick Major winners is increasingly a mug's game, which is why my wallet will be staying firmly under its medieval lock and key this weekend, confirming those rumours that it last emerged to buy a round when Hogan was still a boy.
But, if I WAS to make a rash rush to the bookies, I just might have a little flutter on Adam Scott, whose Green Jacket is still neatly pressed from its Masters debut in April.
With the second Ashes Test also likely to be boiling up nicely on Sunday afternoon, I fancy there might well be at least one Aussie with something to celebrate.