Simon Veness tries out Phil Jaffe's new chunky Palmbird putter
Simon Veness reminisces on his morning meeting with golfing guru Phil Jaffe - and his swanky new putter.
Last Updated: 16/05/13 10:49am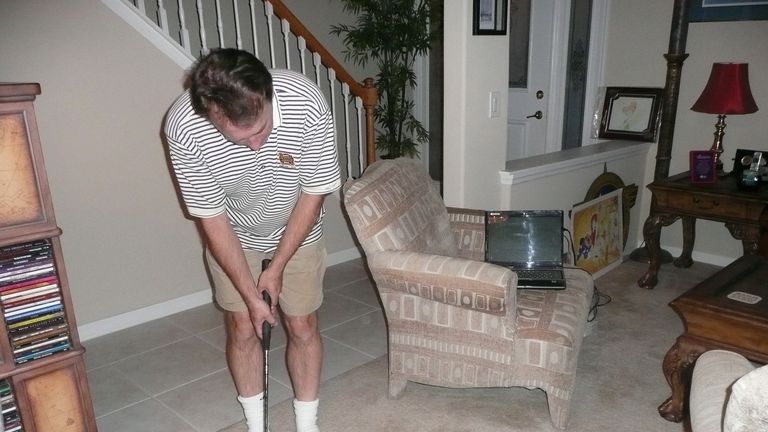 It was clear, precise and positive. My response was less so. "Er, you have? For me? Er, and...?"
"If you're at home, I'll drop it round now. Will you be there in 10 minutes?"
"Er, sure."
I looked at my wife. It was 9am and the usual morning ritual in the Veness household was in full swing, i.e. we fall out of bed and stumble into our living room that also happens to be our office by virtue of having two computers, two laptops, printers, fax machine and assorted other business paraphernalia. You know. A disaster area.
This also happens to be the time of year we're deep in re-write mode for our annual Orlando guidebook (Full disclosure - my wife and I co-author the Brit Guide to Orlando, which is the UK's best-selling travel guide and just one reason we live in The City Beautiful here in the Sunshine State).
In reality, my wife now does most of it as I also have this sports-writing gig that takes up several hours of my time every week. Plus multiple hours in front of the seven TVs in the house (yes, there really ARE that many sports channels, and sometimes I need to have both laptops tuned to ESPN3, too). It's hard to explain, but our office isn't the most organised place on the planet as a result.
And that's on a good day. On a bad day, like yesterday morning, it's like the British Library got hit by a whirlwind. And a typhoon. And a tornado. And then an earthquake, that left most of the contents of the bookshelves on the floor, surrounded by press releases, stat sheets, more books, random pages pulled out of the diary and notebooks.
Oh, and a few more books.
There are only rumours of a carpet underfoot at this time of year, and, in places, we are knee deep in 'stuff' as we go about the twin tasks of guidebook up-dating and sports stories. Therefore it's not ideal when someone announces they'll be round in 10 minutes.
The whirlwind that is my wife then went into action. Piles of paper disappeared into drawers, books were thrown back on shelves, bags and notebooks were piled in one corner and press releases replaced themselves in the filing cabinet with the speed of light. So there WAS a carpet after all. Who knew?
Slogan
A few minutes later, there was a knock at the door. "Hey, Simon! How are you doing?" It was my long-time Orlando golfing pal Phil Jaffe, PGA pro, golf teacher and all-round good guy. But what was he doing on my doorstep with his outrageous cheerfulness at this time of the day? And what was this putter I saw before me?
"It's my latest invention," he explained. "It's a new grip - I call it the Palmbird. It fits into your hands more naturally, gives you much better feel for the club and is back-weighted for great control. You should try it."
He meant it, too. He had a carpet putting cup - complete with mini flag - and three golf balls. It came with a slogan, too: 'Inspired by nature. Plant one in your hands and feel the difference.'
I was tempted to go all Frankie "Oo, er, missus!" Howerd on him, but I grabbed the putter instead. It was, indeed, a very different feel, very solid and chunky with its oval shape and tapered design.
"It covers a larger surface area in your palms, making it easier for the stroke to be initiated from the shoulders, instead of the wrists or hands," he added. "I discovered it when I was doing some yard work (Translation - gardening, in American-speak)."
"Yer-what?" I managed. Rather lucidly in the circumstances, I thought. "Are you telling me you came up with a radical new design for a putter grip while pulling up weeds?" Turned out, that's exactly what happened.
Here in Florida we have all manner of palm bushes and plants that grow like weeds but are pretty decorative. But, after a winter freeze (it does, occasionally, drop below zero in the depths of winter here), plants like the Bird of Paradise need heavy pruning to rid them of dead growth. And Phil had put a Bird of Paradise stalk in his hands and it felt...just like a putter.
His wife was called out to the garden by his 'Eureka!'-like shouts of amazement, and a potential new golf phenomenon was born. So, instead of being at the US Open regional qualifying this week, he is on the road selling the PalmBird (it's a 'bird' that fits in your 'palm' you see).
Class
Just by the by, Phil went to college here in Orlando and then at the University of Miami, where he was in the same class as Michael 'Dallas Cowboys Hall of Fame' Irvin and Vinny 'Heisman Trophy' Testaverde in 1986. And he vividly remembers Irvin as having that 'X-Factor' quality even when he wasn't on the field.
"Michael walked like a gazelle," says Phil. "There was an air of grace and power about him. You knew he was destined for something special."
Like three Super Bowl rings, five Pro Bowl appearances, the NFL's 1990s All Decade team and just-about-every-receiving-record-in-Cowboys-history special. Was it intimidating being surrounded by such sporting intensity, I wondered?
"No. Not at all. It was a pleasure being around guys like that - it was a pretty special time for the U of Miami, don't forget." Indeed it was, with Jimmy Johnson leading them to an 11-0 regular season record in '86 (they lost in a Fiesta Bowl upset to Penn State that year, ruining their championship hopes) and then the title the following year, with an Irvin-fuelled unbeaten season leading to a 'Game of the Century' Orange Bowl showdown against Oklahoma (and Johnson's arch coaching rival Barry Switzer - how ironic that would turn out to be), and a 20-14 Hurricanes win, with Irvin fittingly catching the crucial touchdown pass from Steve Walsh.
We reminisced some more about Florida sports - including Phil's encounter with a shirtless jogger one evening a few years back who just turned out to be Tiger Woods - before the PalmBird inventor had to be on his way. "Got to see more people about the 'Bird," he insisted.
And, with that he was gone, and our office-cum-living-room could once again return to its natural, paper-covered state.
So, if anyone else is thinking of calling me in the morning with new inventions they need me to try, I will demand a bit more notice in future. Like, two months.
Oh, and just in case you think I'm making any of this up, check out www.palmbird.com, and you'll see the whole thing for yourself. I'm off to the putting green...