Simon Veness reflects on the hype surrounding Tiger Woods ahead of the Masters
Simon Veness is baffled by the eagerness of pundits to hand Tiger Woods another Green Jacket.
Last Updated: 09/04/13 2:27pm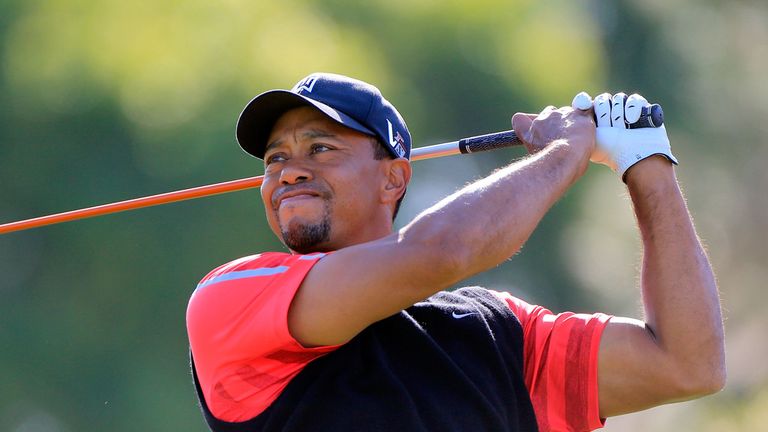 Was it, a) Reigning champ Bubba Watson; b) 14-year-old Chinese kid Tianlang Guan; c) Tiger Woods; or d) any other of the 93-player field?
There are absolutely no prizes for guessing it was c), and the only surprising thing was that they didn't start with a great big picture of the World Number One with 14 big trophies stuck all over him for each of the Majors he has won.
Because, ever since Tiger galloped back to the top of the rankings with his win here in Orlando little more than a week ago, the coverage has not been not IF Tiger will once again claim one of golf's big prizes, but HOW MANY he will pass Jack Nicklaus by.
Huh? Did reality just take a left turn past the Horsehead Nebula and by-pass our solar system completely?
I was at the beautiful Bay Hill course last week to see Woods claim his seventh Arnold Palmer Invitational crown and climb past Rory McIlroy to sit at the sport's summit for the first time since 2010, and I can attest to the fact he played rather well.
He was pretty tidy off the tee; his irons were smooth and slide-rule accurate; and he putted like a dream. His form so far this year has been equally impressive and he fully deserves to have reclaimed the ranking summit.
Tiger also knows Augusta better than he knows his own back yard (which isn't surprising, seeing as he moved to his new home in Jupiter, Florida, less than two years ago, while he has been visiting the iconic course in Georgia since 1995).
He has a dazzling eight top-ten finishes there, in addition to his four wins, and hasn't missed the cut since his second appearance, when he was still an amateur.
Yes, Woods is in form and he's fairly handy when in sight of a magnolia bush. I get all that. But isn't it just a touch premature to be handing him (at least) another five Majors before he has stepped back into the Winner's Enclosure for number 15?
Perspective
There's no doubt he is the favourite for this week's event and if he doesn't finish at least in the top ten once more it would be a huge shock. But let's try to keep a bit of perspective in the Land of Uncle Sam, hey? It's a bit like anointing Barcelona the European, Super Cup and World Club Champions before they have actually, you know, won the Champions League.
To be fair, Woods himself has stoked the flames of this punditry infatuation pretty firmly himself. During the course of the Palmer event, he insisted he wanted to be not just as good as he once was, but "better than I was before." And his aim isn't just to tie Jack's record haul. "I don't want just four. I want more than that," he insisted on ESPN's Sunday Conversation with Mike Tirico.
It is all the incentive the talking heads need to put their mouths in overdrive - and forget, completely, to engage their brains.
Being number one in the world is absolutely no guarantee of Major titles. Just ask Lee Westwood and Luke Donald. Being in form is not necessarily the key either. Martin Laird couldn't be in better shape after his sizzling 63 on Sunday to win the Valero Texas Open, but no-one is tipping the Scot to be donning a green jacket next Sunday night (in fact, only five players have ever triumphed at Augusta after winning the week before, most notably Phil Mickelson in 2006).
There are also players who have Been There And Done It even more times than Tiger, so familiarity with Augusta is not the ticket either. And, if it was just a matter of sheer, unadulterated confidence, both Ian Poulter and Bubba Watson would take some stopping.
It is the mystique around Woods that fuels the fervour, of course, an aura that has been amped up by the contentious Nike advert in the wake of his regaining top spot. 'Winning takes care of everything,' was the Ad men's blithe slogan, and some scribes ate it up like it was an invite to dinner with Tiger himself.
Equally, others didn't. Rick Reilly, the Geoff Boycott of American columnists, opined that the move was "a big, whopping jelly-filled lie." He added: "The problem isn't 'winning takes care of everything.' The problem is that Woods clearly believes it does." Ouch.
But, at the same time, even the words of writers like Reilly have only added to the feeding frenzy, ensuring anything that Tiger touches in the build-up to this week's event is Big News, whether it's a practice round with Guan, his thoughts on Condoleezza Rice, one of Augusta's first female members, or jokes about his new Facebook status with downhill skier Lindsey Vonn.
Danger
There is Big, there is Huge and then there is Woods, and he invokes just about every emotion you can imagine, and even some that you probably can't (how about this headline from the Bleacher Report, that 'People who still hate Tiger must also hate golf.' Huh?? They probably couldn't even spell 'moral code,' let alone understand it).
The real danger with all this laser-beam focus on this larger-than-life personality is that, when you are already hyped to the gills, there is nowhere left to go. If you get any more excited, you will simply implode, and that's the fate that awaits more than a few sporting journos if Tiger does, in fact, top the leaderboard at some stage.
And, if he goes on to claim Major number 15, you will hear the resounding 'Pop!'s without the aid of a television.
So let's try to keep a bit of a lid on things over the next few days. Yes, Woods is worth watching and, sure, he could well be back on the trail of Jack's 18 by Monday morning.
But it certainly hasn't happened yet and there are, surprisingly, other players who could walk away with an addition to their wardrobe, players like Mickelson, Keegan Bradley, Justin Rose, Charl Schwartzel, Dustin Johnson and even those perpetual Cinderellas, Westwood and Donald.
There is also the little matter of the current World Number two, McIlroy, who seems to enjoy being written off before sparking back into brilliant life, and the wonderfully unpredictable current champ, Watson.
In fact, there are probably 12 to 15 genuine contenders not called Woods, hence those pundits ready to acclaim a Tiger Coronation may well be suffering from one serious fan problem - premature infatuation.