Tiger Woods has Masters and 15th Major title in sights, says Simon Veness
Simon Veness reports on the new-look Tiger Woods - and the World No 1's bid for a 15th Major title.
Last Updated: 27/03/13 8:37am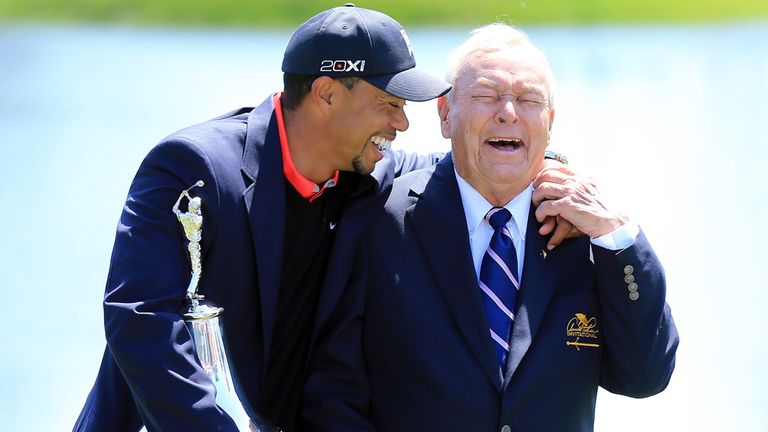 In the aftermath of a major spring storm that ripped through much of Central Florida and left trees pulled up and power lines torn down, we were also left to contemplate the imminent return of Hurricane Tiger at the Major championships this year.
Having followed Tiger Woods for three of the four rounds of the Arnold Palmer Invitational event, which the newly-recrowned World No 1 surely owns as much as he does his Florida home, I can say with some measure of assurance that his pursuit of Jack Nicklaus is distinctly hotting up again.
Intent
Unless you are newly-arrived from the Planet Tharg, you will be well aware of the recent chequered history of Eldrick 'Tiger' Woods, who has gone from golf's Golden One to Outcast and almost-back-again in the course of the past five years.
In that period, he has picked up the last of his 14 Major titles (US Open 2008), suffered a series of crippling knee and Achilles injuries (2008-11), gone through an infamous and painful divorce (2009-10), dropped from No 1 to 58 (November 2011), rebuilt his swing (2011-12), and started the process of clawing his way back to golf's pinnacle (his first win in three years at Palmer's event this time last year).
Now, with another five US tour wins to his credit in the intervening 12 months and newly re-minted as the world No 1 for the first time in almost three years, we can safely say Tiger is stalking Jack's record of 18 Majors with serious intent once more.
Woods even admits it himself. He was not the same, consistent player even a year ago but now, having racked up an improbable eighth Bay Hill title (equalling the PGA tour record of Sam Snead for a single event), we can relaunch the Tiger Tracker and resume the Quest for 19.
Repertoire
This is unequivocally the best he's felt since 2008 and the most confident he has been; he is reducing the mistakes and ironing out the weaknesses. Or, as he puts it, "I've gotten so much better since last year and I've cleaned up a lot of different things in my game. I'm very pleased with where it's come along. My good shots are really good and I just need to make sure the bad ones aren't THAT bad."
Or, to put it more simply, Tiger is feeling it once again.
For nearly all of the last five years - since that win at Torrey Pines in 2008 largely on one good knee - there has been something significant missing from the full Woods repertoire. He has never been the most accurate off the tee, but other parts of his game have gone AWOL at times, from his putting to his irons to his short game.
Now it is all coming together again and, while there are still things to work on - he hit two truly horrible tee shots on holes eight and nine at Bay Hill that would cost him a lot more than one dropped shot at Augusta - the twin key elements of confidence and putting are clearly on the rise.
It was also a pretty good field here in Orlando - including reigning Masters champ Bubba Watson, US Open winner Webb Simpson, Open victor Ernie Els and another 14 of the world's top 30 - but no-one rose to challenge Woods on the final day, perhaps indicative of the kind of intimidating presence he used to wield for much of the previous decade.
The man himself laughed off any connection with his newly-announced relationship with downhill skier Lindsey Vonn, but this is clearly a happier and more settled Tiger than we have seen in a while and it all adds up to a formidable proposition for numbers 2-108 who will also be competing in that magnolia-blessed corner of Georgia next month.
Spur
One key player was missing from the Arnold Palmer line-up, of course - the man Woods supplanted at the top of golf's rankings tree. Northern Ireland's Rory McIlroy had taken the week off to have a little R 'n R in Miami and consequently is looking up at the summit once again.
He can, certainly, reclaim pole position with a win at the Shell Houston Open later this week (which is live on Sky Sports 3 HD from Thursday to Sunday), but that would be to buck the trend of a largely disappointing year so far wielding the new Nike equipment.
But both his big Irish golfing pal Graeme McDowell and Rory himself believe Tiger's re-taking of the rankings high ground will act as a spur to the 23-year-old from County Down, which could ultimately be the best news of all.
Because if there's anything better than one spectacular player at the very apex of their game, it is two equally precocious and single-minded talents going head-to-head at every opportunity.
And then there's still the little matter of players like Watson and Mickelson, Westwood and Donald, Snedeker and Bradley, Poulter and Garcia. In fact, it is possible to argue that the overall strength of the top 50 is now a lot deeper than in 2000-01, when Woods claimed all four Majors in a row.
But, as much as I like to make out a case for the Other Guys, when it comes to Augusta on April 11, the headline story will begin with Tiger and end with Woods. Sure, Bubba Watson will remain the most entertaining and human player out there, but it will take a real stretch to see the big-hitting Floridian doing anything other with the famous green jacket than helping someone else into it.
The bookies already make that 'someone' the new world No 1 by odds of a prohibitive 3-1.
And, having seen him at close quarters for much of the last week, I think it's going to take a much braver man than I to bet against him.