Tiger Woods' quest for top spot part of 'fascinating' Arnold Palmer Invitational
Simon Veness looks forward to Orlando's annual golfing gem, the Arnold Palmer Invitational.
Last Updated: 20/03/13 9:37am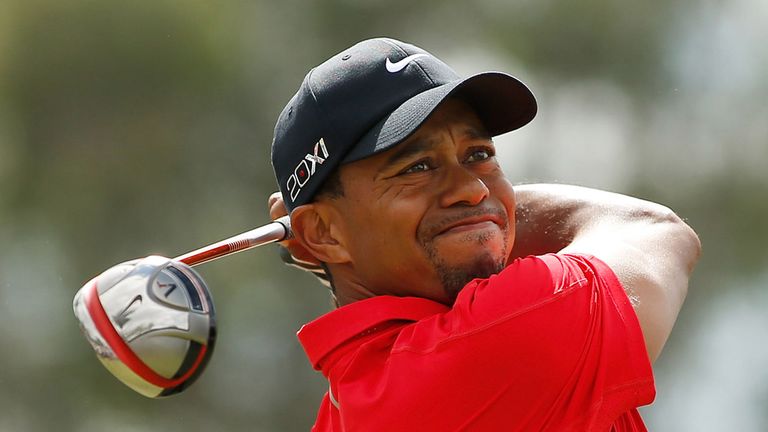 This used to be his 'home' event prior to a certain little tete-a-tete with a fire hydrant and the whole divorce thing that now sees him as a resident of Jupiter on Florida's Atlantic coast.
If he was to be victorious again come Sunday night, he would equal Sam Snead's remarkable record achievement of eight wins at a single tournament, which the great Sam pulled off at the Greater Greensboro Open from 1938 to 1965.
And, just to underline his megastar status, Tiger formally announced this week that he is "dating" downhill skiing pin-up Lindsey Vonn, starting another media frenzy among the gossip columnists and sporting talking heads who thrive on the hint of anything even vaguely salacious when it comes to Woods.
With the former world No 1 also within touching distance of reclaiming top spot, from Rory McIlroy, for the first time since October 2010, it is actually hard to see past the veritable forest of Woods headlines and storylines (ahem).
Fascination
Of course, no-one commands column inches and TV news reports like Eldrick Tont Woods, and golf is positively cock-a-hoop at the prospect of Tiger in full cry once more. He already has two wins to his credit this year and more world ranking points than any other player, so it's fair to see this as a glorified Woods-fest on the road to the Masters in three weeks' time.
But that would be to overlook a fascinating tournament that holds a special place in what the pros refer to as 'the Florida swing,' the annual four-event series in the Sunshine State that provides a big part of the lead-up to Augusta and the first Major of the year.
The Arnold Palmer Invitational has been the final Florida spring tournament for almost all of its 46 years since it started as the humble Citrus Open in 1966, but the fact it bears the name of one of golf's most iconic figures is the REAL fascination.
Living legend Arnie is now 83 years old but can still be seen out and about on the course he bought in 1975, checking the fairway conditions, the state of the greens and occasionally coming upon a startled foursome with the query "Do you mind if I join you for a hole or two?"
My good golfing buddy Brad Brewer has written a fascinating book - 'Mentored by The King' - on the thought processes and winning formula that Arnie brought to bear on the sport, and his blueprint can be seen all over Bay Hill, where a family of bobcats once lived close to the formidable 17th green and otters played in the lakes, while it was also the first course to be planted with Tifway Bermuda grass, which still vexes some of the pros today.
Rarely has a golfing great put their stamp so thoroughly and lovingly on a course as Palmer has here in the Town That Walt Built. Many of the homes that surround it run into the millions of dollars and it serves as a glittering highlight of this part of Central Florida and its many attractions, just a few miles from the likes of Walt Disney World, Universal Studios and SeaWorld, but in a completely different sphere from all the tourist traps.
Strongest
If that is the (brief) history of Arnie-ville, when we come to this year's event, there is even more to anticipate (that doesn't start with Tiger or end with Woods).
Graeme McDowell - who shot a 63 here last year - is strongly fancied to break his long winless streak that stretches back to 2010, while Scotsman Martin Laird won Arnie's tourney in 2011 and Ernie Els, just back from an injury layoff, has also triumphed at Bay Hill, in 2010.
And, with fully 30 of the world's top 50 in attendance, it is rated the second strongest field in the past 12 years, meaning that whoever does raise the trophy will certainly have earned it.
Meanwhile, it is also unseasonably warm here right now, with temperatures pushing into the upper 20sC, while it could be as high as 30C on Sunday, with high winds and possible thunderstorms - more like summer than spring, and a serious potential test of everyone's ability to hold a round together in adverse conditions (another reason while several pundits fancy a McDowell victory).
It all sets things up beautifully for something unpredictable and unlikely, well worth keeping an eye on (live on Sky Sports 3 HD each day, and from 5pm on Sunday), especially if Tiger DOES get into the mix and others rise to the challenge.
There is no McIlroy or Luke Donald, hence the reason why Woods could regain the rankings summit with a win, but there are still the likes of Lee Westwood, Ian Poulter (also playing on 'home' soil as he has a house barely a 3-wood away, as does McDowell, albeit on the other side of town) and Justin Rose.
It is a strong European challenge, bolstered also by Sergio Garcia, Carl Petterson and Francesco Molinari, but it should be pointed out Laird is the only winner from the European side of the Atlantic.
For the locals, of course, this is THE tournament of the year, and there will be no-one looking beyond Bay Hill to Augusta and the Major events that will surely underpin the thought processes of the likes of Woods, Westwood, Phil Mickelson and the current US 'man to watch,' Brandt Snedeker, the only player who can hold a candle to Tiger's record so far in 2013.
But, if anyone thinks this is just a 'Mickey Mouse' tournament, you can certainly point them to Arnie in the sure knowledge the golfing octogenarian will be keeping a very close eye on events on 'his' course - and woe betide anyone who doesn't keep their eye on the closing holes, whether the bobcats are still there or not.
Watch day one of the Arnold Palmer Invitational from 7pm this Thursday on Sky Sports 3 HD.