Playing a wildcard
Davis Love III wants a "hot player" to break into the USA's Ryder Cup team, says Simon Veness.
Last Updated: 28/08/12 9:49pm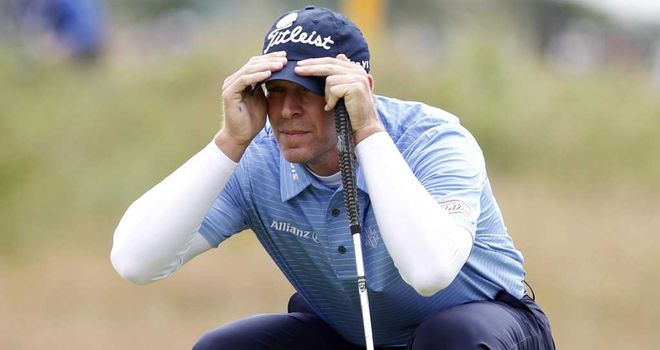 And so it begins, in the final round of the Barclays tournament with Nick Watney duelling Sergio Garcia for the win and chants of "U-S-A!" almost every time the American stepped forward to drive.
If anyone was in any doubt that next month's Ryder Cup will be A Really Big Deal here on this side of the pond, then the penultimate event before 'Make-your-mind-up time' for home skipper Davis Love III should have nailed things home better than a Black & Decker hammer-drill.
With New York fans on the fearsome Bethpage Black course making the Watney-Garcia pairing seem like singles on the Cup's Sunday afternoon, it is crystal clear the trip to the Medinah Country Club will be no easy Ryder in any way, shape or form.
Which is as it should be. Jose Maria Olazabal's team will be bringing their big-boy clubs, already forewarned by former skipper Colin Montgomerie that they will be in for a huge test, and there will be no quarter asked or given in what could well be a truly classic edition of golf's greatest event.
The USA were convincing winners the last time out on home soil, while Europe are the current holders thanks to the Full Monty two years ago at Celtic Manor, with the stern-faced Scot proving he knew the team ethic and success formula inside out, even if he could never quite achieve the same thing flying solo during the Majors.
Now everyone's focus will be on the ornate Byzantine-style venue just 10 miles west of Chicago city centre in the suburb of Medinah, where the simply-titled Course 3 will provide the battlefield for three days of Ryder skirmishing.
The MCC (see, when you use the initials, it becomes positively gentlemanly and benign) will be hosting its first Cup but is a semi-regular source of Major events, staging three US Opens and two PGAs.
And, for those who can remember the 1999 US PGA outing, with the same Sergio Garcia battling a certain Tiger Woods on the final day, they will know the atmosphere will be not so much red-hot as volcanic.
Pressure
Anyone on either team not prepared for the furnace-like pressure over the three days will assuredly be eviscerated by the mighty Medinah torture machine, all 7,675 yards of it, with a 244-yard par 3 and a Slope Rating, or degree-of-difficulty, of 152 (the recent Kiawah Island US PGA slugfest was a 153 by the way, and only the lone figure of Rory McIlroy survived the four-day wreckage there).
So, just to start with, the course is going to be a serious trial of each player's ability to hit both long and accurately, while adding the pressure-cooker force of an event where Europe might JUST be favourites thanks to their more battled-tested line-up, but no-one will be taking anything for granted (if they heed Monty's warning).
And that is why Olazabal is currently sleeping like a baby while Love III is haunted every waking hour by visions of wildcards and what-ifs, long-hitters and canny grinders. The US team, you see, lumbers its leader with FOUR captain's picks, taking just the top eight in the points list and leaving the others to pure judgment, the skipper's call.
For Olazabal, there was precious little midnight oil to be burned over his two wildcards. Once the top 10 were home and hosed, it was always going to be a case of 'Welcome Back, Ian Poulter' for pick No. 1 and 'Sorry, Padraig, but I think Nicolas Colsaerts is the blaster I need for Medinah' for No. 2.
All done and dusted, precious little argument to be argued, except in the clubhouses of Dublin where Harrington fans were left to rue a year of too little, too late.
Now all the focus is on Love III. And the spotlight has assumed laser-beam intensity since Watney's impressive win in the first event of the FedEx Cup play-offs. With just one more outing - this week's Deutsche Bank Championship in the wilds of Massachusetts (and it may seem pretty wild this weekend to the US skipper) - before he has to name his own Fab Four next Tuesday, it is the Last Chance Saloon for a diverse bunch of stars.
Prior to the man with the Red Barrel surname forcing his way into contention last weekend, most observers figured it was a five-into-four equation involving Hunter Mahan, Steve Stricker, Jim Furyk, Rickie Fowler and Dustin Johnson, numbers, 9, 10, 11, 12 and 15 on the list, although you could also chuck Brandt Snedeker (No. 13) into the conversation after his late charge at Bethpage and several other outstanding outings this season.
But the US skipper has given himself a bit of a tough lie in recent weeks by insisting he wanted "the hot player" to force their way into the team (and presuming he means someone who's burning up the course in the final weeks as opposed to, say, Brooklyn Decker in her swimsuit).
Certainty
Stricker is the biggest racing certainty of the Munificent Seven on Love III's list, as he is a lock to partner Tiger through just about every foursome and four-ball the US are likely to put together.
So that leaves six battling for three places, with the smart money on Mahan, Fowler and Johnson, all of whom played at Celtic Manor and would be bristling for revenge - except that they managed just three points out of a potential 10 between them in Wales.
And what if Mahan and Furyk continue to struggle, as they did in missing the cut last week, with Stricker also enduring a miserable weekend on a course that could play immensely similar to Medinah's?
Love III has gone out on a limb in his quest for the 'hot' hand, and the door is now open for the likes of Watney - currently only 30th in the standings but certainly a lot more than lukewarm right now - and Snedeker to burst on through. Or perhaps it is all just a smokescreen and he WILL stick with the 'safe' picks of Nos 9-12 on September 4.
Going outside that group would mean adding at least one more rookie to the three already certain to be in the overall 12, in Jason Dufner, Keegan Bradley and Webb Simpson, and my feeling is the US captain will want as much Ryder Cup savvy in his line-up as he can muster.
Therefore, the American team could well look like this: Woods, Bubba Watson, Dufner, Bradley, Simpson, Zach Johnson, Matt Kuchar, Phil Mickelson, Mahan, Stricker, Furyk and Fowler.
And then it's time for things to get seriously hot.