Open season
Simon Veness talks Dukes of Hazzard and the 2012 Open with the 'idiosyncratic' Bubba Watson.
Last Updated: 16/07/12 11:35am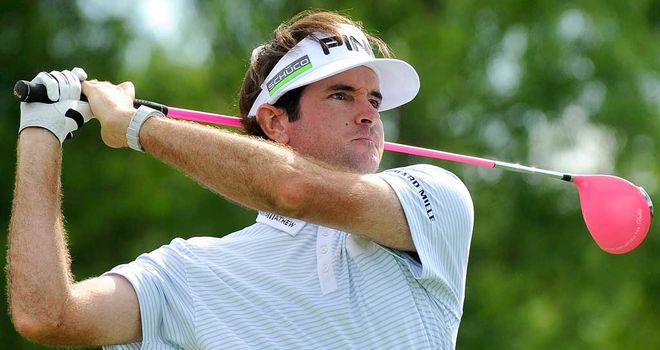 The story so far. Good ol' Southern boy Gerry Lester 'Bubba' Watson brings his completely self-taught, idiosyncratic and wildly entertaining style of golf to the world. The world goes 'Huhhh?'
After a near miss (runner-up to Martin Kaymer) at the 2010 US PGA Championship, Bubba breaks through into the true elite with victory at the Masters in April thanks to The Shot (or The Hook) at the second play-off hole. The world goes 'Whoa!'
Bubba rides off into the Augusta sunset like the Dukes of Hazzard with a fresh case of moonshine and sets his sights on upsetting another golfing apple-cart at Royal Lytham and St Annes. From the Deep South to the great North-West and the Duchy of Lancaster. It could very well be the equivalent of the Dukes gate-crashing Buckingham Palace.
Watson was hailed as golf's 'New Folk Hero' on the cover of Sports Illustrated after his Masters win and there is a strong element of down-home, folksy charm to the latest wearer of the famous Green Jacket.
He is a genuine dyed-in-the-wool Southern gent, deeply religious, kind to his momma and respectful of his elders.
But that kind of image goes only so far in the modern age, doesn't it? Surely all that stuff about him driving the General Lee from the Dukes of Hazzard is just fiction?
"No, it's true. I bought the General Lee at auction this year. I drove it for the first month before I realised it wasn't strictly street-legal as it doesn't have seat-belts or gauges. I had to get it fixed up properly and now everything works fine. It's a 1969 Dodge Charger, same paint and everything. I love driving it."
And does he see himself as Bo or Luke? "Hmm. It would have to be Bo," he says after a short pause. Of course, it would have to be Cousin Bo, the dashing, blue-eyed, slightly naïve driver of the General Lee. What better image for a modern golfer than the impulsive driver with the 'Yee-Haa!' catch-phrase?
Traditional
But then there's that nonsense about him hitting golf balls over his house into the hot tub? "Aw, that was years ago."
And what's the truth of the rumour that he will serve In-N-Out Burgers (a local staple in California, Nevada and Arizona, where he used to live) at the traditional Champions Dinner before the next Masters?
"Yes, I did mention that idea! There are about four things that are possible right now - Waffle House, Chipotle Grill, Lexington BBQ and In-N-Out. I haven't made up my mind yet."
Memo to all previous Masters champs: bring plenty of Alka-Seltzer next year.
Of course, there is the incontrovertible evidence that Bubba (and some of his best golfing buddies) come from a different sporting planet with the inspired lunacy of the Golf Boys video last year, when he, Rickie Fowler, Ben Crane and Hunter Mahan kicked up a storm in what can only be described as sport's first pop Supergroup.
If you haven't already seen it, check out this link (Farmers Insurance donate $1,000 to charity for every 100,000 views, and it has so far raised almost $53,000!) and marvel at the current Masters champ in denim dungarees, with chest hair that would make Fred Flintstone jealous.
Territory
Bubba confirms: "We had a blast doing that. It was raising money for charity in a completely different way, so why not make fun of ourselves and have fun doing it?
"At the time we were all in the top 50 in the world (Author's note - Watson, Mahan and Fowler are currently Nos. 6, 10 and 19, and only Crane has slipped slightly, to No. 54), so for us to do something like that was probably not something you'd normally see golfers doing."
Yes, folks, we are not in 'normal' territory here, and the world of golf is much the better for it. Can you imagine Nick Faldo, Sandy Lyle, Colin Montgomerie and Ian Woosnam doing an East 17 cover on Top of the Pops? No, I didn't think you could. Rory, Luke, Justin and Ian - how about you?
So if that's the off-course Bubba, what can we expect to see once he stands on the first tee at Royal Lytham and St Annes?
"Well, golf is still golf. My audience is different now and my fan base has changed, and I have more expectations of myself to win. But the game is still the same.
"My aim is to be competitive in every Major and to be in contention on Sunday afternoon. That's the main difference - the mind-set that says you expect to win, to have a shot at it, that, once you have won one, you can do it again and again.
"Winning the first Major just puts that taste in your mouth. It's like a really nice cake; you think 'Ooh! I want more of that'!"
Magician
Watson isn't expecting his fourth trip to The Open to be a cake-walk, though. He knows his record in Europe (just the five visits - three missed cuts, a sixth-place and one 30th) isn't impressive, and he knows he will have to curb his instincts to smash the ball into the middle of Lancashire.
His PGA-leading 316.3-yard driving average won't be a huge asset on the Lytham links and neither will be his ability to hook and fade his way around the course like a golfing magician (although those tactics served Seve Ballesteros supremely well on the same venue in 1979 and '88).
No, it's going to be a learning experience for a player who barely ventures outside the USA. He admitted: "I don't know a whole lot about it but I'm hoping to learn. I need more experience of those conditions. I know it worked for David Duval last time it was played there. Hopefully it can work for me, too!"
Whatever magic act Bubba has up his sleeve for Open viewers, whether he is there or thereabouts on Sunday afternoon or watching back home in Florida with wife Angie and baby Caleb, there is already one other date firmly in his calendar.
"When you think about the Ryder Cup, that is something to make any golfer from any country want to take part. And it's one you want to win.
"We lost the last one and I was part of that but there is so much positive energy for us in the US, having the home field is a definite advantage. I want to be on a team that wins - I want to say I won at least one Ryder Cup."
So there you have it. Golf's great entertainer has set his sights firmly on more wins and it will be a brave man who bets against him, especially at the Medinah course outside Chicago in September (Watson is currently top of the US qualification standings and could well be joined by fellow 'Golf Boys' Mahan and Fowler).
And, if there's an orange 1969 Dodge Charger doing hand-brake turns around the course afterwards, no-one should be in the least bit surprised. The only question will be whether to call the driver Bo Watson or Bubba Duke...?