A Bubba double?
Simon Veness meets Masters champion Bubba Watson ahead of The Open, which starts on July 19.
Last Updated: 13/07/12 1:48pm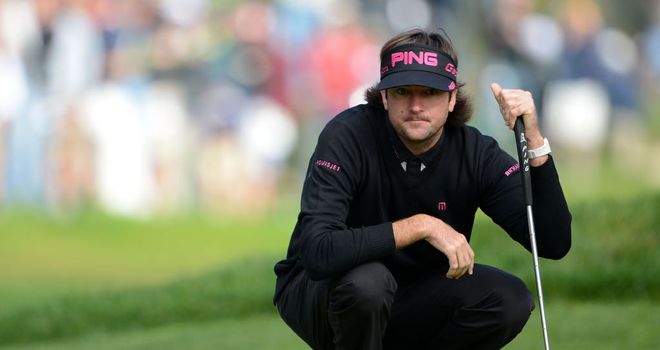 There are many advantages to living in Florida. The sun, the beaches, the theme parks. And the amazing array of world-class golfers that live here, in much the same way as bureaucrats flock to Brussels.
Out latest full-time resident is new Masters champ Bubba Watson, an original Floridian but most recently local to Arizona before the adoption of a baby boy on the eve of his Augusta triumph.
Now, as a genuine family man, he sees the state of his birth as the best environment for he and Angie to bring up young Caleb, and not just because Walt Disney World is barely 10 minutes away!
Orlando itself is positively Golf Central in Florida terms, with more courses per square acre than football pitches on Hackney Marshes, which also helps to explain why Lee Westwood may be joining the community later this year.
But back to Gerry Lester Watson (the 'Bubba' nickname was given to him by his father, after former NFL star Bubba Smith, and has stuck ever since). The wonderfully creative and family-minded Major winner is currently heading to Royal Lytham & St Annes for his fourth tilt at The Open, but he found time during a day of interviews this week for his fellow Floridian (i.e. me).
And I can exclusively reveal Royal Lytham won't have seen anything quite like Bubba, who is to the world's great sporting institutions what Ian Botham was to cricket - a great entertainer who didn't care whether it was the marbled halls or the local village.
When Watson claimed the Masters in April in a play-off against Louis Oosthuizen with the kind of shot that made you go "Whuhuuhh?!", his 52-degree gap wedge hook entered sporting lore as one of THE great pieces of improvised brilliance.
Like Botham's 149 against Australia at Headingley in 1981, it defied convention and logic - and knocked the stuffing out of the opposition. The Aussies were never the same again that summer, and neither was Oosthuizen.
Target
Now it's The Open's turn and, despite a best finish of 30th (at Sandwich last year) and two missed cuts (at Turnberry and St Andrews), Bubba Golf is well set for its fourth British outing - and this version may be a very different proposition.
Watson is nothing if not disarmingly honest, though, so he doesn't want golf fans to think his first three Open experiences were an aberration and this year will be completely different. He knows the weather will be complete pants (a phrase that takes some translation in American) while his track record in British conditions isn't even mildly impressive. And he admits: "I can't say I know a lot about Lytham St Annes. I do know it is a different kind of golf. Like our US Open, it takes patience, which is as it should be.
"That's why I am going over a few days early to try to learn some shots quickly! All I have been working on recently is lower shots. I know I have to hit the ball lower, hit a lot of bump-and-runs, stingers off the tee, basic stuff.
"I know David Duval won at Lytham last time and I know it's a traditional type of course with houses around it. It's a little different to what we are used to seeing out here! And I know there are a lot bunkers and they can be nasty to end up in. Lee Janzen told me to watch out for them."
And that, ladies and gents, is Bubba Philosophy in a nutshell; relatively simple, to the point and (largely) self-taught. Typically, it also makes light of things that would frustrate the heck out of lesser mortals, like the fact he has been worn to a frazzle since the Masters, both by additional golfing commitments but also in all the legal niceties of Caleb's adoption in Florida, needing to move their official residence from Arizona and satisfy all the demands of the adoption agency.
Turning point
Put simply, the last three months have gone by in a blur for Bubba and Angie thanks to the curious coincidence of The Baby (March 26 - just a week after another adoption application fell through at the last minute) and The Shot (April 8, at the 10th hole, and the second of his play-off with Oosthuizen, having been five shots back earlier in the round).
When Watson's tee shot disappeared into the Augusta pines like a gopher down a tunnel and the South African landed his neatly on the fairway, it looked for all the world like a second play-off disappointment in three Major outings for the Floridian, having finished runner-up to Martin Kaymer at the US PGA Championship in similar circumstances last August.
But, while most of us would have looked for a shovel with which to extricate ourselves from such a precarious position, the prospective Masters champ cheerfully turned to a page from golf's latest manual, one that says "The impossible we can do - for miracles, see Bubba Watson."
It wasn't just The Shot, it was The Hook Of All Hooks, the Ultimate Banana Sunday. Watson's gap wedge flashed once, sending the ball up about 15 feet under the forest canopy, turning it right, gaining altitude, turning right a bit more, clearing the trees, pirouetting around a passing swallow and depositing it just 10 feet from the hole.
Even Rudolf Nureyev never performed such a graceful and audacious manoeuver, and, two putts later, golf had a new champion. But what was going through his mind as he stood over that carpet of Georgia Pine needles?
"All I thought about was hooking it as much as possible. Just hook it. My goal was simply the biggest hook I could possibly manage. I wasn't thinking about position, distance, anything. Just hook it and see where it ends up. At first, I wasn't sure if I could hook it enough but my caddie Ted Scott was saying 'Yes, you can do it!' He was pumping me up and I knew where Louis was, so I had to give it a go.
"I knew if I got it on the green I could at least make par and take the play-off to another hole. When I came out of the trees I heard the crowd roar but I couldn't see it and I had to ask Ted. He said 'It's about 15ft from the hole.'
"After watching it again when I got home the next day, it actually worked out exactly how it was in my head. It was wild to see. You try to pull off certain shots, but then they work you are like 'Whoa!' But you have to be cool about it!"
Part two of this special View From America, featuring the Dukes of Hazard and the General Lee, hitting golf balls into a hot tub, and the hilarious Golf Boys video, will hit your computer screens early next week.