Tiger too obvious
Simon Veness sees a different tone for this week's Masters despite all the clamour for Tiger Woods.
Last Updated: 04/04/12 4:27pm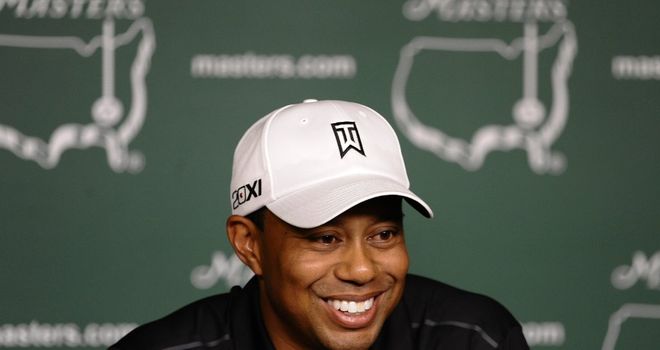 US-based British sportswriter Simon Veness sees a different tone for this week's Masters.
It's the first 'proper' major in two years. It's the first to feature all the main contenders, in form and raring to go since the 2010 Masters. And, of course, we are back on Tiger Watch.
This is probably the most obvious story since the former world No1 lost an argument with a fire hydrant back in November 2009 and much of the golf world held its breath wondering if we would ever see the 'real' Woods again.
Well, wonder no more, world. Because the pundits are all of the same opinion over here - this is the event when Tiger will be stalking the big titles once more and we are back on the countdown to the 18 majors in Jack Nicklaus' historic locker.
Only, is it TOO obvious?
No-one is really asking that particular question as yet, but you feel it is the subtle sub-text to the all-consuming headline story that is Tiger Woods, and his on-off pursuit of that major record.
As we all know, Woods has not claimed one of the titles that matter most to him since the 2008 US Open, when his much-abused knee finally gave way and pointed him towards a long period of physical rehabilitation.
The mental rehab followed swiftly late the following year when details of his marital infidelities caused the biggest round of sporting navel-gazing since, well, since reporters at the big Israelite v Philistine dust-up around 900BC were able to get back to the visiting locker-room and ask: "So, Goliath, what went wrong?"
It's possible we had never seen such a precipitous and totally unpredictable fall from grace, as the World No 1 became the No 50 and seemed destined for oblivion as first his driving then his putting stubbornly refused to work.
True, he managed a fourth-place finish in each of the 2010 and '11 Masters and the '10 US Open, but he ignominiously missed the cut at last year's US PGA Championship and many scribes wondered if Tiger would forever be stuck on an unlucky 14.
And then 2012 happened and the golf world tilted on its axis once more.
Now, we know, we are back in a realm where Woods is a winner once again and is just about everyone's favourite - from the Las Vegas bookies to the youngest caddy in Georgia.
Of course, there ARE some other players involved, notably the world No1, Luke Donald, last month's No 1, Rory McIlroy, and last year's No1, Lee Westwood, as well as the in-form American who could actually BE the next No1, Hunter Mahan.
World No12 Dustin Johnson is the only notable absentee, and McIlroy, Mahan and Donald all have wins in the bank already this year. In fact, Donald has not finished worse than fifth in his five events so far.
When, not if
And yet it is all about when Tiger wraps up Major No15 on Sunday evening, not if.
If only we could be that certain about sure-things (as a certain giant Philistine might have wondered all those years ago).
It does strike me as odd that, in a 96-man field over a notoriously tough course, just one person is seen as an overwhelming favourite.
'This is Tiger's tournament to lose,' said one headline this week. 'Winner's Circle,' was another, next to a picture of a grinning Woods.
From my perspective on the US TV couch of life, I can't help thinking about his surgically repaired knees, and the Achilles tendon injury that had him limping out of the final round of the WGC-Cadillac Championship less than a month ago. There must be as much chance of him falling victim to injury as grabbing his 15th Major, surely?
I don't mean that Tiger is likely to limp off the Augusta course at any stage. His drive and desire to win among the dogwoods and azaleas - which are stubbornly refusing to bloom at the moment, by the way, which will take a little of the gloss off the usual visual splendour - is both epic and well-documented, and you feel he would have to have both legs ripped off, a la Monty Python's Black Knight, to even slow him down.
But I'm thinking he is putting SO much pressure on himself, and he is likely to be so fiercely focused that his now-36-year-old body - the same vintage as David Beckham - could easily be the weak link in his armour, especially when so much is expected of him.
His Masters record is, of course, formidable, with his rare 1999 stumble and the two 'wilderness' years of 2003-04 the only time he has finished outside the top eight as a pro. Add in the little matter of four titles in the space of nine years from 1997-2005, and you can understand why the bookies make him almost odds-on to add another Green Jacket to his wardrobe.
Predicting Tiger is a fool's game, though. The media can speculate all they like about what is likely to happen once he steps on to the Tea Olive tee on Thursday at 10.35am, our time, and, even more specifically, on how well placed he will be when he goes through Amen Corner on Sunday afternoon.
But not even Woods himself can really KNOW what will happen, both with the physical stress on his body and the renewed mental pressure of a world top 10 that is significantly better than when he last held the top ranking in October 2010.
And therein lies the real fascination for watching the year's first Major. It could well be the best golfing spectacle since, well, since a certain Eldrick Woods spanked the living daylights out of Augusta in 1997.
As a certain American footballer might say, get the popcorn ready....