PGA Grand Slam of Golf: Justin Rose shoots 67 to open up two-shot lead in Bermuda
Last Updated: October 16, 2013 7:23am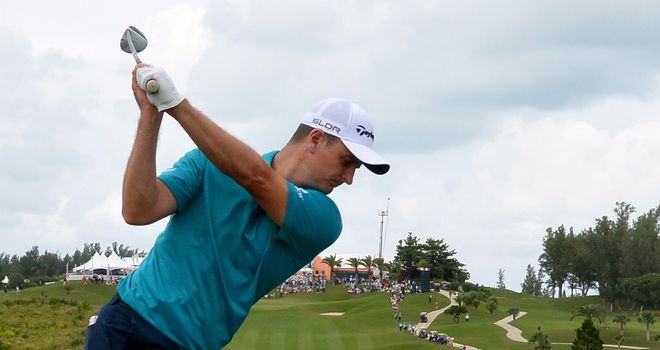 Justin Rose: Leads after round one in Bermuda
US Open champion Justin Rose leads the way after the first round of the 36-hole PGA Grand Slam of Golf in Bermuda.
The Englishman carded an opening four-under 67 in the battle between this year's major winners and leads by two from American Jason Dufner.
At one stage Rose, USPGA champion Dufner and Masters winner Adam Scott were all tied on four-under, but the latter two fell away over the closing holes.
First round leaderboard
-4 J Rose (Eng)
-2 J Dufner (US)
-1 A Scott (Aus)
+3 P Harrington (Ire)
Tournament is 36 holes
Dufner bogeyed the 14th and the 16th at Port Royal to drop to two under while Australian Scott made a double bogey at the 16th after getting a bad like in a bunker to fall three off the lead.
Rose had also dropped a shot at the 14th but he birdied the 17th to pull away from his rivals.
Open champion Phil Mickelson is not in Bermuda and his spot has been taken by Padraig Harrington, who replaced Ernie Els last year and won the tournament.
His title defence did not get off to a good start, though, the Irishman carding four bogeys and a double bogey to finish his round three-over par.
Kept out of bad spots
"I felt like I didn't really play my best today but I kept the ball out of some really bad spots."
Justin Rose
Rose said: "I felt like I didn't really play my best today but I kept the ball out of some really bad spots out there on the golf course.
"I felt like I putted really well today. I felt like I read the greens well. There's quite a bit of break. I felt like I had a lot of putts that I was playing two, three, four cups outside the hole. But for the most part, I read the greens well."
Scott, like his three rivals, admitted he found the going tougher on the back nine.
"It was a tale of two nines," said the Aussie. "I played really nice on the front nine, then just like the other guys, had a few struggles on the back, and made the worst of it, really. Unfortunately missed a few putts and a bad break on 16.
"But I felt like I played pretty well. I probably should have had a couple better. Have to go out there tomorrow and light it up."