Henrik Stenson enjoying the highs after a series of lows in his golf career
Last Updated: 14/09/13 10:22am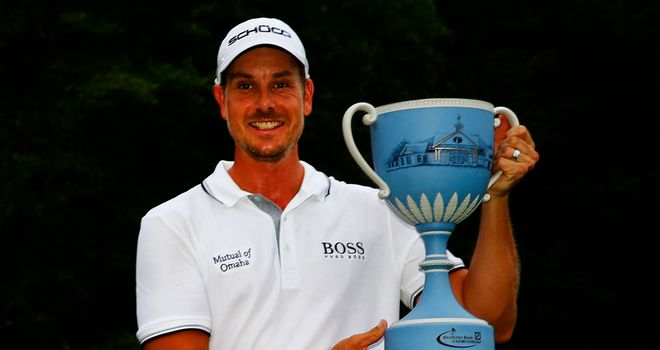 Henrik Stenson celebrates his victory in Boston, his first PGA Tour title since 2009
Henrik Stenson is determined to continue his remarkable resurgence as he chases a $10m bonus in the FedExCup play-offs.
Stenson stormed above Tiger Woods to the top of the standings following his superb victory in the Deutsche Bank Championship which capped a stunning return to form over the last few months.
The Swede won his first European Tour title in 2001 but then went through the first of two major career slumps, the second coming in 2011 as he tumbled to 230th in the world rankings.
He also lost a vast amount of money in disgraced financier Allen Stanford's Ponzi scheme in 2009, just months after an astonishing final round earned him the biggest victory of his career in the Players Championship at Sawgrass.
The 37-year-old has also been hampered by injury and illness, but he has roared back into the world's elite this year with runners-up finishes in the Open and WGC Bridgestone Invitational, third place in the PGA Championship and victory at TPC Boston two weeks ago.
"I'm excited about these two weeks and I'm obviously going to try my hardest to try and keep the boys behind me," said the world No 6, who is guaranteed a place at next week's 30-man Tour Championship in Atlanta.
"Life is ups and downs; stock market, golf, everything kind of goes in cycles. I think definitely when you're not getting what you want and you have to work hard for it and then you get the reward, of course it's going to feel better than if you get it all the time.
"It's obviously not great for anyone to be part of the whole Stanford Financial thing. That's a private issue and we'll see what the outcome is.
"I went out and won the biggest win of my career three months afterward, so I wouldn't put that down as an issue for playing poorly, if I can win Sawgrass three months after that was revealed. I think that one is kind of done and dusted.
"Health issues are a little bit tougher. I finished third at the Open in 2010 and then straight after I picked up viral pneumonia or something like that.
"I didn't know I had that and came over here to try and play Akron, PGA, and I finished more or less last in both those tournaments. I was struggling and that took some time to get over.
"But then the other part of it, we went on vacation in November 2011 and I picked up a parasite, a waterborne parasite, and that kind of took a while before I figured that one out as well.
"It's been gradually getting better, but there's still been tiny little things even probably a year and a half, two years afterwards. You can still kind of feel sometimes that the system hasn't been 100 per cent."
Sky's live coverage of the BMW Championship starts at 8pm on Thursday on Sky Sports 3 HD