Adam Scott: This year's Open disappointment was worse than last year
Last Updated: 06/08/13 6:29pm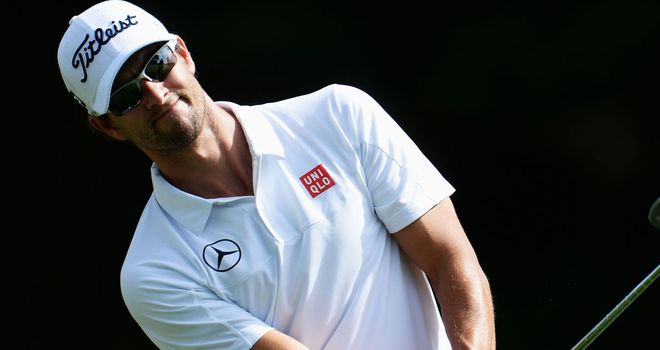 Adam Scott during practice for this week's PGA Championship at Oak Hill
Adam Scott claims the disappointment he experienced at missing out on winning this year's Open Championship at Muirfield was more acute than he endured last year at Royal Lytham.
In 2012 on the Lancashire coast, the Australian failed to lift the Claret Jug despite holding a four shot lead on the back nine and just last month was in contention again in Scotland.
At Muirfield in July he took the outright lead with a birdie at the 11th, only to bogey four holes in a row from the 13th.
And the reigning Masters champion said: "I think I was probably more disappointed at the Open this year than last.
"I worked really hard to get myself in a position with nine holes to go, because I got off to a slow start on Sunday, and I felt that I had a bit of momentum going my way.
Disappointing
"But in the space of about 45 minutes, to go from leading to not even having a chance on the 16th tee was more disappointing, probably more so than at Lytham."
As for this week's PGA Championship at Oak Hill, Scott feels quietly confident, adding: "It was really pleasing to play well again at The Open just a couple weeks ago.
"So I feel like I'm in some kind of form coming into the PGA this week.
"I'd really love to get myself in there with a chance to kind of bookend the Masters with a PGA Championship for this year."