PGA confirm bunker ruling
Sandy areas will be regarded as 'through the green' at Kiawah Island
Last Updated: 07/08/12 9:10am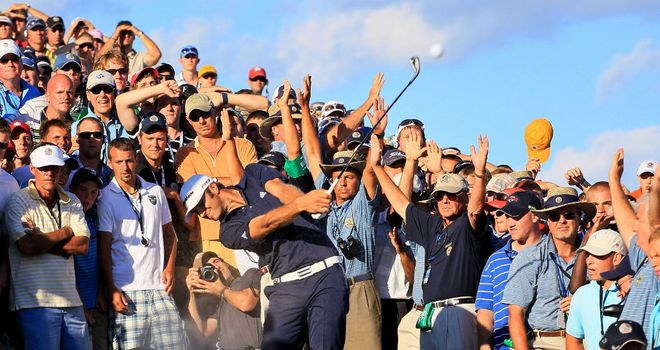 Dustin Johnson was penalised two shots for playing from a sandy area at Whistling Straits in 2010
The PGA of America has announced that all sandy areas at Kiawah Island will not be regarded as bunkers to try and head off any controversy at the USPGA Championship.
The 2010 championship at Whistling Straits ended in dramatic circumstances as Dustin Johnson was penalised two shots on the 72nd hole after grounding his club in a waste area which was ruled to be a bunker.
The penalty ensured the American missed out on a play-off and the chance to claim his first major title, with Martin Kaymer eventually edging out Bubba Watson to claim the title.
Officials have now moved to try and ensure there will not be any such similar scenes at Kiawah Island in South Carolina by declaring that all sandy areas will be regarded as 'through the green'.
Following the ruling, players will now be able take practice swings, lightly ground their clubs and move lose impediments from sandy areas, except in those within a water or lateral water hazard.
"With the unique topography of the Ocean Course, natural sandy areas spread throughout the entire property. All of these areas will be treated alike and played as 'through the green'," stated PGA of America President, Allen Wronowski.
"We believe that by establishing the Condition of Play for the 94th PGA Championship well in advance, it will help players and spectators prepare for this spectacular major championship experience."