Storms batter Congressional
Third round delayed after trees left strewn across course
Last Updated: June 30, 2012 3:58pm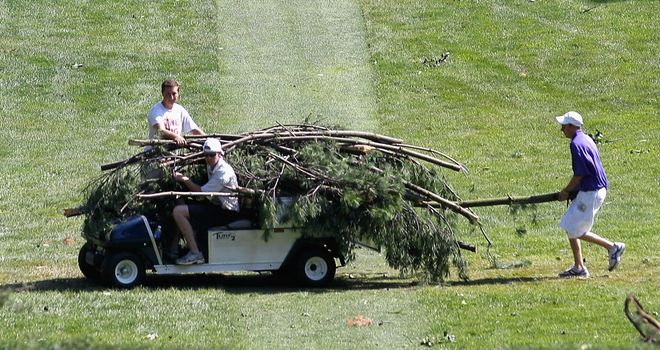 The clean-up job from the storms forced round three to be delayed
Viscious storms forced the third round of the AT&T National at Congressional to be delayed for six hours on Saturday.
The storms uprooted several trees around the course, including a 75-foot one that crashed across the 14th fairway, as well as cutting power to over 400,000 people in the area.
The damage led to the third round being put back to 1pm local time, with the venue also being closed to spectators and volunteers due to the safety concerns.
The signs on nearly every tee box had been ripped from their posts, and the trailers that contain the PGA Tour's communications system narrowly escaped severe damage.
When play commences on Saturday, the only people allowed on the course will be security personnel, tournament officials and workers and media. Players' families were also allowed.
Hunter Mahan currently leads the tournament on seven-under par.