Tiger wants penalties for slow play
Woods says punishments need to be changed to speed game up
Last Updated: May 14, 2012 12:52pm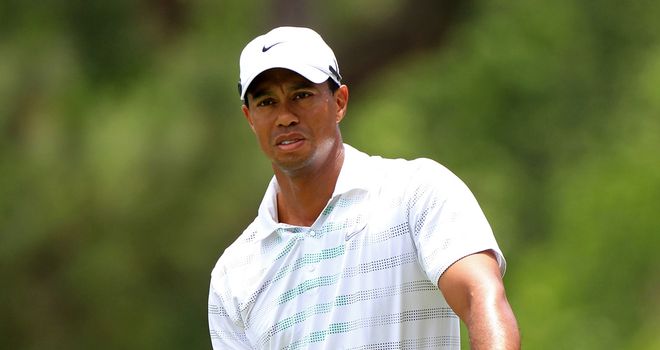 Tiger Woods: Believes the issue of slow play is getting worse
Tiger Woods wants the PGA Tour to punish slow play with penalty strokes rather than undisclosed fines.
The issue was again brought into close focus in The Players Championship at Sawgrass where third round leader Kevin Na drew criticism from pundits and spectators alike for his repeated waggles and backing off of shots.
Woods, who finished tied 40th at Sawgrass, believes a shot penalty for a 'bad time' when a player is on the clock would be a far bigger deterrent than undisclosed cash punishments which are believed to be around $5,000 to $10,000.
"Very simple. If you get a warning, you get a penalty. I think that would speed it up," Woods told reporters after his final round 73.
"Strokes is money. One shot can be the difference between first and second. How much is the difference between first and second? $800,000?
"I would take the five grand over the 800k. That one shot, that's the difference, that's what people don't realise, that one shot is so valuable."
Woods had posted an article about slow play on his website in 2008 and was asked where the game stood four years later.
"Worse," replied Woods. "Last week (at Quail Hollow), we were playing (rounds) in 4 (hours) 40 and there's no wind. That's hard to believe.
Slower
"We have gotten slower on Tour. College has gotten just incredibly slow. It's so bad that now we are giving the guys the ability to use lasers to try to speed up play, and they are still 5:45, 6:00 plus."
Woods did, however, have some sympathy for Na after his fellow American admitted that he had trouble pulling the trigger due to swing changes.
"I've never experienced anything like that but I've seen it before. I played with Sergio (Garcia) in 2002 and I think one of the holes, he re-gripped it 20-plus times.
"I haven't seen Kevin do it in person but sometimes it is tough pulling the trigger. Some guys have an easier time committing and going and other guys don't," he said.