Donald can't wait for Augusta
Luke says everything in place for another classic Masters
Last Updated: 29/03/12 11:18am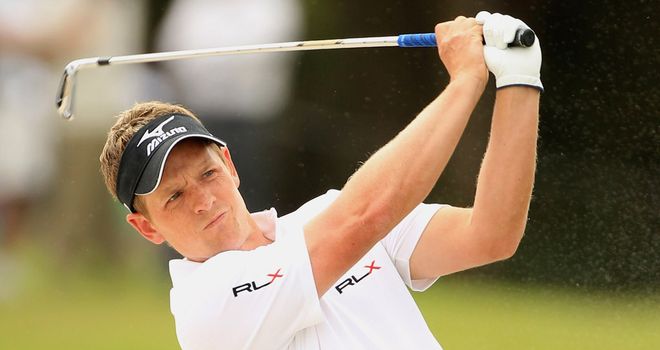 Luke Donald: Was undone at the 12th last year
World number one Luke Donald believes that, much like last year, we're in for another epic Masters Tournament.
The Englishman finished four shots behind eventual winner Charl Schwartzel a year ago, and but for a momentum-killing double bogey at the par-three 12th on Sunday, he might have been right in there challenging for the title on the closing holes.
Now, he can't wait to get back to Augusta and make amends.
"If I was a spectator at last year's Masters, I would have loved to have either been there or watching it on TV," Donald told Europeantour.com. "As a player, hearing all those roars coming down the back nine was so exciting for me. I was playing with Bo [Van Pelt], and he was making a couple eagles and I was making a few birdies of my own.
"It was one of those Masters where the conditions were right for a lot of birdies, a lot of charging on the back nine, and it made for a lot of fun. It was great to be a part of, and exciting to be in with a chance of winning, but the 12th was obviously a killer for me.
Paid the penalty
"It was probably the only bad swing I made all day - I just pushed it about ten yards with a nine iron, and paid the penalty. But I was proud of the way I dug in deep and made some birdies coming home, and hopefully I can put myself into contention to win again this year."
This year's Masters is already shaping up to be something special, with Tiger Woods finding his winning touch just in time and the likes of Donald, Rory McIlroy, Phil Mickelson and Lee Westwood, to name a few, all in good form as well.
"Augusta is always one of the most exciting events of the year, just because it's the first major and especially this year because a lot of good things are happening in golf, a lot of the big names are playing well," said Donald.
"So golf is really exciting right now. Tiger's obviously making a comeback, and all of the pieces of the puzzle are falling into place. As players, we all look forward to the Masters. It's what a lot of the off-season is geared towards, and I certainly can't wait to get there."