China Open stats
Some key stats and a form guide for this week's Volvo China Open at Binhai Lake
Last Updated: 30/04/13 6:16pm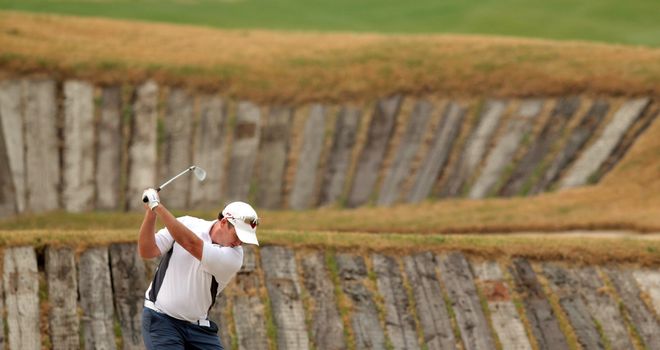 Marcus Fraser: Sixth here last year
China's national Open returns to Binhai Lake for a second straight year.
Designed by Pete Dye, the course is situated in the north-east of the country and close to the East China Sea.
The three-year-old course is flat, exposed and, at over 7,600 yards, longer than most on the European Tour.
Binhai is located within an area known as Tianjin, which is one of China's largest population centres with more than 12 million residents.
SELECTED PLAYERS with GOOD to REASONABLE FORM in CHINA OPEN
Last Eight Years
(Two or more Top-25 Finishes)
Player: '05 / '06 / '07 / '08 / '09 / '10 / '11 / '12
Fredrik Andersson: MC / - / - / - / - / - / 22 / 23
Markus Brier: - / MC / Won / 5 / 8 / MC / MC / 44
Mark Brown: - / - / - / 5 / 3 / - / MC / -
Paul Casey: Won / 4 / - / - / - / - / - / MC
Christian Cevaer: MC / 20 / MC / 18 / - / - / Wd / -
Robert-Jan Derksen: - / 54 / 14 / 49 / MC / MC / 27 / 18
Richard Finch: - / - / MC / 12 / 3 / MC / 10 / 3
Marcus Fraser: - / 15 / 44 / 44 / 20 / 53 / MC / 6
Ignacio Garrido: - / MC / - / - / - / 23 / 62 / 11
Branden Grace: - / - / - / - / 16 / - / - / Won
Gregory Havret: - / 31 / 22 / - / - / - / 7 / -
Keith Horne: 12 / MC / MC / MC / - / - / 16 / 44
Mikko Ilonen: - / - / 23 / 24 / MC / 4 / - / 64
Soren Kjeldsen: 19 / 28 / 51 / 56 / - / - / 2 / 29
Pablo Larrazabal: - / - / - / - / MC / 8 / 10 / 18
Peter Lawrie: 6 / 15 / 39 / MC / MC / 28 / 2 / 63
Paul Lawrie: - / 10 / - / 20 / - / MC / - / 14
Wen-Chong Liang: MC / MC / 31 / 8 / 25 / 17 / 41 / MC
Joost Luiten: - / - / - / 14 / - / - / 15 / 18
Gareth Maybin: - / - / - / - / 20 / 45 / 10 / 64
Damien McGrane: MC / 20 / 39 / Won / 38 / 17 / 22 / 23
Prom Meesawat: MC / 15 / 23 / 61 / - / - / - / -
Alexander Noren: - / - / - / - / - / 8 / MC / 6
Brett Rumford: - / 14 / 11 / - / 33 / MC / 22 / 29
Jeev Milkha Singh: - / Won / - / - / - / - / 10 / 60
Graeme Storm: - / MC / 23 / - / 11 / 17 / MC / 52
Scott Strange: 11 / 65 / 19 / 14 / Won / MC / MC / 29
Aaron Townsend: - / - / - / - / 16 / MC / 10 / MC
Simon Wakefield: - / 4 / 19 / 59 / 62 / - / - / -
Peter Whiteford: - / - / - / 8 / - / 28 / 16 / 18
Course Key: '05: Shenzhen; '06: Honghua; '07: Shanghai Silport; '08: Beijing CBD Int; '09: Beijing CBD Int; '10: Jinji Lake; '11: Luxehills; '12: Binhai Lake
SELECTED PLAYERS with POOR to MEDICORE FORM in CHINA OPEN
Last Eight Years
(No Top-35 Finishes from three or more starts since 2005)
Player: '05 / '06 / '07 / '08 / '09 / '10 / '11 / '12
Felipe Aguilar: - / - / - / - / 57 / MC / MC / 69
Richard Bland: MC / 65 / - / - / 48 / MC / MC / -
SSP Chowrasia: - / - / MC / 63 / MC / MC / MC / MC
Peter Hedblom: - / MC / - / MC / 48 / MC / - / MC
Michael Hoey: MC / - / - / - / - / - / 52 / 60
Mu Hu: - / - / - / 65 / - / 60 / MC / MC
Maarten Lafeber: - / - / 56 / - / 38 / 45 / MC / -
Gareth Paddison: - / - / - / - / MC / - / MC / 39
Alessandro Tadini: MC / 54 / - / - / MC / - / - / -
Marc Warren: 50 / - / MC / - / - / 67 / - / MC
Ashun Wu: - / - / - / MC / - / MC / MC / MC
TOP-25 Finishers at BINHAI LAKE in 2012 (Not Already Listed Above)
Victor Dubuisson: (T-4th)
Ricardo Gonzalez: (T-6th)
Fabrizio Zanotti: (T-6th)
Julien Quesne: (T-11th)
Matthew Baldwin: (T-14th)
Jean-Baptiste Gonnet: (T-14th)
Jbe Kruger: (T-18th)
Scott Jamieson: (T-23rd)
Edoardo Molinari: (T-23rd)
Ricardo Santos: (T-23rd)
LOWEST 15 STROKE AVERAGES in CHINA
(For Co-Sanctioned European Tour events since April 1st 2009)
Average (Rounds)
68.88: Soren Kjeldsen (16)
69.21: Richard Finch (14)
69.33: Fredrik Andersson (12)
69.42: Peter Whiteford (12)
69.50: Joost Luiten (16)
69.71: Paul Casey (17)
69.86: Alexander Noren (22)
69.92: Ignacio Garrido (12)
70.17: Tano Goya (12)
70.17: Keith Horne (12)
70.25: Damien McGrane (16)
70.27: Pablo Larrazabal (22)
70.42: Robert-Jan Derksen (12)
70.43: Peter Lawrie (14)
70.50: Edoardo Molinari (12)
(Min. No. of Rounds = 10)
MOST TOP-25 FINISHES in CHINA
(For Co-Sanctioned European Tour events - All Time)
Total
12: Paul Casey
9: Wen-Chong Liang
9: Jeev Milkha Singh
8: Scott Strange
7: Soren Kjeldsen
7: Peter Lawrie
7: Damien McGrane
5: Thomas Bjorn
5: Markus Brier
5: Gregory Havret
5: Raphael Jacquelin
5: Paul Lawrie
5: Brett Rumford
5: Simon Wakefield
LOWEST ROUNDS at BINHAI LAKE in 2012
63: Alexander Noren
64: Four times
65: Five times
Binhai Lake: Par 72; 7,667 yards
Winning Total at Binhai Lake
2012: 267 (Branden Grace)