Westwood denies Rory rift
Englishman would "love to" partner McIlroy at Ryder Cup
Last Updated: 20/09/12 10:21am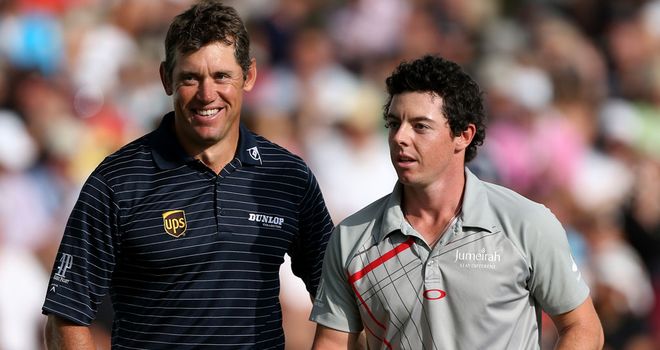 Lee Westwood & Rory McIlroy: No personal issues
Lee Westwood has laughed off speculation of a rift between himself and Rory McIlroy and insists he would love to play alongside the world number one at the upcoming the Ryder Cup.
Talk of ill-feeling between the pair has been rife since McIlroy quit the management company Westwood has been with for 20 years, with the two then exchanging views over the split on Twitter.
But according to Westwood, they remain friends and he would love to play alongside the in-form Northern Irishman in Medinah next week.
Referring to a conversation the pair had at the BMW Championship two weeks ago, he told the Daily Telegraph: "We were talking about it as we were going around Crooked Stick. I said to him 'have you had any thoughts about who you are playing with a Medinah? Because if nobody else wants to play with you and you're desperate, I really don't mind filling in'. We had a laugh about that.
"There is nothing there. Fans must watch us having banter on the course thinking 'so where is this grudge?' So he left the management company I'm with. So what? It was a business decision. There is nothing personal with me.
"There is nothing between us personally that would get in the way.
"Who wouldn't want to play with Rory when he's in this nick. I'd love to. It'd be good. In fact, it would probably be way better than good, particularly in the four balls. We'd make a ton of birdies."