Padraig accepts Cup fate
Dubliner not holding out hope for captain's pick
Last Updated: August 11, 2012 12:16am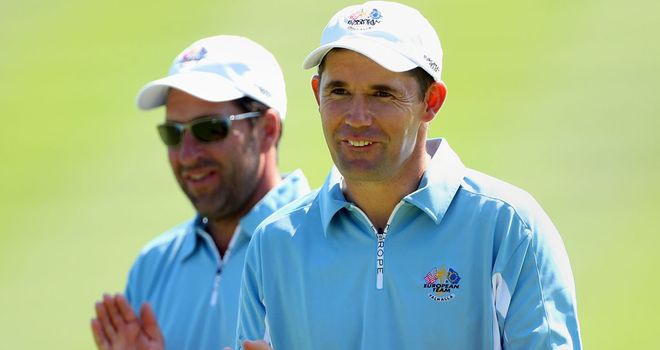 Padraig Harrington: Doesn't appear to be top of Olazabal's list
Padraig Harrington accepts he has little chance of earning a wildcard for Europe's Ryder Cup team this year.
Team captain Jose Maria Olazabal recently commented that the Irishman would have to perform 'extraordinary well' to face the United States at Medinah in September.
The Spaniard will name two wildcards at the end of the Johnnie Walker Championship at Gleneagles later this month with Ian Poulter - if he fails to qualify automatically - expected to be one of his selections.
Poulter and Harrington are currently not among the leading contenders, although the latter is certainly enjoying some improved form of late.
The 40-year-old from Dublin, who has successfully made the cut at this week's PGA Championship in South Carolina, said of Olazabal's comments: "There you go. He's obviously got players in mind.
"I can't do anything about it. I missed out on eight tournaments that guarantee you world ranking points by not playing well last year.
Played solid
"I've played solid in every event this year and couldn't be happier with my form and my game.
"Ian Poulter is going to get one and there's one left. Obviously, I'm not in the reckoning as it stands, so I have to do something exceptional. At least it's clear.
"I would love to have an exceptional week here but I won't be waiting on a pick."
Olazabal said of Harrington: "He has to do really extraordinary well. He's well down the list.
"I've played with him a couple of times during this year. From tee to green, his game has been fairly good but I think his putting has let him down this year so far."