Spanish stat pack
Watch all four days of the tournament live on Sky Sports
Last Updated: April 30, 2012 2:29pm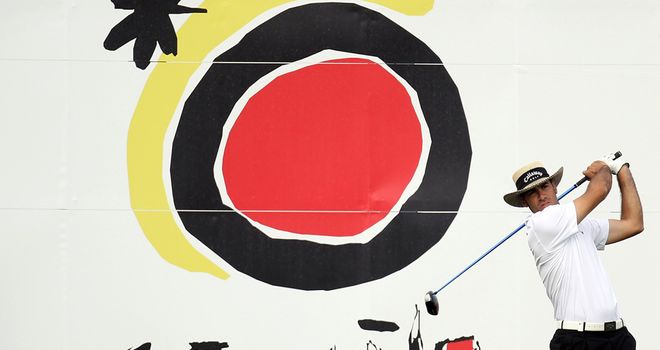 Alvaro Quiros: Won at this venue in 2010
Real Club de Sevilla returns to the European Tour schedule for a fifth time in nine years as host of this week's Spanish Open.
The Jose Maria Olazabal-designed layout staged this event in 2008 and 2010 and played host to the 2009 Open de Andalucia.
Also used for the 2004 World Cup, it is considered a fair test of golf.
Opened 20 years ago, the reasonably flat course is covered by fir and palm trees, and has water coming into play on seven holes.
This week's tournament signals the start of five full months on the Tour's home continent.
So who's teeing-up?
Alejandro Canizares: Has a decent recent record on home soil and tied-for-third on his last appearance in Seville.
Nicolas Colsaerts: Runner-up in China two weeks ago and tied-for-sixth at this venue in 2009.
Miguel Angel Jimenez: Is usually there or thereabouts in tournaments staged in his native Spain and, in 16 rounds in Seville, averages a creditable 70.31.
Francesco Molinari: Third in Seville back in 2009, the Italian will see this week as a great opportunity to get back on the title trail following a quiet few months. He remains a solid Tour performer with a string of top-25 finishes in recent months.
Alexander Noren: The Swede is in reasonable form at present having posted top-10 finishes in both China and Korea during April.
Alvaro Quiros: Winner when the course last hosted a Tour event in 2010. The Spaniard will be chasing his first victory since last December's season-closing event in Dubai.
SELECTED PLAYERS with GOOD to REASONABLE FORM at REAL CLUB de SEVILLA
Full Tour History
Player: '04 / '08 / '09 / '10
Alejandro Canizares: - / 22 / MC / 3
Nicolas Colsaerts: 28 / - / - / 6
Carlos Del Moral: - / MC / 14 / 12
Robert-Jan Derksen: 4 / 10 / MC / 17
Stephen Dodd: 24 / Wd / 14 / 6
David Drysdale: MC / MC / 2 / 37
Gonzalo Fernandez-Castano: - / MC / 14 / 30Mark Foster: 33 / 22 / MC / 3
Ignacio Garrido: MC / 2 / 14 / 17
Ricardo Gonzalez: Won / 22 / Wd / 53
Soren Hansen: 7 / 3 / 11 / -
Miguel Angel Jimenez: 28 / 4 / 14 / 17
Soren Kjeldsen: 28 / - / Won / MC
David Lynn: 16 / 4 / 63 / MC
Francesco Molinari: - / - / 3 / 27
Edoardo Molinari: - / 22 / - / 17
Steven O'Hara: 10 / 22 / 41 / 46
Alvaro Quiros: - / 37 / - / Won
Danny Willett: - / 10 / 47 / 27
Fabrizio Zanotti: - / 22 / 21 / 14
SELECTED PLAYERS with POOR to MEDICORE FORM at REAL CLUB de SEVILLA
Full Tour History
(No Top-40 Finishes from three or more appearances or Two Missed Cuts from as many starts)
Player: '04 / '08 / '09 / '10
Richard Bland: MC / MC / MC / 57
Christian Cevaer: 48 / - / 59 / MC
David Dixon: MC / MC / MC / MC
Oliver Fisher: - / - / MC / MC
Tano Goya: - / - / MC / MC
Joakim Haeggman: - / MC / MC / -
Gregory Havret: 68 / 54 / 56 / MC
Michael Hoey: - / - / MC / MC
Maarten Lafeber: - / MC / MC / MC
Pablo Larrazabal: - / MC / 41 / 57
Sam Little: 59 / - / MC / MC
Robert Rock: 53 / 54 / MC / 57
Jarmo Sandelin: MC / - / 47 / MC
Lee Slattery: - / MC / MC / -
Alessandro Tadini: - / MC / MC / -
Alvaro Velasco: - / MC / MC / 53
Sam Walker: MC / MC / - / -
Marc Warren: - / MC / MC / 79
LOWEST 12 STROKE AVERAGES at REAL CLUB de SEVILLA
(Last Four Events on Tour)
Average (Rounds)
69.58: Soren Hansen (12)
70.00: Alvaro Quiros (8)
70.25: Francesco Molinari (8)
70.29: Robert-Jan Derksen (14)
70.31: Ricardo Gonzalez (13)
70.31: Miguel Angel Jimenez (16)
70.36: Ignacio Garrido (14)
70.38: Nicolas Colsaerts (8)
70.50: Alejandro Canizares (10)
70.50: Edoardo Molinari (8)
70.58: Fabrizio Zanotti (12)
70.60: Soren Kjeldsen (10)
(Min. No. of Rounds = 8)
MOST TOP-25 Finishes
For Tour Events Staged on MAINLAND SPAIN
(Since Jan 1st, 2007)
Total
11: Miguel Angel Jimenez
10: Gonzalo Fernandez-Castano
10: Alexander Noren
9: Alejandro Canizares
9: Robert-Jan Derksen
9: Ignacio Garrido
9: David Lynn
9: Francesco Molinari
9: Anthony Wall
8: Gregory Bourdy
8: Mark Foster
8: Soren Hansen
8: Raphael Jacquelin
8: Peter Lawrie
(NB: Match play events not included)
LOWEST ROUNDS at REAL CLUB de SEVILLA
62: Soren Kjeldsen (2009)
63: Ignacio Garrido (2008)
64: Four times
Real Club de Sevilla (par 72):
Winning Totals (Last Three Tournaments held at course):
2010 - 277 (Alvaro Quiros)
2009 - 274 (Soren Kjeldsen)
2008 - 273 (Peter Lawrie)