Bookies stunned
Missed putt lands Sky Bet with a six-figure deficit
Last Updated: 01/10/12 10:53am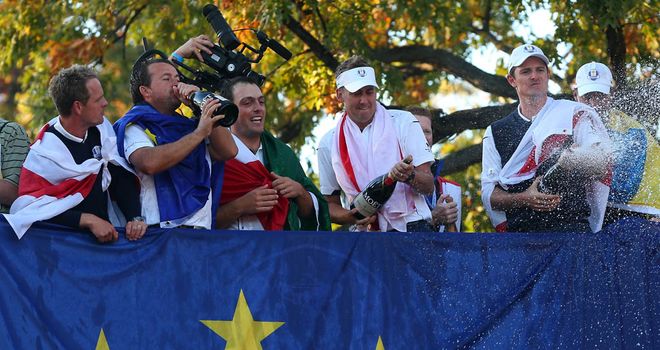 Europe celebrate the win which hit the bookies hard
Europe's historic comeback from 6-10 to win the Ryder Cup 14 ½ to 13 ½ resulted in a heavy hit for Sky Bet as the patriotic punters piled in.
Having started the day at 8/1, Jose Maria Olazabal's men were backed at as long as 14/1 for victory in-play, with support relentless following a perfect start of five successive wins in the singles.
However, the match looked to be heading for a draw until Tiger Woods missed a relatively simple putt on the last before conceding, inflicting a six-figure deficit on the online betting firm.
That also prompted a pay out on both Martin Kaymer and Francesco Molinari to secure the winning half or full point, with the latter tipped up by Sky Sports pundit Colin Montgomerie to do so at 33/1.
Sky Bet's Ned Brooker said: "While it was impossible not to get caught up in such a fantastic victory, Woods' miss resulted in us taking a really heavy beating.
"It adds to a really remarkable year of sport, which our punters have enjoyed more than most, while our decision to pay out on both Kaymer and Molinari securing the winning points will have made the night even more special for those who kept the faith."
Sky Bet already have odds out for the 2014 Ryder Cup outright, captaincy and player selections, with Europe 10/11 to retain the trophy while Paul McGinley is the evens favourite to be skipper.