Sky Sports experts give their predictions for Ryder Cup in Medinah
By Paul Higham Twitter: @SkySportsPaulH. Last Updated: 27/09/12 3:35pm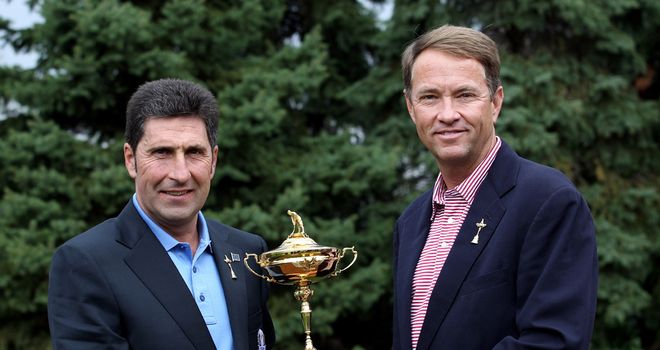 The Ryder Cup: Europe or America?
It's almost upon us, the Ryder Cup is about to get underway in Chicago, and in one of the most hotly-fought contests for some time opinion is divided as to who will emerge with the trophy.
Europe just about edged it last time around at Celtic Manor, but the American's have home field advantage this time around and their fans will be at their vocal best at Medinah.
Will Jose Maria Olazabal's men be able to handle the crowd? Is the fact that so many of them play in the USA have an effect?
Even in our own Sky Sports office we've failed to come to any agreement, but here's what our experts think will happen over the coming weekend.
Let us know what you think of our predictions and give us your own thoughts using the feedback form below, and don't forget you can follow the entire Ryder Cup with our extensive coverage on TV, on mobile and on skysports.com.
Ryder Cup Predictions
Paul Higham
Prediction:
14-14 (Europe retain the trophy)
Top points scorer:
Luke Donald
First tee shot:
Rory McIlroy
It's just too close to call, so I'm going for a draw! Seriously, the two sides are so evenly matched - yes the Americans will have home advantage but with so many of the Europeans now based in the States it will hardly feel that way. Many have a big fan base in the US as well so maybe the crowd will not be as hostile towards them as we think? The visitors also have four of the top five players in the world, including the world number one of course and who better to lead us off and then bag the first point than Rory McIlroy himself. I don't think too many will play five matches, but Luke Donald's record is too good to ignore although Tiger Woods will run him close.
Ben Sullivan
Prediction:
13-15 (Europe retain the trophy)
Top points scorer:
Luke Donald
First tee shot:
Paul Lawrie
After all the hours of TV interviews, billions of written words and acres of newsprint, the Ryder Cup will be decided by a couple of putts on Sunday afternoon - a couple missed and a couple made. It almost always does. All the talk and all the predictions are pretty much immaterial. It will be decided by the flat stick on the short stuff. Whoever makes those putts will win the cup, simples. I think it will be Europe. A steadier team with more proven Ryder Cup winners, more players in form and fewer flaky hit-and-miss merchants. Who would you want to make those putts? Rory and Luke? Or Phil and Jim? I know who my money's on.
Mark Kendall
Prediction:
15-13 (America regain the trophy)
Top points scorer:
Tiger Woods
First tee shot:
Lee Westwood
All 24 players from both teams are in the top 35 of the world rankings - there's no doubt this is going to be a tight, high-quality affair, but I fancy America will make home advantage tell. Both teams have a nice blend of youth and experience, but I fancy America's rookies will rise to the occasion. That said, I think it will be one of the old guard that notches most points for them. Tiger Woods has been much maligned in this event, but this time I see him leading by example and expect him to play all five sessions. Europe have plenty of big guns of their own, but I believe Jose Maria Olazabal will turn to old-stager Lee Westwood to lead them off. The Englishman has developed into the kind of figurehead that Colin Montgomerie used to be for Europe and I expect him to be given the task of getting the visitors off and underway.
Graeme Mair
Prediction:
12 ½ - 15 ½ (Europe retain the trophy)
Top points scorer:
Luke Donald
First tee shot:
Sergio Garcia
The teams are evenly matched. Europe's core is stronger but the United States' line-up runs deeper and they should have the better of the singles. Home advantage has been a big factor in recent cups - Europe's landslide win in Detroit in 2004 being the only time the visitors have triumphed in the last seven editions. That being said, Europe have some killer pairings - expect Luke Donald and Sergio Garcia to extend their unbeaten record in foursomes - and I think they can build a nice lead on the opening two days and then hang on for victory on Sunday, although it won't be sealed until the last couple of matches. Donald should play all five sessions and will emerge as the leading points scorer.