John Deere stat pack
Watch all four days of the tournament live on Sky Sports
Last Updated: July 10, 2012 12:16pm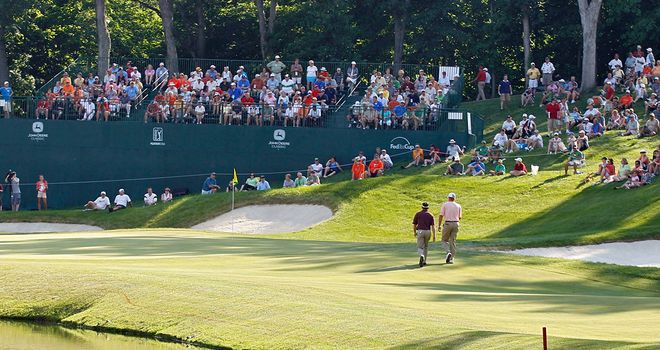 A long and narrow pond guards the left of the 18th green
The PGA Tour heads to Illinois for this week's John Deere Classic where Steve Stricker is hoping to become only the second player in more than 80 years to win the same event four times in a row.
Since 1930, only Tiger Woods has won the same tournament in four successive seasons, with Stricker now chasing a similar milestone at TPC Deere Run this weekend.
Opened 13 years ago, TPC Deere Run first staged the event in 2000 and has been ever-present on Tour since.
Deere Run, which underwent some minor changes five years ago, has some of the largest putting surfaces on the schedule.
The average green size at this rural location is 8,000 square metres.
So who's teeing-up on Thursday?
Jonathan Byrd: Endured a disappointing weekend at The Greenbrier having been tied for second after 36 holes - only to finish 22nd. However, the American should fancy his chances when he returns to a course where he won in 2007, having previously finished second there.
Brendon de Jonge: Tied 7th at Deere Run in each of his last two visits. The 31-year-old Zimbabwean is currently 42nd in the FedEx Cup standings.
Zach Johnson: Top-three finishes in two of his most recent three trips to TPC Deere Run. The world No 17 has been in decent form this season highlighted by a victory at Colonial Country Club at the end of May.
Seung-Yul Noh: The 21-year-old Korean is certainly enjoying his rookie season on the PGA Tour. He has banked more than $1m during 2012, thanks to eight top-25 finishes that includes a tie for 4th at Congressional two weeks ago.
Kyle Stanley: The 24-year-old has failed to post a top-10 finish since claiming a maiden Tour title in Scottsdale back in February. However, a return to a venue where he finished second last year could be just the fillip he needs to rediscover his best form.
Steve Stricker: The three-time champion has an amazing record at Deere Run where he has carded rounds of 60, 61 and 62.
SELECTED PLAYERS with GOOD to REASONABLE FORM at TPC DEERE RUN
Last Eight Years
Player: '04 / '05 / '06 / '07 / '08 / '09 / '10 / '11
Cameron Beckman: - / MC / 33 / 22 / 12 / 9 / MC / 45
Jason Bohn: 14 / MC / 24 / - / - / 39 / 21 / 30
Jonathan Byrd: 64 / 13 / - / Won / 41 / - / 21 / MC
Chad Campbell: - / - / - / - / 7 / 15 / 34 / 56
Daniel Chopra: 39 / MC / 10 / MC / - / 9 / 70 / -
Tim Clark: - / - / - / 2 / 18 / - / 7 / -
Brendon de Jonge: - / - / - / 62 / - / MC / 7 / 7
Brian Gay: MC / Wd / - / 18 / 12 / - / - / 9
Todd Hamilton: 59 / 13 / 10 / MC / 29 / 30 / 21 / 22
Charley Hoffman: - / - / 51 / - / MC / 15 / 7 / -
Charles Howell: - / - / - / - / - / 23 / 39 / 5
Zach Johnson: 20 / 36 / 33 / MC / 69 / 2 / 21 / 3
Matt Jones: - / - / - / - / MC / 5 / 5 / MC
Jerry Kelly: - / - / - / - / 18 / 23 / - / MC
Troy Matteson: - / - / MC / 3 / MC / MC / 10 / 71
Billy Mayfair: Wd / 29 / 7 / 11 / 29 / - / Wd / 56
Jeff Overton: - / - / 10 / 41 / 24 / - / - / -
Ryan Palmer: MC / 20 / 27 / MC / MC / 23 / MC / -
Tim Petrovic: - / - / - / 22 / 18 / 5 / - / 30
John Senden: 39 / 29 / Won / MC / MC / MC / 12 / -
Heath Slocum: MC / 13 / 3 / 6 / 41 / 34 / - / 38
Steve Stricker: 4 / 46 / 51 / - / - / Won / Won / Won
Chris Stroud: - / - / - / 22 / 62 / 15 / - / 71
Vaughn Taylor: 14 / MC / - / - / 12 / MC / 6 / MC
Garrett Willis: MC / 20 / 27 / - / 24 / 28 / 15 / MC
SELECTED PLAYERS with POOR to MEDIOCRE FORM at TPC DEERE RUN
Last Eight Years
(No Top-35 Finishes in three or more starts since 2004)
Player: '04 / '05 / '06 / '07 / '08 / '09 / '10 / '11
Matt Bettencourt: - / - / - / - / - / 39 / 49 / MC
Bart Bryant: 39 / - / - / - / 66 / 48 / - / -
Gavin Coles: - / MC / - / 54 / 41 / - / - / -
James Driscoll: - / - / MC / - / MC / MC / 56 / 60
David Duval: - / MC / 75 / - / MC / MC / MC / MC
Tommy Gainey: - / - / - / - / MC / 48 / - / MC
Ryuji Imada: - / - / MC / MC / - / - / MC / MC
Skip Kendall: - / MC / MC / - / - / - / 74 / -
Steve Marino: - / - / - / - / 41 / MC / - / 65
John Merrick: - / - / - / 54 / MC / - / 39 / 59
DA Points: MC / MC / MC / - / - / MC / MC / 38
Roland Thatcher: 67 / 40 / - / - / - / 39 / MC / MC
Camilo Villegas: 59 / - / 47 / MC / - / - / - / -
Duffy Waldorf: - / 40 / - / 50 / - / - / - / 73
Jimmy Walker: - / - / 61 / - / MC / 39 / MC / MC
Nick Watney: - / MC / MC / - / MC / - / - / -
Top-10 Finishers in 2011 (Not Already Mentioned)
Kyle Stanley: (2nd)
Matt McQuillan: (T-3rd)
Chez Reavie: (T-5th)
LEADING 12 STROKE AVERAGES at TPC DEERE RUN
(Last Four Years - 2008/11)
(No. of Rounds in Brackets)
Average (Rounds)
65.33: Steve Stricker (12)
67.38: Kyle Stanley (8)
67.88: Tim Clark (8)
67.88: Brian Gay (8)
68.00: Charles Howell (12)
68.00: Tim Petrovic (12)
68.10: Charley Hoffman (10)
68.13: Zach Johnson (16)
68.13: Spencer Levin (8)
68.20: Brendon de Jonge (10)
68.25: Chad Campbell (16)
68.33: Matt Jones (12)
(Min. No. of Rounds = 8)
LOWEST ROUNDS at TPC DEERE RUN since start of 2000
59: Paul Goydos (2010)
60: Steve Stricker (2010)
61: JP Hayes (2002)
61: Steve Stricker (2009)
62: Eight times
TPC Deere Run: Par 71; 7,257 yards
Winning Totals (Last Three Years):
2011 - 262 (Steve Stricker)
2010 - 258 (Steve Stricker)
2009 - 264 (Steve Stricker)