AT&T stat pack
Watch all four days of the tournament live on Sky Sports
Last Updated: 26/06/12 3:33pm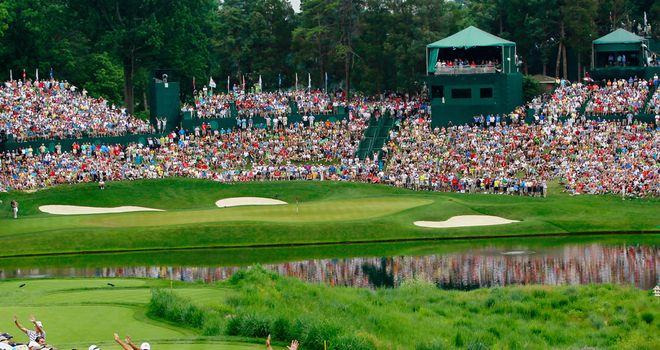 The 10th hole seen during last year's US Open
Congressional Golf Club in Maryland is the location for this week's AT&T National tournament on the PGA Tour.
Situated in Bethesda, and a few miles north of Washington DC, Congressional's Blue Course is one of the best known venues in American golf.
Opened in 1924, and re-designed 65 years later by Rees Jones, the course has staged three US Opens as well as one PGA Championship.
Most recently, it was the scene of Rory McIlroy's eight-stroke victory in last year's US Open although the Ulsterman is not in town for the National, preferring to play on home soil back in Ireland.
So who is teeing-up?
Ben Crane: Second in Maryland in 2005, Crane has posted six top-25 finishes this season.
Jason Day: Runner-up when the US Open was held here last June, the 24-year-old Australian will be keen to claim his first PGA Tour win in over two years.
Jim Furyk: Despite the recent disappointment of just missing out on a second US Open title, the 43-year-old should be one of the main challengers this week. Has registered a brace of top-three finishes at Congressional in the past five years.
Davis Love: The veteran American has been in decent shape during the past few weeks - he followed a top-three finish at St Jude with a tie-for-29th in the US Open.
Vijay Singh: The Fijian has provided glimpses of good form during 2012 and will not be overawed by the challenge of Congressional's tenacious Blue course.
Tiger Woods: Although his recent Major championship performances have been disappointing, he is still a two-time winner on Tour during 2012. Both of these wins have come on challenging courses - Bay Hill and Muirfield Village - so he'll enjoy returning to a venue where he won in 2009.
SELECTED PLAYERS with GOOD to REASONABLE FORM at CONGRESSIONAL
Last Five Tournaments
Player: '05 / '07 / '08 / '09 / '11
Robert Allenby: 13 / 6 / 3 / MC / MC
Jim Furyk: 37 / 3 / 3 / 7 / MC
Robert Garrigus: - / 30 / 27 / 25 / 3
Lucas Glover: MC / 12 / 54 / 5 / 42
Ryuji Imada: 5 / 69 / MC / 22 / -
Davis Love: 2 / MC / 27 / 16 / 11
Hunter Mahan: MC / 8 / 12 / 2 / MC
Ryan Moore: - / 25 / MC / 11 / MC
Nick O'Hern: - / MC / 3 / 25 / MC
Ryan Palmer: 47 / MC / MC / 22 / 21
Rod Pampling: 7 / 19 / 3 / 20 / -
Pat Perez: Wd / 3 / 12 / MC / -
Rory Sabbatini: 6 / - / - / - / 30
Vijay Singh: 29 / 12 / - / 7 / -
Kevin Streelman: - / - / 27 / 11 / 67
DJ Trahan: - / 30 / 22 / - / -
Bo Van Pelt: 41 / 54 / 12 / 54 / 14
Tiger Woods: - / 6 / - / Won / -
Yong-Eun Yang: - / - / - / 22 / 3
SELECTED PLAYERS with POOR to MEDIOCRE FORM at CONGRESSIONAL
Last Five Tournaments
(No Top-25 Finishes from three or more appearances or two MCs from as many starts)
Player: '05 / '07 / '08 / '09 / '11
Notah Begay: - / 54 / MC / 66 / -
Jason Bohn: 29 / 66 / - / 44 / -
Stewart Cink: MC / - / - / - / MC
Ben Curtis: MC / MC / - / - / -
Brian Davis: - / 30 / MC* / 73 / -
James Driscoll: 58 / - / MC* / 76 / -
Brian Gay: MC / 30 / MC / - / 63
JJ Henry: Wd / - / 54 / 44 / 54
Trevor Immelman: MC / - / MC / - / MC
Jeff Maggert: 41 / MC / 36 / 73 / -
John Mallinger: - / - / MC / MC / -
Greg Owen: MC / 62 / - / MC / -
DA Points: MC / - / - / 31 / MC
Chez Reavie: - / - / MC / 48 / 45
Kevin Stadler: 41 / 40 / MC / 70 / -
Vaughn Taylor: Wd / 72 / 49 / MC / -
Camilo Villegas: - / MC / 36 / - / MC
Johnson Wagner: - / MC / 27 / MC / -
Nick Watney: MC / - / 36 / 66 / MC
Charlie Wi: - / - / MC / MC / -
MC* - Missed additional 54-hole cut
Top 10 at 2011 US Open (Not Already Mentioned)
Jason Day: (2nd)
Kevin Chappell: (T-3rd)
LEADING 12 STROKE AVERAGES at CONGRESSIONAL
(Last Five Tournaments - 2005/07/08/09/11)
(No. of Rounds in Brackets)
Average
68.13: Tiger Woods (8)
69.06: Rod Pampling (16)
69.31: Hunter Mahan (16)
69.42: Vijay Singh (12)
69.50: Jim Furyk (18)
69.50: Yong-Eun Yang (8)
69.67: Davis Love (18)
69.75: DJ Trahan (8)
69.81: Robert Garrigus (16)
70.00: Cameron Beckman (9)
70.00: George McNeill (8)
70.00: Pat Perez (11)
(Min. No. of Rounds = 8)
LOWEST ROUNDS at CONGRESSIONAL since start of 2000
62: Anthony Kim (2009)
62: Hunter Mahan (2009)
63: Matt Gogel (2005)
63: Tom Pernice (2008)
63: Peter Lonard (2008)
64: Nine times
Congressional: Par 70; 7,250 yards
Winning Totals (Last Three Tournaments):
2011 - 268* (Rory McIlroy)
2009 - 267 (Tiger Woods)
2008 - 268 (Anthony Kim)
* - US Open