VisitScotland and Sky Sports team up to find The Ryder Cup's best brilliant moment
Vote for your favourite to win a once in a lifetime trip for 4 to The 2014 Ryder Cup, plus we have 50 pairs of tickets for runners-up.
Last Updated: 18/08/14 9:50am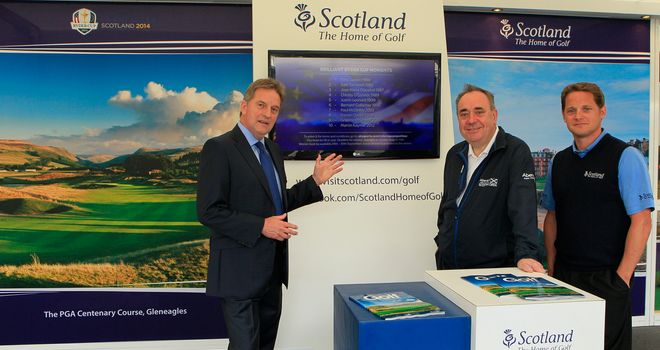 First Minister Alex Salmond and Sky Sports Lead Golf Presenter David Livingstone launch the competition
From Jack Nicklaus' famous concession to Tony Jacklin in 1969 at Royal Birkdale to Martin Kaymer's nerve-jangling putt to complete the Miracle at Medinah in 2012, The Ryder Cup has been full of brilliant moments over the years.
Now VisitScotland and Sky Sports have launched an exciting campaign to find the nation's favourite Ryder Cup Brilliant Moment in the history of the competition ahead of the matches at Gleneagles in September.
Launched by Sky Sports lead golf presenter David Livingstone and Scotland's First Minister Alex Salmond, the campaign features 10 brilliant moments from the 87-year history of The Ryder Cup as chosen by Sky Sports analysts Colin Montgomerie and Butch Harmon.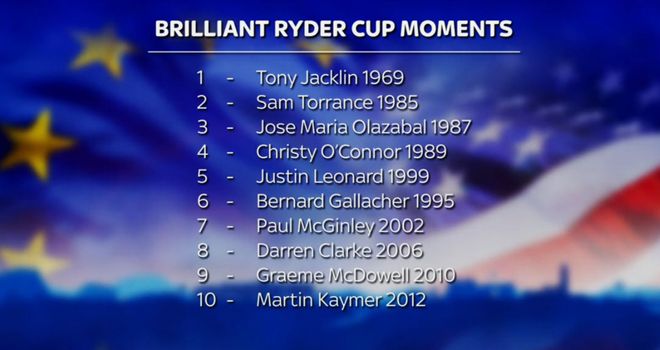 Brilliant Ryder Cup Moments
Featuring brilliant moments such as Sam Torrance's winning putt at The Belfry in 1985 and Darren Clarke's emotional walk to the first tee at The K Club in 2006, the campaign will ask Sky Sports viewers to vote on their favourite brilliant moment from the shortlist.
And any viewer who matches the final choice of Butch and Monty is in with a chance of winning the trip of a lifetime with an incredible prize including tickets to multiple match days at The 2014 Ryder Cup, including The Ryder Cup concert and opening ceremony, four rounds of golf, bespoke club fitting and luxury hotel accommodation. There will also be 50 pairs of matchday tickets to The Ryder Cup for runners-up prizes. CLICK HERE TO ENTER
"I am delighted to see this campaign between VisitScotland and Sky Sports to find the best Ryder Cup Brilliant Moment as Scotland prepares to host The Ryder Cup for only the second time in our history."
First Minister Alex Salmond
First Minister Alex Salmond said: "It is a competition which never fails to excite and with the eyes of the world on Scotland and Gleneagles in September I look forward to there being many more brilliant moments to add to the collection."
David Livingstone, who has led Sky Sports' extensive live golf coverage – including 10 Ryder Cups - for the past 19 years, said: "I have had the privilege of witnessing many brilliant Ryder Cup moments over the years and to narrow down so many into a shortlist of 10, never mind choosing the best one, was no easy task for Butch and Monty.
"But is shows just how much The Ryder Cup means to both players and golf fans alike and we are excited to team up with VisitScotland to give viewers the chance to vote for their favourite. As the home of live golf it makes perfect sense for us to team up with Scotland, the Home of Golf to uncover the nation's favourite Ryder Cup moment as the excitement builds towards Gleneagles in September this year."