USPGA: Tiger Woods prepared for tougher test at Oak Hill
Last Updated: 08/08/13 1:47pm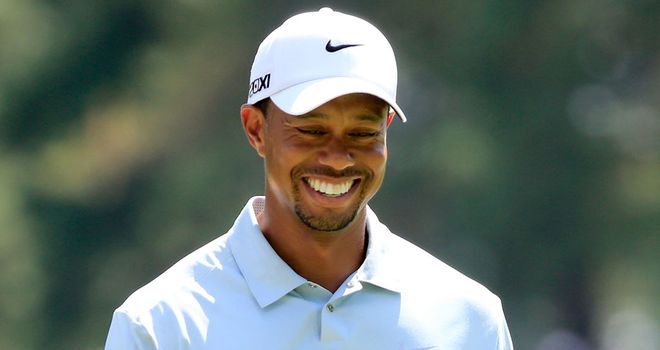 Tiger Woods: In a class of his own at Firestone
Tiger Woods is prepared to grind his way around Oak Hill as he bids to break his five-year major drought at this week's USPGA Championship.
The world No 1 heads to New York for the final major of the year with his confidence sky-high following his dominant seven-shot victory in the WGC-Bridgestone Invitational - his eight triumph at Firestone.
Woods just missed out on a magical 59 in the second round as he marched to his fifth win of the season, and he has now set his sights on lifting his 15th major title at Oak Hill.
"Oak Hill is going to be a golf course where we're going to have to make a lot of pars, there's no doubt," said Woods, whose composed final-round 70 on Sunday included 16 pars, one birdie and one bogey.
"If you have an opportunity to make a birdie, you'd better because there aren't a whole lot of opportunities to make them.
"There are a few holes that you can be aggressive on and maybe a few pin locations that if you have the right situation you can be pretty aggressive to it, but otherwise it's going to be a tough golf course.
"The rough was already up when I played it on Tuesday. It has another week of getting thicker and more lush. I think that it'll be a very, very difficult championship.
Comparisons
"I forgot what the winning score was, maybe just a few under par when Shaun Micheel won in 2003, but it was playing hard, and I think it may be playing even harder this year."
Woods romped to an eight-shot win at Firestone in 2007 before clinching his fourth USPGA Championship win at Southern Hills the following week, but he has been careful to play down any comparisons.
Woods wins WGC
"For me it's hard to relate because it's a totally different emotion, and it's Southern Hills versus Oak Hill, two very different golf courses," he added.
"Firestone is very similar to Oak Hill, but Oak Hill is much more difficult obviously, and with it being more penal with the rough being up, it'll be interesting to see what they do with the greens, how much speed can they add to it and what's going to happen come Thursday.
"I'm looking forward to it. As far as wanting it more than any other, no. It's the same. These are the events that we try and peak for and try and win.
"There's four of them a year and this week, as I said, it's important for me to get some rest come Monday and Tuesday and do some light work but make sure it's clean work.
"Come Thursday I've got a great pairing with Keegan Bradley and Davis Love. Do I want it any more? No, it's the same. Each and every major, I always want them. I've been successful 14 times, and hopefully next week will be 15."