Captain Jose Maria Olazabal says Saturday's fightback was the key to Europe's stunning Ryder Cup win.
Last Updated: 01/10/12 3:24pm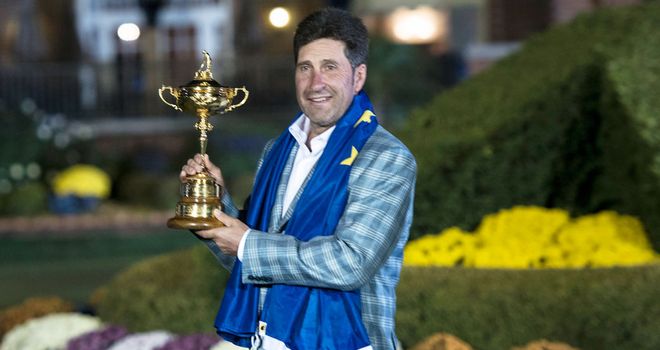 Captain Jose Maria Olazabal says Saturday's fightback was the key to Europe's stunning victory in the Ryder Cup at Medinah.
The Europeans were trailing 10-4 at one point in the second fourballs session and their grip on the Cup was looking exceedingly tenuous.
But Sergio Garcia and Luke Donald held off Tiger Woods and Steve Stricker to reduce the deficit and Ian Poulter then birdied the last five holes as he and Rory McIlroy claimed a dramatic victory over Jason Dufner and Zach Johnson.
That made it 10-6 and set the stage for Europe to take 8.5 points from the 12 singles matches and complete an incredible fightback.
Reflecting on the match on Monday morning, Olazabal said: "The most important part of the week was Saturday afternoon. That session was crucial and I think the players got the feeling of the atmosphere of the Ryder Cup.
"Down the stretch the crowds were very loud, but we managed to turn the tide that afternoon session, and I think that was key.
"The way those last two matches went turned around the whole context of the Ryder Cup."
Olazabal added that the victory is the highlight of his career and that his friend and Ryder Cup legend Seve Ballesteros, who sadly passed away last year, was always in his thoughts.
"It's going to take a little while before it completely sinks in," said the Spaniard. "It's been a very emotional week, especially when things were not going our way, but yesterday everything turned round for us.
"It's completely different from playing, being a Ryder Cup captain. I think in my career it ranks number one.
"Seve's been on my mind the whole week, during the whole journey of this Ryder Cup. When we managed to retain the trophy, all those memories were very vividly coming to life.
"If someone had written a script for it, that would be the ideal one, and for it to happen, Seve had to have something to do with it."