Ollie to keep workload light
European skipper determined to keep his players fresh at Medinah
Last Updated: September 27, 2012 6:23am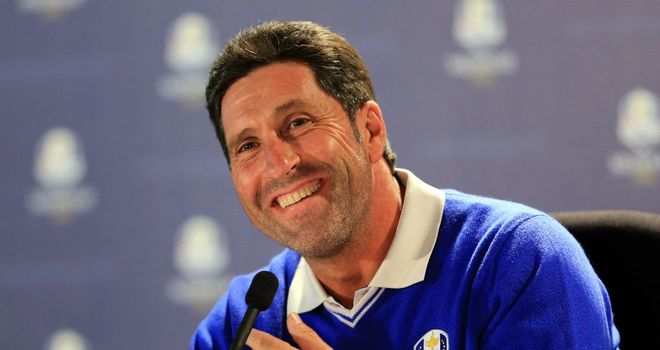 Jose Maria Olazabal: Looking to keep his players fresh ahead of Friday's action at Medinah
European captain Jose Maria Olazabal has made it clear he intends to try and keep his players as fresh as possible before the Ryder Cup gets underway on Friday.
On the second day of practice at Medinah on Wednesday, Olazabal's European players only completed the front nine holes before departing the course.
The Spaniard revealed they will follow the same drill on Thursday as he attempts to ensure they do not become jaded before the first ball is struck in anger.
"The reason behind it is that the boys had a good look at the course yesterday (Tuesday)," Olazabal said. "It took them quite a while to play 18 holes and Wednesdays and Thursdays are quite busy apart from the golf.
"We have the gala dinner, we have the media interviews, we have the opening ceremony. I wanted the boys to take it easy today and tomorrow (Thursday).
"Friday 36 holes, Saturday 36 holes - a lot of pressure, a lot of tension."
Eager
Olazabal could feel the atmosphere building as he looked ahead to the opening ceremony.
"It's great to be at this position and getting closer to Friday's matches," said Olazabal.
"There is not much more room to manoeuvre at the moment, so everything is set. Players are ready. We are all eager to see the first match on that first tee.
"The sooner we get to that point, obviously the more excitement you feel, the more pressure, the more tension. You can see that in the crowds today. They were already dropping a few "USAs" in there and stuff like that.
"I think Friday morning is going to be amazing. It's going to be loud. That's the beauty of this event."