Scott looks to the future
Australian bids to put Lytham choke behind him
Last Updated: 09/08/12 7:43am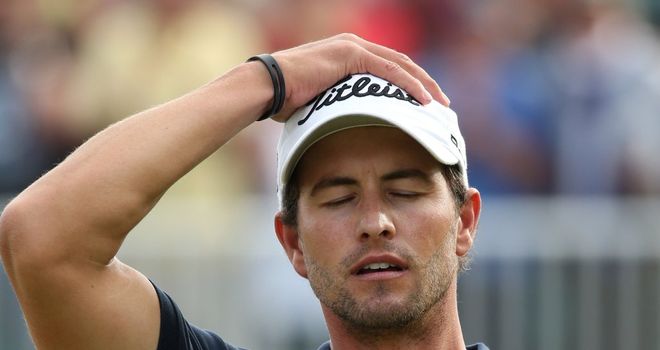 Adam Scott: 'I've generally been a good closer of golf tournaments'
Adam Scott says he "will take the positive" from his Open collapse and look to the future.
The 31-year-old Australian, whose four closing bogeys at Royal Lytham three weeks ago allowed Ernie Els to grab a shock victory, tees off in the USPGA Championship at Kiawah Island on Thursday.
And despite "clear" memories of that day in England, it is an opportunity he says he is "lucky" to get so quickly.
Scott said: "It's certainly great to have another crack at a major so soon after.
"I played maybe the best golf of my career for the whole week really - unfortunately I didn't get a win.
"But even with the last four holes, taking it as a whole, I played spectacular golf for such a long period of time in a major championship.
"That's something I've been working to do for my whole career and finally that's happened, so I've got to take the positive that I'm getting somewhere now.
"I feel great about that and I feel very motivated to do that again. That great play wasn't that long ago."
Scott returned to action at last week's WGC-Bridgestone Invitational. He was the defending champion, but with a 45th-placed finish the questions remain about how Lytham might affect him.
"I didn't play that well and lost my rhythm slightly with my swing, but I've got one out of the system after The Open and so it won't be that hard for me to find again I think."
Support
Scott has received lots of messages of support and was, of course, spoken to by Els in the immediate aftermath.
"It was kind of a shame. He should have been so happy and he felt a little sorry for me - and that's not the way you want to win.
"I certainly didn't want to spoil his parade, so to speak. He had nice words for me - kind of assured me that I'll have chances and win plenty of them.
"We have spoken a couple times since, but not really about anything specific. Just being the friend he is, he just was concerned about how I was doing.
"I assured him that I'm doing fine and ready to get on with it.
"I haven't watched the tape. Not because it was too painful, but because I pretty much know what happened out there. I can relive it quite clearly.
"I obviously have my own feelings about it and continue to work away at all the pieces of the puzzle of putting good golf together.
"I've been really fired up for all the majors this year. That's what I've thought about a lot in my practice and preparation.
"I got a great taste of it there obviously at The Open. I'm lucky that just three weeks later I'm going to have another go at it.
"If I can channel some of that energy that I had going and the feelings in my golf swing, then this is a great chance for me to kind of get the victory after a tough loss.
"It's certainly not something you'd like to make a habit of and I never have. I've generally been a good closer of golf tournaments in my career.
"If I was in that position I'd like to turn it around this time and close the golf tournament out."