My favourite major
Woods looking forward to returning to the UK
Last Updated: 16/07/12 9:16am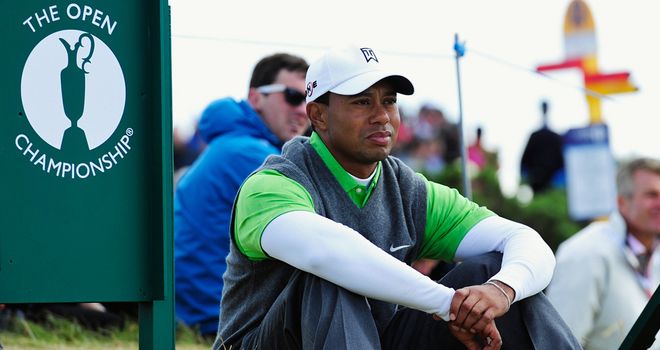 Tiger Woods: Has always relished the Open challenge
Tiger Woods says the unique challenge of the Open Championship makes it his 'favourite major'.
Woods, a three-time Open champion with victories at St Andrews (twice) and Hoylake, has always relished battling the wind and rain of seaside links since making his debut at this course as an amateur in 1996.
"Weather plays such a huge role in the tournament. It will be interesting to see how the course is set up. "
Tiger Woods Quotes of the week
The 35-year-old has not added to his 14 majors since the 2008 US Open but wrote on his official website before flying to the UK that he was looking forward to returning to the west coast.
"You can have so many different weather conditions. You just don't know," Woods said.
"That's one of the unique things about the British Open and why it's my favourite major championship.
"It's the only tournament besides the sandbelt courses in Australia that we can actually use the ground as a friend and bounce the ball into the greens.
"Modern golf is all up in the air."
Confidence
Woods, who missed last year's event at Sandwich through injury, returns now having had four victories in the last eight months.
The most recent, however, was followed by a missed cut at the Greenbrier Classic just over a week ago, but that failure has not dented his confidence too much.
"I didn't play poorly," Woods wrote. "I had trouble gauging distances with my short irons and it was tough for me to adjust to the greens. They were slower than I expected and had a lot of wobble in them.
"Now I'm focused on the British Open. This will be my third visit to Royal Lytham and St Annes, where I tied for 22nd in 1996 and tied for 25th in 2001.
"I like the golf course, but I know they have made some changes since we played there. I think they lengthened a few holes, so it will play different.
"Plus in '01 it was pretty dry and firm. They've had a very wet summer, as we saw at Wimbledon, and the golf course is pretty soft.
"Weather plays such a huge role in the tournament. It will be interesting to see how the course is set up.
"It's different, because we're not really on the water - we're slightly inland. That train track that runs right along the golf course gets a lot of use that week.
"The time change is easy because I play all over the world. It's getting used to the conditions that week. Each British Open has its own little quirks.
"For instance, Hoylake was burnt out, some years at St Andrews the wind blew hard, this year it will be a little bit softer than it normally plays.
"But we don't know if it's going to rain or blow, so that adds different challenges as the week develops.
"I'll bring my five-wood and two-iron and decide which club to carry once I get there and feel out the conditions."