Bradley welcomed 'home'
Irish ancestery makes it special trip for American USPGA champ
Last Updated: 28/06/12 8:15am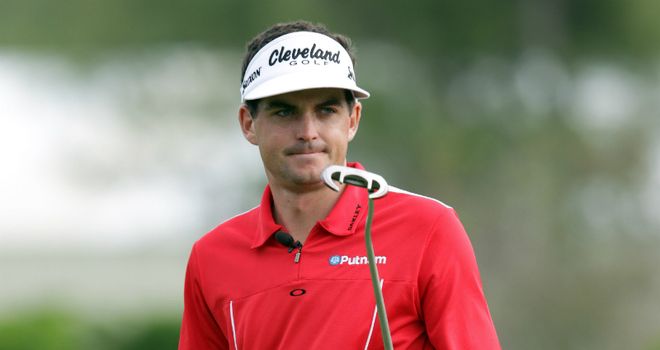 Keegan Bradley: Has Irish ancestry
USPGA champion Keegan Bradley says he's received a wonderful 'welcome home' at this week's Irish Open.
The American, who has Irish ancestry, is realising a lifetime's dream by competing at Royal Portrush this week and has been blown away by the reception he's been given by the local fans.
"I've wanted to play ever since I was a little kid and this year it worked out perfectly," said Bradley.
"Maybe in the years to come I'll come a little earlier or stay a little later so I could have some time to experience the country a little more.
"I've wanted to play ever since I was a little kid and this year it worked out perfectly."
Bradley on Irish Open Quotes of the week
"But I've got to see a lot of the local tourist spots and I've just been having a blast.
"I wasn't sure how I was going to be accepted and everybody has just been so great. For them to say 'Welcome Home' is a pretty special feeling. It gives me chills."
This is Bradley's first tournament in Europe and comes 10 months after winning the very first major he played in.
The last person to do that was his compatriot Ben Curtis in the 2003 Open at Sandwich - also the first experience he had ever had of links golf.
Pretty unbelievable
"What Ben Curtis did was pretty unbelievable, especially considering it was the Open Championship," said Bradley.
"I would love to have a little Ben Curtis luck this week. That would be great.
"Whenever we play a tournament we are all trying to win, but links golf is very different.
"You can hit a high driver or a low stinging two iron and end up in the same spot.
"You think a lot more out here and it's a lot more unexpected. It's just a matter of adapting - you're going to be some funky hops and you've got to be ready to accept it."
Bradley is paired with world number three Rory McIlroy over the first two days and it is, of course, the recent major successes of McIlroy, Graeme McDowell and Darren Clarke that brought forward the first staging of the event north of the Irish border since 1953.
Amazing 61
At 16 McIlroy shot an amazing 61 on the world-famous links. It still stands as the lowest round ever seen there.
"I can basically remember every shot," he said. "I remember I missed a six-footer on the first for birdie - it could have been better!
"It was just one of those days where everything is on song. I turned three under, eagled 10, birdied 11, parred 12 and 13 and then birdied my way in.
"I've only had it a few times. People call it 'in the zone'.
"Seven years ago... time goes pretty quickly."