Clarke's Portrush pride
Open champion thrilled to have Irish Open at venue he holds dear
Last Updated: June 27, 2012 2:07pm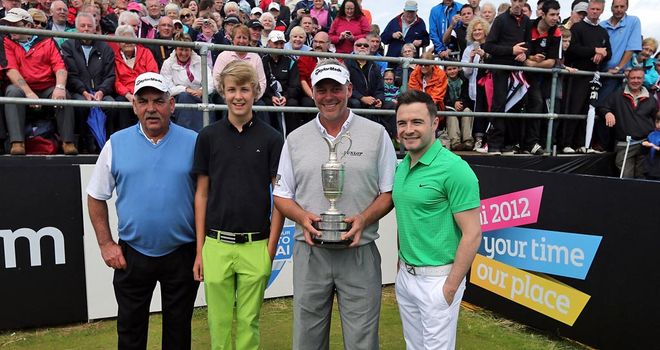 Darren Clarke with his father Godfrey, son Tyrone and Shane Filan out of Westlife
Darren Clarke believes playing at Royal Portrush helped him become Open champion at Royal St George's last year.
Clarke, who has known this week's Irish Open venue since he was a boy, said: "I moved up here when I was young, played an awful lot of my golf here and moved back a couple of years ago.
"Every one of my fellow Tour pros bar none has been full of praise already."
Clarke on Royal Portrush Quotes of the week
"Winning The Open was due - a lot of it was due - to the fact that I was living here and playing Royal Portrush."
Now Clarke hopes the first staging of this event in Northern Ireland since 1953 can spark him back to life.
The 43-year-old defends the claret jug at Royal Lytham in just three weeks' time and is desperately looking to find some form after a nightmare slump.
Clarke is bursting with pride that the course he knows so well has received rave reviews and that the tournament is a sell-out - the only time that has happened on the European Tour outside of a major.
"The Irish Open has always been one of my favourite tournaments and to have it here at Royal Portrush with this amount of people makes me very, very proud," Clarke said.
"It's all worked out unbelievably well. The players love it - it's almost got an Open feel, which is what I think the course deserves.
Full of praise
"Every one of my fellow Tour pros bar none has been full of praise already.
"The Open is the biggest and best tournament in the world - obviously I won last year, so I have to say that. But it is and for guys to come here and say everything about it feels like an Open Championship is about as big praise as anybody can give it."
The extra special nature of the week began for him on Wednesday when he partnered both his father Godfrey and older son Tyrone, plus Westlife's Shane Filan, in the curtain-raising pro-am.
Clarke has not played for a month, missing the Nordea Masters in Sweden and then the US Open because of a recurring groin strain.
He hopes the break has enabled him to start afresh in a season in which he has, amazingly, yet to survive a halfway cut.
On both his fitness and his game he described things as "not too bad", adding: "I've been down here quite a lot practising and I'm looking forward to getting back."
He had said earlier this month that he would be playing with the aid of a Zimmer frame if necessary, but it will not be necessary.
He said: "I'll crawl around. I've been working away and hopefully things will turn around pretty soon."
Rain and wind is expected during for the tournament and, having conquered foul conditions at Sandwich last July, Clarke does not mind that at all.
He added: "The forecast is for pretty normal Portrush weather. It might not be to everybody's liking, but I've played it in some pretty horrific conditions, so hopefully that will be a little bit of an advantage.
"It's a course you need to know a little bit - definitely in bad weather."